Keeping Cats from Scratching Screen Doors
Solutions: Keeping Cats from Scratching Screen Doors
Read and rate the best solutions below by giving them a "thumbs up".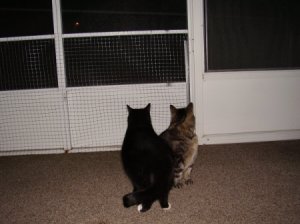 The screened in sun porch is our four inside-only kitties favorite place. Unless it is below freezing or over one hundred degrees, they choose to be there over any other place in the house. On their first visit, each one had to check out the view which was just over their heads. As their claws stuck in the plastic screening causing small tears, I wondered how I would ever keep them from escaping thru torn screens. A couple of quick sprays with the water bottle worked good for training purposes, but I couldn't be there all the time.
Once I figured out a way to keep them off of the screen without losing the clear view of the backyard, we were all happier. The open weave of bird netting solved the visibility issue. The netting was cut in a 36-inch wide strip long enough to go all the way around from door to door. It is attached inside with zip strips to the supporting horizontal bars and reinforced at each end with an inch wide aluminum strip. The aluminum strip is threaded thru the squares and zip stripped onto the porch frame as well as screwed down at intervals for security. The bottom edge is tucked under the bottom railing to secure.
Kitties don't like to get their claws caught in the netting, so after a couple tries they were satisfied with sitting up on chairs to look out. So far no one has dared to try a climb up the netting. The idea should work for screen doors with variations in attachments.
By Shirley from IN
Share Your Feedback:
Once you try any of the above solutions, be sure to come back and give a "thumbs up" to the solution that worked the best for you. Do you have a better solution? Click "Share a Solution" above!
Questions
Here are questions related to
Keeping Cats from Scratching Screen Doors
.
Keeping Cats From Scratching Screen Doors
I have 2 indoor cats and several cats in the neighborhood come to my sliding glass door and create big holes in my screen by scratching. I have already replaced my screen once and do not want to do it again. What can I do to deter cats from coming to my back door and scratching big holes?

Becca
---
Most Recent Answer

By rog64ert
06/08/2010
You can install a Screen Door Grill Guard. Google them to see what will fit your situation. I have gotten them in the past at Home Depot and Lowes, usually in the door isle.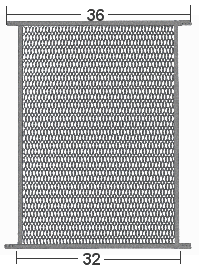 Related Guides
Related Posts