Painting Terra Cotta Clay Pots
Terra cotta pots are inexpensive and can be painted and transformed into pretty decorative containers. This is a guide about painting terra cotta clay pots.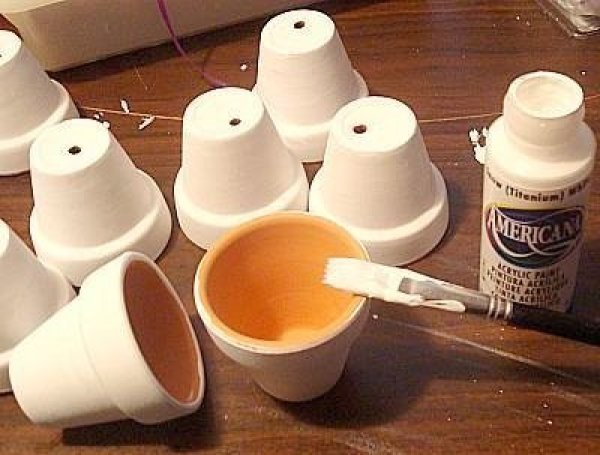 Filter

: All Articles
Sort

: Relevance
I have SO many terra cotta pots that have just accumulated over the years. So like all my other craft projects, I decided through trial and error to explore the possibilities.
All you need is:
a terra cotta pot (or half a dozen if you get obsessed!)
some black enamel paint
a paint brush or foam brush (I used a foam brush)
rubber gloves (if you are concerned about your hands getting dirty. Me? not so much!),
decorating tools (stamps, white paint, small paint brush)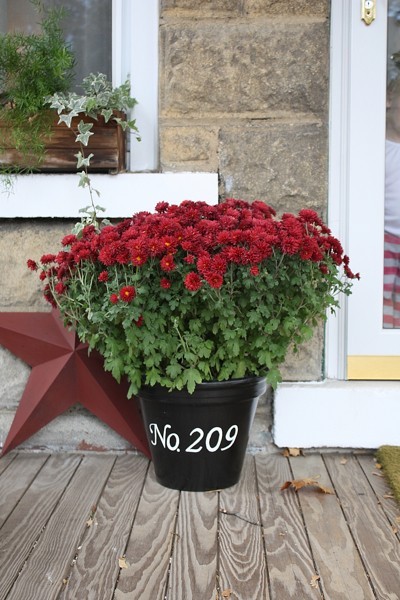 Directions:
I had a large terra cotta pot. I painted it black. I gave it a few coats; 2-3 is ideal. I thought it would be perfect by my front door.
I decided, what better way to display my house number. So I went to the computer chose a font I liked and typed out No. and my house number. I printed it out, cut it out and then used it to trace it out on the terra cotta pot. I am sure there are easier (much easier) methods, but this one worked for me and my resources. I traced out the No. and the numbers and then used both a small paint brush and a tooth pick for some of the smaller details. I used a white paint we had on hand. I put some mums in the pot and I think it gives a very polished much more expensive look. Seriously, who would have guessed those were once plain terra cotta pots?
I have done some smaller ones as well. Same concept, paint the pot with black enamel or whatever color you want. I used some vintage French stamps I had, stamped them in the white paint and applied to the front of the newly painted terra cotta pot. Again, so simple and the end result is so unexpected!

By Amy from Wheaton
Tired of those orange clay pots? Buy some acrylic paints and give them some color. Add a plant, and you can use them in-doors or out, plus have the enjoyment of a hobby. I did not take classes, just start experimenting, its fun and creative.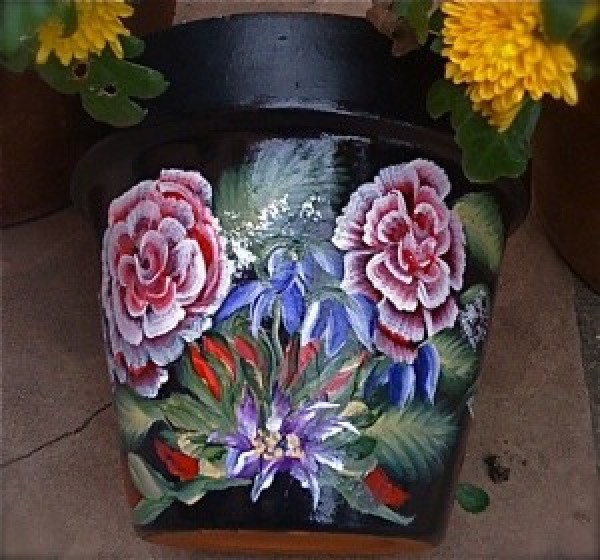 I like to dress up terra cotta pots with acrylic paints. One technique is to use three colors or more and a sponge. You only need a small squirt of each color, making it great for using those leftovers.
Make sure your pot is dry. First, spray inside and out with a good coat of polyurethane or lacquer and let dry. You'll want to use three or more colors of paint. It just takes a small amount of each. I squirt my darkest shade onto a paper plate.
Start with a slightly damp sponge, dip it into the paint, then blot onto a newspaper a few times. Lightly press the sponge to the pot to apply paint. You don't need to totally cover it. Each coat needs to dry completely.
Next, repeat with the next lighter shade. Be sure to let some dark show through. Keep repeating dark to lightest. I usually paint the rim and inside just past the dirt line. It's finished when it's to your liking.
After the last color is dried, use a coat or two of clear lacquer or polyurethane inside and out to seal paint from moisture or your pretty paint will bubble and peel.
At the DIY TV site, there are all kinds of projects to do using clay pots. I've made bird feeders, light houses, and even a clay pot boy. These make terrific, low cost gifts out of pots folks want to toss or give you for cheap. My friends all say this would be a good moneymaker at bazaars or craft fairs.
Kelli Mahoney
2

found this helpful
I love painted flowerpots, and I think in the spring they make a fun statement. One of the most popular outdoor motifs is watermelon. I have watermelon cups, plates, and pitchers, so I decided that I wanted to make watermelon flowerpots to match. This set is small enough for starter seeds in the spring, or even an herb garden.
Supplies:
3 small terra cotta flowerpots
1 large terra cotta saucer (big enough for all three pots to sit in)
acrylic paint in the following colors:

forest green
light green
white
true red
black

large paintbrush
small paintbrush
very small paintbrush or a toothpick
waterproof varnish/seal
Instructions:
Using the red paint, paint the bottom part of the flowerpots and the inside of the saucer. You will want to use at least two coats, as you do not want to see the terra cotta through the paint. On the flowerpots, paint up to the ridge.
Use forest green paint and paint just the ridge and the inside of the flowerpots.
Using the same forest green paint, paint the ridge and the entire outside of the saucer. Again, use two coats to be sure you cannot see any terra cotta through the paint.
Take the black paint and put teardrops randomly in the red part of the flowerpots and the saucer. These will be the seeds. If you need to, you can draw the teardrops on in pencil and then fill them in.
Using the light green paint, put a little on the paintbrush and then "dry" the paint off on a paper towel (just put some paint on the brush and take most of it off on a paper towel). In a back and forth motion, make 1/2 inch to 1/4 inch vertical lines on the ridge of the flowerpots. The dry brush will give your watermelon "rind" a more authentic feel.
On the saucer, do the same thing, but take the ridges down to a point in the center of the saucer-base.
Using the white paint and the dry brush technique, make a small, vertical columns in the light green columns. This adds a highlight to the markings.
Using the very small paintbrush or a toothpick, dip it in the white paint. At the base of each "seed" put a parentheses mark. This adds a highlight to the seed.
Let your flowerpots dry overnight. Even though they may feel dry to the touch, they will not be fully dry for 24 hours.
Paint or spray on your varnish or seal. Follow the directions on the side of your sealant and do it outside. You will want to use something waterproof to protect your plants and the paint.
Let the sealant dry. Then feel free to plant whatever you would like in the pots.
Do you prime your flower pots before painting? I find with some colors I need to do multiple coats, not just 2-3, but more like 8-10 when using lighter colors that I want to cover most of the pot in. Do you recommend some sort of primer first?
January 13, 2016
0

found this helpful
I usually prime my pots with Mod Podge first.
Christmas (or any occasion) is getting closer, and it is time to start making some homemade gifts. This hand-painted terra cotta flower pot can make a nice gift for a colleague or friend.
How do I marblize a clay pot? If I paint it first with white, then put water in a tub, with spray paints of various colors, do I need to seal it or will the paint from the cans do that?
By Barb
April 23, 2014
0

found this helpful
I use either modpodge or a spray can of clear sealer.
I am doing the flowers for a wedding on May 17th. My sister-in-law (to be) wants mossy terra cotta pots. What is the best way to do this faux or not, in a month? Help! Thanks.

Cher from Provo, UT
By guest (Guest Post)
Flag
April 18, 2008
0

found this helpful
Smear some plain yoghurt over them and leave them outside in a damp area. The moss forms as if by magic!
By guest (Guest Post)
Flag
April 19, 2008
0

found this helpful
With your time schedule spray paint the pots with mossy colored craft paint and then use spray glue or paint with tacky glue and roll in loose moss. I've covered green oasis blocks this way and it works great. You can buy thin sheets of plastic covered with moss, too, that you could wrap around pot, but the other way is a lot easier.
April 25, 2008
0

found this helpful
I watched a garden show and they said to jump start a "mossy" pot to take grass or any green leaves and rub them well over the pots. They will start growing moss from rubbing the liguid in the greenery on them.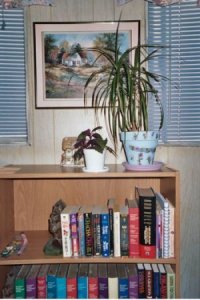 Easily make a beautiful pot for a plant. Everything you need to make it can be bought at Walmart craft department except the clay pot, that is the garden department. All you need is the pot and saucer, choice of color of acrylic paint, sponge brush, and rub on decoupage. Paint the pot and saucer, let it dry, rub on the decoupage! The recipient of this gift will be impressed.
By Linda from Oceanside, CA
To decorate your clay pots and saucers for this gardening season, here is an idea: Pour some of the first color of paint into a paint tray. Turn the clay pot upside down and dip the rim of the clay pot into paint then turn the clay pot right side up and let paint run down the edge of pot.
Related
© 1997-2016 by Cumuli, Inc. All Rights Reserved. Published by
ThriftyFun
.
Page
generated on August 21, 2016 at 11:08:03 PM on 10.0.0.66 in 5 seconds. Use of this web site constitutes acceptance of ThriftyFun's
Disclaimer
and
Privacy Policy
. If you have any problems or suggestions feel free to
Contact Us
.