Vegetable casseroles are a healthy meal that you can even make ahead. This page contains vegetable casserole recipes.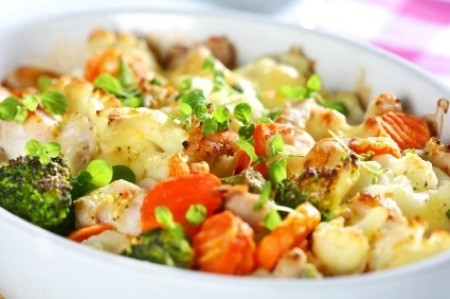 A simply delicious way to get your family to eat vegetables. Even picky vegetable eaters love this dish.
Ingredients:
1 small container fresh mushrooms, sliced
1 small/medium zucchini
10 stalks asparagus
1/2 red pepper
1/2 med size cauliflower
1 - 1 1/2 cups cheddar cheese, grated
1 large package raw spinach
1/2 Chicken Knorr cube
1/2 cup Parmesan cheese
2 Tbsp. flour
1 cup milk, divided
1 - 2 cloves garlic
2 tsp. olive oil
salt and pepper to taste

Optional ingredients:

1 cup elbow macaroni or rice
1 cup chopped ham or
1/2 cup cooked, crumbled bacon
Directions:
Slice 1 small/med zucchini (1/4 inch thick). Cut 10 stalks asparagus into bite sizes. Cut red pepper and cauliflower into bites.

Combine raw vegetables (except spinach) with 1 -1 1/2 cups grated cheddar cheese and spread into a greased, medium sized oven proof dish.

In a medium saucepan, cook 1 spinach in 3 Tbsp. water until wilted down, drain, then add 2 Tbsp. margarine or butter. Mix 2 Tbsp. flour into the spinach/margarine mixture. Add chicken Knorr cube.

On med heat, stir in 1/2 cup milk and 1/2 cup Parmesan cheese to the spinach. Add 1/4 to 1/2 cup more milk a little at a time, stirring until it is a creamy, gravy like consistency. Add salt and pepper (to taste).

In a small frying pan, fry minced garlic in olive oil, and stir into the spinach/milk mixture.

Pour spinach sauce evenly over top of vegetables and bake, covered for 30 min at 375 F. Uncover and bake 5 minutes or until browned on top.

If you add 1 cup cooked rice or pasta, and 1 cup chopped ham or 1/2 cup cooked crumbled bacon to this recipe, you have a complete meal in one pan.
Cooking Time:
30 covered, 5-10 uncovered Minutes
By Ann from Goulais River, Ontario
By Robin 5,893 29
Ingredients:
1 pkg. frozen cauliflower
1 pkg. frozen brussel sprouts
1 pkg. frozen broccoli
1 can cream of mushroom soup
1 cup shredded cheddar cheese
1 can onion rings
1/2 cup milk
Directions:
You can use chopped broccoli or buy the whole stalks and cut up coarsely. Steam veggies until tender crisp. Combine rest of ingredients and mix with cooked veggies. Put into large casserole and bake at 350 degrees F for 30 minutes.
By Robin from Washington, IA
Ingredients:
1 (16 oz.) bag chopped broccoli, cauliflower and carrots
1 can cream of mushroom soup
1 cup shredded Swiss cheese
1/3 cup sour cream
1/4 tsp. black pepper
1 can French fried onion rings
Directions:
Combine all ingredients except onion rings. Mix well and pour into a greased baking dish. Top with french fried onion rings. Cover and bake 350 degrees F for 45 minutes. Remove lid or foil and bake 10-15 minutes to allow onion rings to brown.
Can put 2 cups diced chicken in to make a complete meal.
(I made this last week, instead of the veggies it called for, I used a bag of chopped broccoli, a jar of pimento (for color) and odds and ends portions of frozen bagged veggies I had accumulating. It worked out great, my husband loved it!)
By Terri
By Robin 5,893 29
One of the yummiest casseroles ever! Love the mix of veggies!
Ingredients:
1 pkg. frozen cauliflower
1 pkg. frozen peas with pearl onions
1 pkg. frozen corn
1 can cream of chicken soup
1 can cream of celery soup
1 large can evaporated milk
2 Tbsp. minced onion
grated cheddar or mozzarella cheese
stuffing mix crumbs
French fried onions
Directions:
Mix veggies together. Let set until soft enough to chop slightly. In another bowl, mix thoroughly the soups, evaporated milk and onion. Layer this in 10x18 inch casserole. Then layer of vegetables, sprinkle with cheddar or mozzarella cheese.
Put a good handful of stuffing crumbs over this. Then last the rest of the soup mix. Bake in 350 degrees F oven for 40 minutes. Sprinkle can of French fried onions over and put in oven to heat. Serve.
Cooking Time:
15-20 Minutes
By Robin from Washington, IA
This casserole is packed full of veggies that are in season right now and is very tasty. Even the hardcore veggie haters love it!
Ingredients:
1 medium eggplant
3 large or 5 small to medium squash
1-1/2 cups crumbled cornbread (left over is fine)
1 cup of bread crumbs (homemade is fine)
1 medium onion diced
1 large bell pepper diced
2 cups of tomatoes peeled and diced (if using canned tomatoes make sure you drain them)
2 eggs
milk
3 cups grated cheddar cheese
1/2 stick of butter or margarine
Directions:
Peel eggplant and cube. Boil in salted water until dark and tender then drain. Slice squash - boil in water until tender and drain.
Cook diced onion and bell pepper in 1/2 stick of butter or margarine until tender.
Crumble cornbread into a large mixing bowl. Add bread crumbs, egg plant, squash, onion, bell pepper, tomatoes and 1-1/2 cups of the grated cheddar. Beat eggs and add to other ingredients. Mix really well.
Pour into greased baking dish.
Pour enough milk onto the top of the casserole just to cover. There will be a few areas of the casserole still showing through the milk. The milk acts with the egg and cheese to give this casserole a delicious, cheesy, custard-like crust.
Cover with the rest of the cheese and bake in a 350 degree F oven for 45 minutes to an hour. You want it bubbly and the cheese to start to brown.
This casserole is very good for freezing. If you freeze it, do not add the milk or top with cheese. Do these two things after thawing completely. Enjoy!
Source: My version of a recipe my Grandma gave me.
By Jessie Lou
I am looking for a recipe for Mixed Vegetable Casserole, using canned mixed veggies, mayonnaise, cheese, water chestnuts, and Ritz crackers.
By MonicaS from Oxford, AL
---
Most Recent Answer
By Charlotte 2 2 Flag
May 21, 2009
I have made this dish for years & love it. I use two cans of drained Veg All & one can of drained water chestnuts. I do not measure the mayo, but you would probably use 1/2 to 3/4 cup. Mix all ingredients together with cheese. Place in casserole dish & add cracker crumbs & small amount of butter to top. Bake 350 deg until bubbly & cracker crumbs are lightly brown. Enjoy.
By Robin 5,893 29
This is an extremely easy, tasty recipe. I love the combination of soup and cheese poured over the veggies!
Approximate Time: 60-70 minutes
Yield: 8-10
Ingredients:
1 pkg. frozen broccoli ($1.59)
1 pkg. frozen caulifower ($1.59)
1 pkg. frozen green beans ($1.59)
2 cans cream of mushroom soup ($1.40)
1 med. onion, chopped ($.75)
1 cup cubed American cheese ($1.00)
Steps:
Arrange vegetables, frozen, in 9x13 pan. Put large pieces on bottom.
Heat soup with cheese until cheese is melted. Pour over vegetables.
Bake at 350 degrees F for 50-60 minutes. Serves 8-10.
By Robin 5,893 29
I love this casserole because not only is it very good, but you can add meat to it for a one-dish type meal, so it's good as a side dish or a main dish.
By Robin 5,893 29
Great recipe! Especially like the water chestnuts in this!
By Robin 5,893 29
Cook vegetables until half done. Add milk to soup and heat with cheese. Combine all ingredients, except almonds. Place in greased dish and cover with almonds. Bake 30 minutes at 350 degrees F.
By Robin 5,893 29
This is a great veggie dish! I love the combination of broccoli, brussel sprouts and cauliflower with the cheesy sauce.
By Robin 5,893 29
Recipe for Vegetable and Biscuit Casserole. Make gravy with first 7 ingredients. Season with salt, pepper and a dash of garlic. Thicken slightly with 1/2 cup flour and enough water to make paste. Bring to a boil and add Velveeta cheese. Melt.