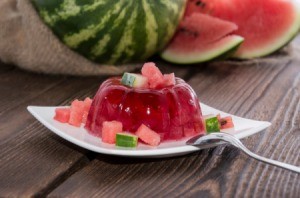 In addition to the mainstay of Jello salads and molds, Jello can be used in a variety of recipes. This page contains recipes using Jello.
Solutions: Recipes Using Jello
Read and rate the best solutions below by giving them a "thumbs up".
Ingredients:
1 cup Honey Maid honey graham crackers, crushed
2/3 cup boiling water
1 pkg. (0.3 oz.) Jell-O orange flavor sugar free gelatin
1 cup 2% low fat cottage cheese
1 tub (8 oz.) fat free cream cheese
2 cups thawed Cool Whip sugar free whipped topping
Directions:
Sprinkle crumbs onto bottom of 8- or 9-inch springform pan sprayed with cooking spray.
Add boiling water to gelatin mix in large bowl; stir 2 minutes until completely dissolved. Cool 5 minutes. Pour into blender. Add cheeses; blend well. Return to bowl. Gently stir in Cool Whip and pour into springform pan. Smooth top.
Refrigerate 4 hours or until set. Loosen cheesecake from side of pan before removing rim.
Nutritional Info Per Serving: 100 calories; 3.5g fat; 10 g carbs; 8 g protein; 0 g fiber; 330 mg sodium
By Connie from Tampa, FL
Put one small box of any flavored gelatin into a blender. Add 1 cup of boiling water and blend on low speed for 30 seconds. Add 1-1/2 cup crushed ice and blend on high speed for 30 seconds. Pour into a small bowl and set in the refrigerator for 5 minutes. This dessert treat tastes like sherbet. Enjoy!
Source: I found this recipe over 18 years ago in some old recipe file my mom gave me.
By mama holiday from Houston, TX
This is a great holiday salad!
Approximate Time: 20 minutes
Yield: 8
Ingredients:
4 Tbsp red hots candy ($pennies)
2 cups boiling water ($free)
2 small boxes cherry gelatin ($.90)
1 reg. size jar applesauce ($1.29)
Steps:
Dissolve red hots in boiling water in a microwave-safe bowl.
Place bowl in microwave and heat to boiling again. Dissolve gelatin in mixture.
When gelatin is dissolved add applesauce. Stir until blended.
Pour into mold, chill until set.
By Robin [1375]
Ingredients
4 envelopes Knox unflavored gelatin
3 pkgs. (3 oz. ea.) flavored Jello
4 cups boiling water.
Directions
In large bowl combine Knox and Jello. Mix very well. Add boiling water and stir well until Gelatin is completely dissolved. Pour into large shallow baking pan (for example 13x9) and chill until firm.
Cut into one inch squares. Makes about 100 1" squares. You can cut recipe down. Great and easy for your kids to help you with, especially on rainy days!
By elyag from Rochester, NY
Ingredients
6 pkgs. gelatin (3 oz. size) different flavors
1 1/2 cup water per pkg.
1 pkg. Knox gelatin
1/4 cup water (cold)
1/2 cup sugar
1 cup hot pineapple juice (may be microwaved or heated on the stove)
1 lg. container Cool Whip
1 tsp. vanilla
Directions
Dissolve each flavor gelatin in 1 1 /2 cups water. Let set and cut in small squares. Dissolve Knox gelatin in 1/4 cup cold water. Add 1/2 cup sugar and 1 cup hot pineapple juice; stir and let cool. Fold in Cool Whip, gelatin and vanilla.
By Robin from Washington, IA
Ingredients
1 package berry blue gelatin
2 cups boiling water, divided
1/2 cup cold water, divided
1 package strawberry gelatin
2 cups pears, cubed, drained
Directions
In a bowl dissolve blue gelatin in 1 cup boiling water. Stir in 1/4 cup cold water. Repeat process with strawberry gelatin. Pour each into a 9x5 inch loaf pan. Refrigerate until firm. Cut into cubes. Just before serving mix gently with pears. This looks colorful served in a glass bowl, red, white & blue.
By Robin from Washington, IA
Ingredients
2 cups brown sugar
2 cups hot water
1/2 tsp. maple flavoring
1 Tbsp. plain gelatin
1/2 cup cold water
your favorite vanilla pudding
1 cup cream, whipped
nuts or bananas (opt.)
Directions
Boil brown sugar, hot water and maple flavoring together for 10 minutes. Soak plain gelatin in cold water a few minutes. Then mix with hot syrup. Pour in pan; let set until firm. Make your favorite vanilla pudding and whipped cream. Mix together. Cut maple gelatin in little squares and add to pudding. Nuts or bananas may also be added. This looks like cut glass when served.
By Robin from Washington, IA
Ingredients
1 package of lemon jello (I use sugar free)
8 oz pkg of philadelphia cream cheese
Cool Whip
Lemon Flavoring
Cherry Pie Filling
Graham Cracker Pie Shell
Directions
Put in jello and cream cheese in mixer with cool whip and a drop of lemon flavor or lemon instant pudding.
Put in graham cracker shell.
Put canned cherry pie mix on top.
It is delicious plus low calorie.
By Bernie from North Central Washington
Ingredients:
1 (3 oz.) pkg. orange jello
1 cup boiling water
1 (8 oz.) can crushed pineapple
1 cup grated carrot
desired amount of raisins (optional)
Topping:
1/3 cup shredded cheddar cheese
1/3 cup Miracle Whip or Mayo
1/4 cup chopped nuts
Directions:
Dissolve jello in boiling water. Drain pineapple well, reserving the juice. Adding enough water to pineapple juice to make 3/4 cup of liquid. Stir in mixture. Chill till consistency of unbeaten egg whites.
Fold in pineapple, carrots, and raisins. Pour in 10x6 inch dish. Chill till set. Combine cheese and mayo for topping and put on top of salad. Sprinkle with chopped nuts. Serve on a leaf of lettuce.
By Terri
Jello gives these cookies their flavor and their color. There are so many flavors of Jello at the store, so the possibilities are endless.
Ingredients:
3/4 cup Wesson Oil
1 cup granulated Sugar
1 small pkg. of Jello (any flavor, this determines what color your cookies will be)
2 eggs
1 tsp vanilla extract
2 1/2 cups self rising flour
Directions:
Preheat oven to 400 degrees F. Mix all ingredients together. Roll dough into small balls and flatten with a glass dipped lightly in oil and then in sugar. Bake 6-8 minutes.
By Terri H.
Give a "thumbs up" to the solution that worked the best! Do you have a better solution? Click here to share it!
Questions
Here are questions related to Recipes Using Jello.
I am going to make these jello worms. Do you think I should put it in the refrigerator to let it set? It has the kind of whipping cream you buy in a carton so I am thinking yes to the refrigerator, but it doesn't say in the recipe.
You basically add these things together, cool and then pour into a lot of straws in a glass with a rubber band around them.
Recipe:
2 packs Raspberry Jello
1 package unflavored gelatine
3/4 cup whipping cream
3 cups boiling water
100 flexible straws
or enough to fill your tall cup or container
If anyone has made these, how did they turn out also?
It is from an Australian Business Directory called WHOit. (http://thewhoot.com.au/business-directory)
I don't want to leave out the whipping cream in the jello and set it out if it would be dangerous as far as health. I am not sure what the recipe means when it reads "set out until firm".
By Robyn from TN
---
Most Recent Answer

By Caseye [28]04/09/2013
I made this recipe - with the whipping cream - and it turned out great! You must use the "flexible" straws because they look so real when the Jello-O is squeezed out. It IS time-consuming to squeeze out all the straws, but SO worth the effort. My kiddos were squealing!
Does anyone have a recipe for a jello dessert called Lime Delight? I got it from a dear friend along time ago and I seem to have lost it.
By Donna
---
Most Recent Answer

By Lilac [18]01/06/2012
If you want a lower calorie dessert, use cottage cheese, crushed pineapple and lime jello. You can also add the nuts if you want.
I am looking for a lime Jello recipe that has Jello, cottage cheese, celery, pimento, and maybe nuts and onions, or green peppers. It is served as a accompaniment to ham.
By Linda from BG, KY
---
Most Recent Answer

By Cindy [3]12/23/2010
I've had this before and it is delicious. Just can't for the life of me remember when or where. :-( Hope someone else can post a recipe or link as now I'm craving it, big time! :-)
Does anyone know of a recipe with orange Jello, crushed pineapple, and either whole eggs, separated or egg whites? I know this is an old recipe, maybe from the 30's or 40's. My Mom had it handwritten and it was called "Heavenly Delight". It was made in an 8x8 pan and I believe you cooked it on top of the stove and then mixed it together. It was fluffy and was an interesting combination. My Mom can't find the recipe either. Thanks for any help.

Colleen from Blair, NE
---
Most Recent Answer

By lynne (Guest Post)10/11/2008
Funny, I was just telling someone this morning about this wonderful dessert my grandmother made, jello with egg whites whipped in, with a custard made from the yolks over the top. The tip in one of these recipes about adding the whites to the thickened jello before whipping might be the trick I was looking for. Good luck with yours!