Cake Recipes Using Jello (Gelatin)
Solutions
Share on ThriftyFunThis guide contains the following solutions. Have something to add? Please share your solution!
This is a cake that satisfies the most fussy of lemon flavored dessert lovers. It is both easy and delicious, cool and refreshing. Great for summer parties and family meals anytime. It's one of our favorite cakes. This is one of the few cakes I make using a boxed cake mix. I've tried making it from scratch, and it just never tastes quite the same.
Ingredients:
1 (2-layer size) pkg. Duncan Hines Lemon Cake Mix
2 (3.4 oz. ) pkgs. Jell-O Lemon Flavor Instant Pudding
1 1/2 cups very cold milk
1 (12-16 oz.) tub Cool Whip whipped topping, thawed
shredded or flaked sweetened coconut (optional)
very thin slices of fresh lemon (optional)
Directions:
Grease which ever pan or pans you'll be using with solid shortening (I always use Crisco), and flour lightly with all-purpose flour.
Prepare cake batter and bake as directed on package for 2 (8 or 9 inch) round cake layers. Cool in pans 10 minutes. Remove to wire racks to cool completely.
When cool, level the cake layers if you are making a 2 layer cake. Use any trimmed cake in pudding after first making crumbs of the cake.
Beat pudding mixes and milk with whisk 2 minutes. Immediately spread over tops of cakes. Carefully stack cake layers. Frost sides and top with Cool Whip. Sprinkle on coconut and garnish with very thin slices of fresh lemon if desired.
Julia's tip: Try baking cake in a greased and floured 13x9 inch pan; cool thoroughly. Do not remove from pan, and no need to level.
Spread cake with pudding mixture, then 12-16 oz. container of Cool Whip. Sprinkle on coconut and garnish with the thin slices of fresh lemon if you're using them. Refrigerate until time to serve.
Servings:
12 Generous Servings
Prep Time:
about 20 Minutes
Cooking Time:
depending on pan size and oven variants, approximately 30-40 Minutes
Source: Duncan Hines Test Kitchens Hand-Out Sheets
By Julia from Boca Raton, FL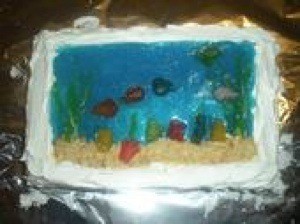 I made this aquarium cake with Jello. I made a regular rectangle cake and cut a center after the cake had chilled overnight. I poured the blue jello in and let it set for 2 hours. Then I decorated it using gummies and fruit rollups. It was easy and a lot of fun. Everyone loved it.
By Mandy from Mesa, AZ
This is by far one of the easiest cakes to make and great for the beginner's confidence building experience. It's a delicious blend of sweet and tart and adds the perfect finish to any family meal. It travels well for a picnic or to take to a covered-dish celebration.
Ingredients:
Cake:
1 pkg. (18.25 oz.) plain yellow cake mix
1 small pkg. (3 oz.) lemon gelatin
2/3 cup Mazola Corn oil
2/3 cup hot water
4 large eggs
Glaze:
1 cup confectioner's sugar, sifted
2 Tbsp. fresh lemon juice (from 1 lemon)
1 tsp. finely grated lemon zest (from 1 lemon)
Directions:
Directions: Place a rack in the center of the oven and preheat the oven to 350 degrees F. Generously grease and flour a 12-cup Bundt pan. Shake out the excess flour. Set the pan aside.
Place the cake mix, gelatin, oil, water, and eggs in a large mixing bowl and beat with an electric mixer on low speed for 1 minute. Stop the machine and scrape down the sides of the bowl with a rubber spatula. Increase the mixer speed to medium and beat for 2 minutes more, scraping down the sides if needed. The batter should look thick and well blended. Pour the batter into the prepared pan, smoothing the top with the rubber spatula, and place the pan in the oven.
Bake the cake until it is light brown and just starts to pull away from the sides of the pan, about 40 minutes. Remove the pan from the oven and place it on a wire rack to cool for 10 minutes.
Meanwhile prepare the glaze. Combine the confectioner's, and lemon zest in a small bowl and stir with a wooden spoon until smooth.
Run a long, sharp knife around the edge of the cake and invert it onto a serving platter. Spoon the glaze evenly over the warm cake so that it drizzles down the sides and into the center. Slice and serve warm, or let it cool before slicing.
Store this cake, covered in plastic wrap or under a cake dome, at room temperature for up to 1 week. Or freeze it, wrapped in foil, for up to 6 months. Thaw the cake overnight on the counter before serving.
Variations: Experiment with other flavors of Jello. The glaze may be made using just milk or cream for other flavors of cake.
Servings:
12-16
Time:
10 Minutes Preparation Time
40-45 Minutes Cooking Time
Source: One of the last Home Economics classes at my daughter's high school. It's really sad that classes like Home Economics and Shop are no longer part of the curriculum in the schools of today. Our young people's lives will be much harder as they need to know the simple day-to-day, life-supporting skills that would have been learned in those classes.
By Pookarina from Boca Raton, FL
A cake loaded with goodies and what a great taste.
Ingredients:
(1) White Moist Cake
1 or 2 packages of Strawberry Jello
1 quart of fresh strawberries
1 large container of whipped cream
Directions:
Bake your white moist cake as directed on the box. If whipped cream is frozen, take out to thaw as soon as you put the cake in the oven. Remove cake from oven and let cool completely. (about an hour).
Now, make a box or 2 of the jello. Use the ice cube direction to get it to gel faster. Put the jello in the refrigerator. Poke holes (approximately 1/2 inch in diameter) about 2 inches apart on top of the cake. Keep an eye on the jello, because you have to catch it as soon as it starts to gel, but not watery. About half gelled.
When the jello gets to this stage, scoop it out and apply all over the top of the cake, pushing it down into the holes and having a complete layer on top. If you made 2 boxes of jello, the layer will be thicker. Once the jello is put on top of the cake, place it in the refrigerator to completely gel.
While you are waiting for this to happen, slice the complete quart of strawberries into approximately 1/8 inch thick slices. When the jello has completely gelled, put a thick layer of whipped cream on top of it. Then, apply a layer of your sliced strawberries over the whole cake and put in fridge and eat after one half hour. After serving, place back in fridge to keep whipped cream from melting. Enjoy!
Servings:
15
Time:
30 Minutes Preparation Time
30-35 Minutes Cooking Time
By warmedup from Erie, PA
When using a packaged cake mix to change the flavor and make it moist, I use a package of Jello and mix it with all the ingredients of the cake mix. Any flavor can be used.
Read More...
April 1, 2008
0

found this helpful
Bake cake according to directions on box. While cooling, poke tons and tons of holes into the cake. (fun for a child). Prepare Jello according to box, cool for a few minutes, and then pour over the cake.
Read More...
February 8, 2012
0

found this helpful
This page contains recipes using Jello. In addition to the mainstay of Jello salads and molds, Jello can be used in a variety of recipes.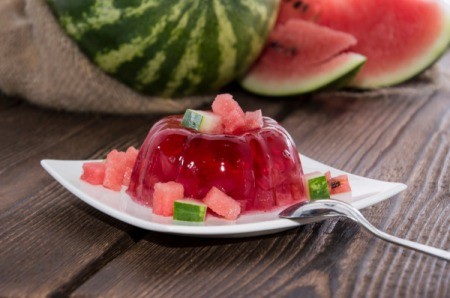 Stir 1 cup of the boiling water into each flavor of gelatin in separate bowls 2 minutes or until completely dissolved. Carefully pour red gelatin over 1 cake layer and lime gelatin over second cake layer.
Read More...
Related Content