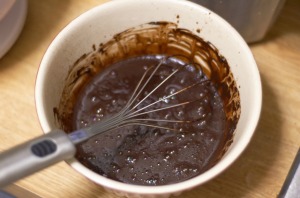 It's so easy to make, doesn't heat up the kitchen and tastes wonderful.
Ingredients:
1 (18 1/4 oz.) box cake mix (your choice)
1 can (12 oz.) soda pop (your choice)
Directions:
Spray crock pot with nonstick spray. Combine cake mix and soda, pour into crock pot. Cook on low 2-3 hours or until a toothpick inserted in middle, comes out clean.
Different Combos:
orange cake mix and orange soda
white cake with root beer
vanilla cake mix with orange soda
butter pecan and Sprite
chocolate cake and ginger ale
strawberry cake and Sprite
chocolate cake mix and Diet Dr. Pepper
Servings:
8
Time:
15 Minutes Preparation Time
2 to 3 Hours Cooking Time
By Sherry from Poulsbo, WA
Read More

Comments

linda
Bronze Post Medal for All Time! 203 Posts
In a large bowl, cream butter and brown sugar until light and fluffy. Add eggs, one at a time, beating well after each addition.
Combine the flour, baking powder, baking soda, cinnamon, and allspice.
Read More...

Does anyone have a recipe for a cake using flavored soda?
By Karen

Answers

February 17, 2012
0

found this helpful
Search "2 ingredient" cakes but here is what I do. Add your favorite can of soda to a white cake mix, stir and bake.
That's it...do not add any other ingredients. No fat or eggs added makes it healthier, yet, it's tasty and moist.

February 17, 2012
1

found this helpful
You can use any flavor cake mix and any flavor soda. We Tupperware consultants make these all the time in the TupperWave Stack Cooker. They are delicious!

February 17, 2012
0

found this helpful
When I first heard of this recipe, it said to use a cake mix that has pudding in the mix. I don't know if that makes a difference or not. I did a chocolate one with diet cola.
It came out great and seemed to be 'puffy', and took up a whole 9 x 13 pan. I also like the angel food cake/crushed pineapple version too.
Answer

this Question

I am going to be making a diet cake (or maybe you call it soda cake) soon. I want to know if instead of the can of soda, if I can use 12oz. of sparkling water? It is flavored, carbonated water, so pretty much like diet coke. Would this turn out the same? For those of you who don't know, you just mix a can of soda with a box of cake mix and bake. It's delicious.
By Becca25 from NY
Answers

July 29, 2009
0

found this helpful
Yes, you can use sparkling water, use as you normally would use your soda.

August 7, 2009
0

found this helpful
I learned to bake from making mistakes....lol
Answer

this Question

I'm looking for a cake made with white or yellow cake mix and 12 ozs of orange soda pop. The icing is made from Cool Whip and a package of orange jello.
I made this some years ago, but don't remember if there is any other ingredients in the cake. Thanks to anyone who can help.
By Linda L. Creech from Bellefontaine, OH
Answers

March 2, 2010
0

found this helpful
Ready in: 2-5 hrs
3 (1=easiest :: hardest=5)
Serves/Makes: 10
Ingredients:
***Cake ***
1 white cake mix
2 egg whites
1 can diet orange soda
***Filling***
1 small box orange sugar free jello
1 cup boiling water
1 cup cold water
***Frosting***
1 small box sugar free jello
1 cup milk
1 small box instant sugar free vanilla pudding
1 teaspoon vanilla
8 ounces nondairy whipped topping
Directions:
For Cake: Put batter in Pam sprayed pan 30-35 minutes at 350degrees F.
For Filling: Pour this mixture over hole poked cake, refrigerate 2 hours. Frost cake.
Good luck.

March 2, 2010
0

found this helpful
Here's the recipe, based on the ingredients you mentioned. Sounds yummy, and I'll be trying it.
Ingredients
* 1 white cake mix
* 1 1 12 oz diet orange pop
* 1 1 8 oz cool whip
* 0.25 box FF/SF orange jello mix
Preparation
Combine cake mix & diet pop. Bake as directed. Cool completely. Fold jello packet into cool whip & use as topping.

Sally
Bronze Feedback Medal for All Time! 116 Feedbacks
March 3, 2010
0

found this helpful
(submitted via email)
Hi!
Found it! It's called Soda Cake. 1 white or yellow cake mix and 12 oz. of orange soda or any other pop, say like strawberry etc. It can be diet soda or regular. That's it, Now, spray coat the pan and pour cake mix in, bake as directed.
Cool in pan completely and then ice cake with Cool Whip Free to which you have stirred in one box of orange jello. Hope you like it. See, no eggs, no oil. How is that for less calories? Linda C.

March 3, 2010
0

found this helpful
Hello, Yes, yes! This is it! I am a diabetic and making the cake this way cuts out so many calories and fats and extra sugars. I know by helping me you have all helped a lot of others. Thanks so very much
Linda C (signaler)
Answer

this Question
This page contains 7Up cake recipes. If you are looking for a delicious new cake recipe, this is the one. Add 7Up or other lemon lime soda to the recipe and experience this all time favorite.