March 31, 2005
0

found this helpful
Ingredients:
8 oz. lite dairy sour cream
1 cup Hellmann's LIte mayonnaise
1/2 tsp. celery salt
1/2 tsp. dill weed
8 oz. can water chestnuts (drained, finely chopped)
1/4 tsp. onion salt
1/4 cup chopped green onions
3 cup frozen leaf spinach (thawed, well drained)
Directions:
In medium bowl, combine sour cream, mayonnaise, and seasonings. Stir in onions, spinach, and water chestnuts. Cover. Refrigerate to blend flavors. Serve with crisp vegetable pieces, crackers, or bread sticks. Makes 3 1/2 cups.
By Robin
There is a great recipe for a spinach dip. it is on the back of the Knorr's Vegetable mix and, boy is it good. My girlfriend made it for my daughter's birthday party. Now mind you, I do not eat spinach, however with this recipe, it is great.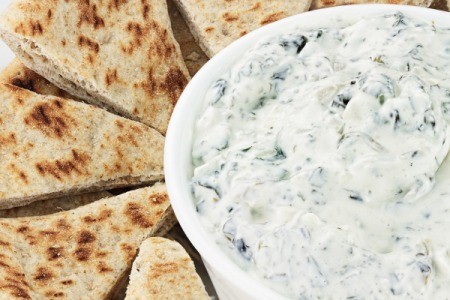 Link: http://www.us.knorr.com/Recipes/6200/1/Knorr-Spinach-Dip.aspx
Read More...
When I make spinach dip, I use my food processor. I defrost the chopped spinach, rinse and press or squeeze out the water well. Then put that into the food processor and pulse until it is chopped finer. I then add the soup mix, pulse again and then add sour cream and/or mayo. Pulse again until it is fully mixed.

The end result is a much smoother blended dip, without chunks of unruly spinach or gritty areas of the soup mix.

By Sharon from Cherry Hill, NJ
Does anybody have any guesses of how to make the Cheddar's restaurant spinach dip? I've heard it has 4 cheeses in it and when you get it, it also looks like it has sour cream on top. It's awesome! They give you tortilla chips to dip in it.
Thanks!
By Winona
February 26, 2012
0

found this helpful
Here is a copycat recipe where a review states it is very, very close to tasting like Cheddar's:
http://www.cdki -Dip128469.shtml
And here's another copycat of a popular Canadian restaurant that is made with four cheeses:
http://www.cdki h_Dip50365.shtml
You can always add that dollop of sour cream on top even though the recipes don't call for it as a garnish ;-)
March 2, 2012
0

found this helpful
A thousand thanks, ya'll! I hope, if you haven't tasted it, you can go to a Cheddar's some day and try it.