This is a favorite potluck appetizer or a treat to make at home. This artichoke dip recipe has a little less tang than most recipes.
I think it tastes even better than most store and restaurant versions - plus it's slightly healthier.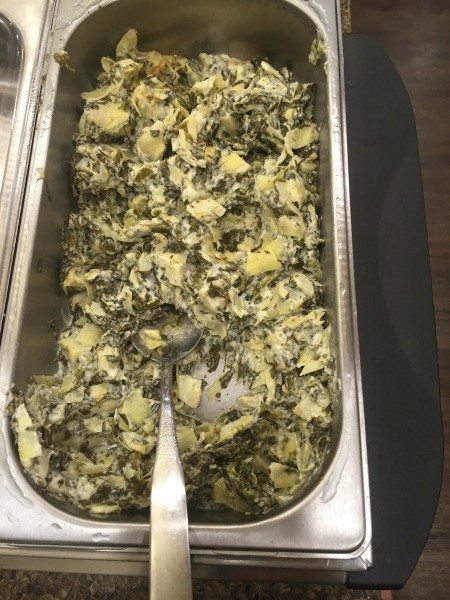 Read More...
Recently, I got addicted to the artichoke, spinach and jalapeno dip at Sam's Club (it was in a hexagonal plastic jar, and white in color). Now I can't find it anymore, and I've been searching for a recipe that's pretty close to the commercial product (which I think was their house brand).
The recipes I found all contain mayo, and way more types of cheese than I think are necessary. And, to top it off, the results just don't taste "fresh".
Do you have a recipe that you think tastes like the Sam's Club one (if you've ever had it), or a similar dip you swear by? Thanks in advance, lovely people.
By Dee Rhodes from Hollywood, CA
Answers
November 4, 2009
0

found this helpful
You might find it online, good luck.
November 5, 2009
0

found this helpful
OK I love that stuff. I go to a few different sams around me, and some carry it, some don't. I've tried googling it too, it is just yummy! One thing I've done when Sam's stopped carrying something I liked was every time I go in there I talk to the manager and let them know I'd like them to carry it again and I fill out a sheet at the front of sams-a comment sheet.
I hope someone does have the recipe, it is one of the best dips I've ever had!
March 3, 2012
0

found this helpful
Try this. 1 package (10 oz) baby spinach, chopped or 1 package (10 oz) frozen chopped spinach, thawed and squeezed dry
1 container (16 oz) sour cream
1 cup mayonnaise (I use Miracle Whip and I think it's better!)
1 package Knorr Vegetable recipe soup mix
3 green onions, chopped (optional)
Directions
1.Combine all ingredients and chill about 2 hours.
2.Serve with your favorite dippers. Vegetables and club crackers are the best!
Answer

this Question

...