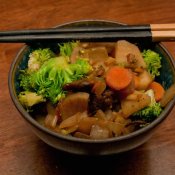 I got these hard knobby sunchokes in my organics box one week and had no idea what to do with them. After a little internet research, I found that they were also known as Jerusalem artichokes and could be used in salads, soups and stir-fry.
Ingredients:
6 sunchokes, washed, peeled and thinly sliced
1 onion, cut into short strips
3-4 cloves garlic, minced
3 carrots, sliced
1 cup broccoli, chopped
1 cup mushrooms, sliced
2 Tbsp. soy sauce
1 Tbsp. pepper or to taste
1/4 cup water
3 cups rice (I used brown)
The vegetables I used were simply what I had on hand at that moment. I find that as long as I start with an onion and some garlic, the other vegetables can be substituted at will. This is a vegetarian stir fry but meat could easily be added.
Directions:
If you are cooking rice, start it first.
Prep all vegetables so they are ready to be tossed in the wok in their turn. The sunchokes were a bit of work to peel. They are harder than potatoes and somewhat reminiscent of gingerroot in appearance. Mild but with a touch of spicy or pungent flavor.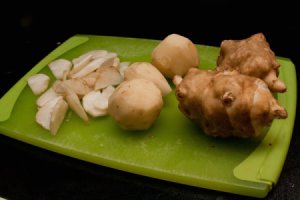 Heat wok over medium high heat (7-8) until pan is warm (not hot), then add oil. When oil is warm, add onions. Cook onions, stirring frequently for a couple of minutes until they are brown on the edges and softening. Add garlic, stir and cook for another minute. Add mushrooms, soy sauce and pepper and stir occasionally for a couple more minutes, until all veggies are soft. You may need to add water to keep it from burning on the bottom during this step. If not, add the water now.
Add sunchokes and carrots, stir everything together and place a lid on the wok for a couple of minutes, to steam the harder vegetables. Then add in the broccoli and replace the lid until the broccoli is bright green and the vegetables are done to your liking.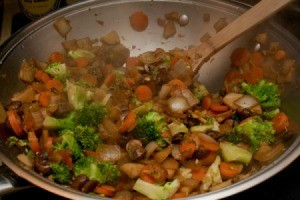 Adjust seasonings by adding more soy sauce or pepper to taste before serving over rice. My family likes to add their own soy sauce, Sriracha or other condiments at the table.
By Jess (TF Editor) from Hillsboro, OR