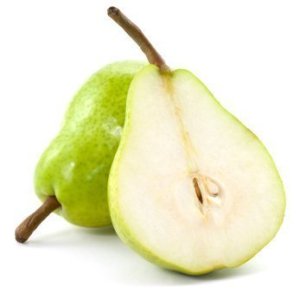 Sweet, delicious pears are an essential ingredient in many recipes. This page contains recipes using pears.
Ad
---
Solutions: Recipes Using Pears
Read and rate the best solutions below by giving them a "thumbs up".
With a beautiful Indian summer and a surplus of fruit, this recipe would be a perfect dessert for fruit lovers.
Approximate Time: Prep Time: 15 min Cook Time: 15 min
Yield: Serves 5 to 6
Ingredients:
5 Bartlett pears
1 stick of butter
1 1/2 cup brown sugar
2 tsp ground cinnamon
2 Tbsp Mexican vanilla extract
1 qt vanilla ice cream, for serving
Ad
---
Steps:
Preheat a grill to medium-high heat. Cut pears into thick slices (4 to 5 per pear). Place slices evenly in a large pan or bowl. Melt butter in a small saucepan over low heat. Pour melted butter over pears. Add brown sugar, cinnamon and vanilla to pan and mix until pears are thoroughly coated with the mixture.
Place pears directlly onto hot grill. Cook for 3 to 4 minutes on each side. Remove pears and place in individual dessert bowls. Pour remaining butter mixture into a medium, grill-safe saucepan. Place saucepan on grill and cook, stirring, until boiling. Remove from heat.
Place 2 scoops of vanilla ice cream over the pears in each bowl. Pour butter sauce over ice cream and serve.
Source: Super C Shopper's Ad
Ingredients:
1 (3 oz.) pkg. lemon gelatin
1 can pears
1/2 cup scant sugar
1/2 cup whipping cream
1 1/2 tsp. vanilla
Directions:
Dissolve lemon gelatin in 1 cup boiling water and 1 cup juice (strained from canned pears). Pour into measuring cup. When it is cool, but not thick, whip with an egg beater, until it is the consistency of whipped cream. Then fold in 1 cup of crushed pears. Beat whipping cream until thick. Add sugar and vanilla and fold into gelatin. Garnish with nuts, if you wish.
By Robin from Washington, IA
Ingredients
1 gallon coarsely ground hard pears
14 sweet bell peppers, ground (mix red and green)
4 hot peppers, ground
1/2 gallon ground onions
1 1/2 cups salt
water
2 qts. vinegar
2 Tbsp. turmeric
5 1/2 cups white sugar
3 Tbsp. white mustard seed
Directions
Combine pears, peppers and onions. Mix salt and water and pour over mixture. Use enough water to cover. Let stand overnight. Drain and rinse with fresh water. Combine vinegar, turmeric, sugar and mustard seed in large roaster. Bring mixture to boil and boil for 5 minutes. Add pears, peppers and onions and cook for 15-20 minutes. Put in sterilized jars and seal.
By Robin from Washington, IA
Drain juice from can of Bartlett pears (1 lb size). Add 1/3 cup red cinnamon candies and 2 drops of red food coloring. Boil juice until candies have melted. Then pour back over pears and when cold, store in refrigerator. Pears should stand in juice about 24 hours and will then be a brilliant red. Fill cavity with cream cheese and place on crisp lettuce.

By Robin from Washington, IA
A dear friend of mine has pears trees but never uses them. I am the lucky one that gets to have them. Getting an overabundance of them has led me to try to be creative with them. I made a large bath of pear sauce by peeling, coring and cutting the pears into small pieces. Then I put enough water to cover them in a saucepan and added a smidgeon of cinnamon and about 1/2 cup of sugar.

Once the mixture started to boil I put the heat on simmer and continued cooking (stir occasionally) until the mixture reached a mush stage. I removed the mixture and mushed it even more with my potato masher. You can serve this as a side dish with pork or chicken. You can also use it in place of applesauce in any recipe you have.

By joesgirl
Give a "thumbs up" to the solution that worked the best! Do you have a better solution? Click here to share it!
Questions
Here are questions related to Recipes Using Pears.
Does anyone have any recipes for preserving pears in liqueurs?
By Joy from Gloucestershire
AnswerWas this interesting? Yes No
Ad
---
---
Most Recent Answer
By Jillian [3] 01/14/20110 people found this helpful
Google "pears preserved in Liqueur". A bunch of recipes come up.
---
I need a recipe for pear honey or pear jam.
By Jude from Richfield, UT
AnswerWas this interesting? Yes No
---
Most Recent Answer
By Grandma J [54] 08/29/20100 people found this helpful
I used the pear tomato as well as the pears. In my regular cooking down of roma tomatoes, I dropped fresh pears from the tree that were soft, and they sweetened up without sugar, and no added pectin.
---