August 16, 2010
0

found this helpful
Does pear preserves count?
1.5 cups sugar
3 cups water
1 lemon thinly sliced
1.5 cups sugar
6 medium cored, hard-ripe pears cut in halves or quarters
Combine 1.5 cups sugar and water, cook rapidly 2 minutes. Add pears and gently boil 15 minutes. Add remaining sugar and lemon, stirring until sugar dissolves. Cook rapidly until fruit is clear, about 25 minutes. Cover and let stand 12 to 24 hours in a cool place. Pack fruit into hot jars, leaving 1/4 inch head space. Cook syrup 3 to 5 minutes or longer if too thin. Pour boiling hot, over fruit leaving 1/4 inch head space. Adjust caps. Process half pints and pints 20 minutes at 180 to 285 degrees F in hot water bath. Yield about 5 1/2 pints.
Note: if Seckel pears are used preserve whole with stem intact. Kiefers should be stored in a cool, dry place 3 to 5 weeks before using. A piece of preserved ginger may be added to each jar.
This was copied pretty verbatim from the Ball Blue Book.
August 18, 2010
0

found this helpful
Here is a great recipe for pear honey. I got it from a paula deen cookbook. It makes a lot of pear honey so I home canned a lot of it and gave it for Christmas Gifts.
www.mommyskitchen.net/.../homemade-pear-honey.html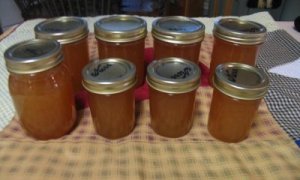 August 18, 2010
0

found this helpful
My favorite jam of all is Vanilla Pear Jam. It's amazing, and tastes like summer. Make sure you have fully ripe, sweet, flavorful pears.
4 c. peeled, finely chopped pears
1/4 c plus 1 teaspoon freshly squeezed lemon juice
3 teaspoons pure vanilla
1 (1 3/4 ou) pack sugar-free pectin
4 c sugar
Mix all ingredients, stirring pectin in slowly and thoroughly. Bring to a boil. Boil hard (when you stir it, it doesn't stop boiling) for 1 minute. Leave 1/4 inch head space for half pints. Process 10 minutes.
August 29, 2010
0

found this helpful
The Ball canning book has many wonderful pear honey jam recipes. I just finished making some, made a lot of this last year. Also used grape/cherry tomatoes to use with the same recipe. Use clover honey for canning, not other kinds. This is good. Ball Blue Book has great recipes.
August 29, 2010
0

found this helpful
I used the pear tomato as well as the pears. In my regular cooking down of roma tomatoes, I dropped fresh pears from the tree that were soft, and they sweetened up without sugar, and no added pectin.