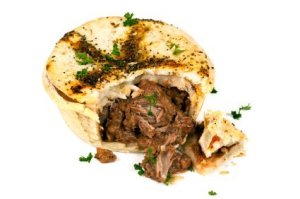 In addition to the sweet dessert pies there are a variety of savory pies to serve as the main course. This page contains savory pie recipes.
Ad
---
Solutions: Savory Pie Recipes
Read and rate the best solutions below by giving them a "thumbs up".
Ingredients
3 cups sliced zucchini (thin)
1 onion, sliced thin
2 garlic buds, diced
1/2 cups grated cheddar cheese
4 eggs
salt and pepper, to taste
1/2 cup oil
1 cup Bisquick
Directions
Combine first 4 ingredients. Mix together remaining ingredients. Pour over zucchini mixture. Coat well. Pour in glass pan. Bake at 350 degrees F for 45 minutes.
By Robin from Washington, IA
This is a super easy, tasty and hearty recipe. It doesn't actually call for it, but if you want to make it a one-dish meal, all you have to do is add a can of vegetables of your choice.
Ingredients:
1 1/2 lbs. ground beef
1 cup chopped onion
1/2 cup sour cream
1 can cream of mushroom or cream of chicken soup
1/4 cup milk
1 tsp. salt
1/4 cup ketchup
1 tube refrigerator biscuits (8 count)
1/4 cup Parmesan cheese
Directions:
Brown ground beef and onions; drain. Combine sour cream, soup and milk. Add salt, ketchup and meat. Pour into 2 qt. casserole. Bake at 375 F for 10 minutes. Place biscuits around edge and sprinkle with cheese. Bake another 15-20 minutes at 375 F until golden brown.
Cooking Time:
20-25 Minutes
By Robin from Washington, IA
Ingredients:
1 cup all purpose flour
1 tsp. celery seeds
1/2 tsp. salt
1/2 tsp. paprika
1/3 cup shortening
2-3 Tbsp. water
Directions:
Combine, flour, celery seeds, salt, and paprika in a large bowl; cut in shortening with a pastry blender until mixture resembles coarse meal. With a fork, stir in enough water, 1 Tbsp. at a time, to moisten dry ingredients. Shape dough into a ball. Yield: enough pastry to top 4 individual pies or one 8 inch square pie.
By Robin
Give a "thumbs up" to the solution that worked the best! Do you have a better solution? Click here to share it!
Questions
Here are questions related to Savory Pie Recipes.
I am looking for recipe for a pork meat pie. It is a French Canadian dish I believe. Thanks.
By Judy from Nashua, NH
AnswerWas this interesting? Yes No
Ad
---
---
Most Recent Answer
By Patti 12/13/20100 people found this helpful
This is the most similar recipe to my mom's (a born & bred Canadian) I have found. I got this recipe from razzledazzlerecipes.com/ which has a lot of great Canadian (&American) recipes. My mom did not put potatoes in as this calls for and always used regular ground beef. My dad loved this.

Original Canadian Tourtiere

1/2 lb Ground pork
1/2 lb Ground veal
1/3 c Chopped onion
1/3 c Water
1/4 ts White pepper
1 ts Salt
1/4 ts Ground cloves
1/4 ts Cinnamon
1/4 ts Celery salt
1/4 ts Savory
1 To 2 potatoes, boiled and mashed
1 Pastry for 8" double-crust-pie

Preheat oven to 425°F.

Place pork, veal, onion and water in a saucepan. Simmer until color changes. Adding seasonings; simmer for a little longer. Thoroughly drain meat.

Mix in mashed potatoes. Fit bottom pastry into 8" pie plate.

Fill with meat mixture. cover with top crust. Seal edges as desired and vent top to allow steam to escape.

Bake for 10 minutes; lower oven temperature to 400øF and bake for 20 to 25 minutes or until crust is golden brown and filling is hot.

Serves 6

Note: If you prefer a spicier tourtiere increase seasonings to your taste.
---
Archives
Thrifty Fun has been around so long that many of our pages have been reset several times. Archives are older versions of the page and the comments that were provided then.
Ingredients
1 package refrigerated crescent rolls
1/4 cup or more extra virgin olive oil
4 cups sliced zucchini squash
1/2 cup chopped onions (can be spring onions)
2 Tbsp. fresh dill
1 garlic clove (may omit)
1/2 tsp. dried oregano
1/2 tsp. salt
freshly ground black pepper (to taste)
2 large eggs, beaten slightly
2 cups shredded mozzarella cheese
Directions
Preheat oven to 375 degrees F, Unroll crescent rolls and press into a 9 inch glass pie pan, covering sides and bottom.
Put olive oil in a skillet over medium heat and cook the zucchini and onion and garlic until tender. I used two skillets because I liked to brown the zucchini just a bit longer and don't want to burn the onions and garlic. Then I remove from heat, mix them together and add the dill, oregano, salt and pepper. Then add the eggs and cheese, mix and put into the pie shell.
Bake approx 20-25 minutes in the preheated oven, until set. Cool 10 minutes and serve. We make it again and again.
Source: This recipe came from allrecipes but I changed some of the ingredients. It was easy to make but looks like you spent a long time making it.
By nelliemary from West Virginia