Once you have enjoyed your ham, don't throw that ham bone out. The ham bone contains a ton of flavor and can be used to flavor other dishes. This page contains recipes using a ham bone.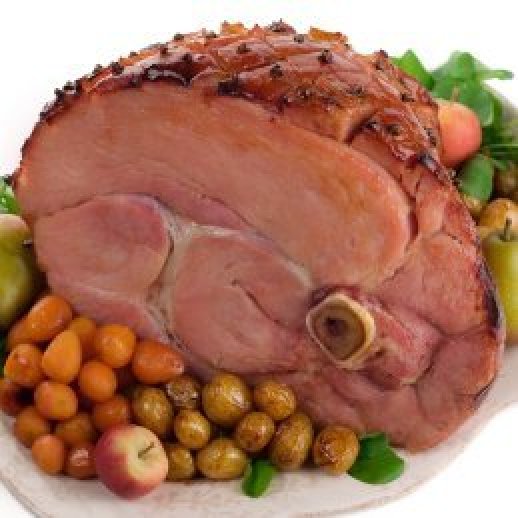 Filter

: All Articles
Sort

: Relevance
When cooking a ham for the holidays and you've eaten all the meat, save the ham bone to freeze. Later you can pull it out of your freezer, throw in some beans with your frozen bone, and make a nice soup.
By Diana M.
This was made from my ham bone from Thanksgiving I froze the bone that day after carving it. I took it out recently and let it boil all day long.
Ingredients:
1 leftover ham bone
2 large onions, quartered
1 lb chunk cut carrots
6 large white potatoes
1 smail purple top turnip, cubed
1 small yellow turnip, cubed
Seasonings*
*I added add spices like: thyme, rosemary, bay leaf, black pepper, a splash of cider vinegar and a splash of white wine. It simmered all day.
Steps:
Let these all cook until about 1/2 done, the add a half of a cabbage cut into quarters.
When all is done, add butter and cider vinegar at the table for those who want it. It was yummy!
Source: My own creation
Any one know of a recipe that I can use a ham bone in? I had a huge ham in my freezer that I finally got around to cooking and dividing up for dinners and lunches. Now I have a this ham bone and I don't want to waste it. When I had my dog, this was not a problem. Now that he is gone, I want to make a soup or something out of it. Thanks for your help.
December 27, 2010
0

found this helpful
Hambone & beans; I also add the few bits of ham that are left over from making sandwiches. Tip: After washing beans, add cold water and 1/4 tsp soda, bring to boil, remove from heat & soak for 1 hour; drain & rinse well in colander. Then add to ham bone & cold water (bone may be pre-cooked , if you like, in which case you may add the beans to the hot ham bone & broth). Cut up an onion and garlic, as well, if you like (I add my garlic about 10 min before serving as the garlic is much stronger-tasting) then cook till done. The soda removes the gas from the beans that causes bloating and discomfort!
Reply
Was this helpful?
Helpful?
Yes
Read More Answers...
I boil the ham bone with wedged cabbage, rutabaga, potatoes, whole onions, and squash. It makes wonderful meal.
Source: My mom
By Lavonne from MN
This past Easter I baked a bone-in ham, wrapped in foil, then unwrapped and covered with a glaze. Delicious! In the past, I had never bothered going to the trouble of using the ham bone for soup or whatever, so I usually just picked off as much ham as possible and discarded the bone.
This year, I simmered the ham bone for about 2 hours, on the off chance I might want to make something more. Lo and behold, when it was done, there was a ton more ham to easily tear off! What a bounty! And it was even moister than the rest of the ham!
So, always make sure you get the best of everything. And I thank all of you for all your awesome tips!
By Nancy from Salem, MA
I buy the leftover bone from Heavenly or Honeybaked Ham, defrost it and then remove as much fat as possible. There's usually about a pound of ham left on the bone! - and I grind it with cheddar cheese and pineapple slices to make a great sandwich spread.

I pressure-cook the bone with the juice from 1/2 a lemon (or 2 tablespoons of vinegar) to get the cartilage dissolved. This makes thick broth for a bean soup base or for cooking greens, and once cooled, the fat can be removed from the top. The boiled bone finally makes it into the compost pile to release its calcium back to the earth.