Traveling With a Camper or Trailer
Traveling with a camper or trailer means comfort and convenience, but does also create other considerations. This is a guide about traveling with a camper or a trailer.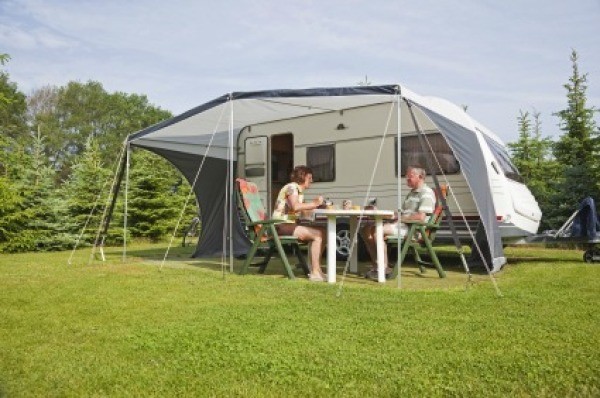 Filter

: All Articles
Sort

: Relevance
I have a 34' camper that we're looking to take from Michigan to South Carolina. We've planned an overnight stay at a campsite in Nashville the first night and plan to be at a state park in SC the following day.
I'm pretty much a newbie having never gone out of state with our camper. I was wondering how difficult is it to have to stop for gas along the highway and does anyone have any tips for doing so?
I've owned camper's before, but this one is the longest I've owned and I've only had it for a year. I have this nightmare of trying to wiggle into a gas station, having a hard time maneuvering around pumps and traffic and not being able to back up if I need to because of the sway bar. I've been told it will crimp if you do.
Thanks!

July 17, 2015
0

found this helpful
Sorry, I keep thinking about your driving plans-from your information, it appears you plan to drive two days with one overnite stop? If so, you have alot of driving to do in a limited time-approximately 500+ miles each day for apprx 1000 one way. 500+ miles driving is a very long day-apprx 10 hours each day not counting stops. This will be difficult, very tiring, and possibly dangerous, especially for a first time long drive with your long and heavy trailer. If you include kids, much worse. I suggest you try to cover the distance with a three day drive and two overnites-6-7 hours drive each day. Much Safer!
July 18, 2015
0

found this helpful
I just recently traveled with my son to off-road competitions through Canada, Idaho, and into California. He was hauling his off-road truck on a long flat deck trailer, and had to choose his gas stations carefully. When you travel on the interstates, you will likely have no trouble finding gas stations that are convenient to use, but you may have to pass some by. Flying J truck stops are always convenient. In Canada, the provinces we drove through are farming and ranching areas, and have lots of tourists pulling boats and camper trailers, etc. We do not have interstates such as you do in the US, but even on the less traveled highways, there was seldom a problem. You will want to look for truck stops, and always travel on the top half of your tank! Fuel up well before you are desperate for fuel.
September 20, 2015
0

found this helpful
We also have a 34', but ours is a fifth wheel. Getting gas can be an adventure. We buy a book called "Next Exit" that has all stops along interstates by exit and has RV friendly stops in red. This is helpful but not foolproof. Not all truckstops have RV friendly gas islands. We have also had RV friendly gas stops that were a nightmare of backing out. But the Next Exit is helpful.
Read More Answers...
We just bought a 5th wheel trailer. My question is after we camp do you leave canned foods in the trailer or do you take everything out each trip?
January 19, 2016
0

found this helpful
If you're going to be storing the trailer where it might be subject to extreme temperatures (freezes or high heat-high humidity) you probably should take your canned goods in to the house between trips.
By 'canned goods', you do mean tins, right? Because the answer for 'canned goods' like the ones home-preserved in mason jars is different - if you're talking about home-canned goods, you definitely want to be sure the jars aren't exposed to temperature extremes to avoid bursting!
When booking an RV spot to use with a travel trailer, do we reserve a spot that is big enough for both the truck and trailer, or just the trailer length?
By Lewis from Port Orchard, WA
July 1, 2010
0

found this helpful
Best Answer
Truck and trailer would be best if you are towing a vehicle or hauling a trailer. The trailer length spots are usually for actual RV's. Most spots provide room for your to park your vehicle as well as set up your trailer though so I wouldn't worry too much if you find a spot that is trailer only. Happy Camping!
July 5, 2010
0

found this helpful
We just give the length of our RV and have plenty of room for the RV and the truck (if we chose to, we could even leave the truck hooked up to the hitch) at any campground we've been to.
June 13, 2015
0

found this helpful
Most camp sites that you can reserve online will tell you the length. For instance, our camper is 33 foot, and I allow 20 for our truck. So I check that the site has a minimum of 53 feet. Since we carry some equipment, such as our bikes, in the truck, I want the truck with us.
For 3-4 years our whole family camped in a travel trailer exclusively. It was fun to prepare an entire meal of home-made lasagne perhaps, complete with china and silverware, and watch the other campers enviously eat hot dogs over campfires.
On Monday morning, the kids and I would search the empty campground for fires still burning and any other detritus left behind. We hiked all over the place and I would incorporate what we found into our lessons which I was teaching them.
By Susan from Baltimore, MD
Can I leave linens in my camper while storing it in Florida?
By Sophie K.
April 10, 2015
0

found this helpful
You can store linens in a camper, however, you should put them in an air tight bag like ZipLoc and, perhaps, a dryer sheet or other scent to eliminate musty and other odors from the humidity.
April 10, 2015
0

found this helpful
Good idea. Just so you have another option, the dollar stores now carry the smaller vacuum bags. Keeps them fresh and takes up less space.
If the storage is going to be closed up, you might want to invest in another dollar store item. It's crystals that absorb the air. Here is a photo. Good luck!
I learned this tip from friends who not only camped, but owned a campground. It works wonderfully! When traveling with a travel trailer, always crack open a front window on the left side of the camper, and a right window on the back side of the camper. This allows air to flow through easily and prevents the camper from whipping back and forth as you pass large trucks by. Your trip will be SO much smoother! It works on the same principle as does cracking windows when a tornado or hurricane is coming through - preventing so much pressure inside.
By Jacketbacker from Greer, SC
I love camping but I will be honest, I do not "rough it" very well. No tent and sleeping bag for me, I prefer a camper. But camping in a camper can be very expensive. I work hard to keep it frugal. Several years ago we purchased a used camper that a fellow lived in for a bit. We knew it would take a lot of work and good old elbow grease to get it the way we wanted it but the price was low enough to make it worth our while.
The probes in the dirty tanks did not work and the tanks had a horrible odor. There are several ways to clean these, one of them requiring a visit to a camper dealer. I did some research and decided to try the cheapest ways first. Before we left for a weekend camping trip I filled the tanks, by my estimate, about a little less than 1/2 full of water. I added 1 cup of Calgon water softener and 1 cup of laundry detergent. Then, I poured 1 ten pound bag of ice cubes down the camper toilet. My hubby thought I was off my rocker. It took two camping trips, then a miracle happened, the probes started working and there was no odors from the tank!
I don't like paper plates so I hit up a yard sale to find a complete set of dishes for only $2. To make sure they traveled well during towing times I went to the Dollar Tree and purchased several rolls of non skid shelf liner. I cut them into squares and put them between each plate, saucer, and bowl. It works like a charm, no broken dishes!
I keep the camper stocked with personal hygiene and cleaning items. During tow times I place a clothing basket in the bathtub and store the items there. They are not flying around the camper in transit, and if by accident a lid came off, the mess is contained.
The camper, for some odd reason, did not have a light switch in the bedroom area. I purchased a cheap lamp to use in there and became tired of having to removed it during tow times. So I placed self stick Velcro on the lamp and the laminated built in night stand. It worked. The lamp stayed put.
I hit up yard sales and thrift stores for linens, towels, flatware, everything I would need and stored them in the camper, too. When we planned a camping trip all I needed to add was food. :-) After every camper trip, upon our return home, we would wash and repack linens and clean the camper, ready for our next getaway!
I live in New York, and am planning to go south in late February; I am new to camper travel. I am going to the Keys. How do I get out of the northeast and still be able to use my 23ft Hornet? How far south do I have to go before I will be able to live out of the camper the rest of the way? What suggestions do you have for me to prepare for the trip in regard to the trailer? Any and all will be helpful.
By Tom P. from Clifton Park, NY
September 11, 2013
0

found this helpful
Question: I live in New York, and am planning to go south in late February; I am new to camper travel. I am going to the Keys. How do I get out of the northeast and still be able to use my 23ft Hornet? How far south do I have to go before I will be able to live out of the camper the rest of the way?
What suggestions do you have for me to prepare for the trip in regard to the trailer? Any and all will be helpful.
Answer: Preplanning is a necessity! The trip will be a long one, for sure, along the way are many, many RV/camper parks. These are where you spend the night/few days whatever your schedule allows. You can find these parks on the internet. Easy.
You can travel as far south as the road extends! Its these parks you need to find along the way. You really need to decide where you are staying in the Keys and reserve a site just as you would a hotel room. Preplanning is the key to this lengthly trip. The internet is all you need. Hope this helps.
Can you run you fridge on LP gas while traveling down the road?
By BernieC
June 13, 2015
0

found this helpful
Yes, you can. Our fridge we keep on Automatic. When we are plugged into electricity it will use it, but when we unplug, it goes to gas. We travel with our camper all over, and keeping food cold is a must!
We have a camper that needs storage space. Any ideas as to how we could make more room? We will be traveling and selling our product "on the road".
By danward
July 25, 2009
0

found this helpful
For really great wash and dry with no wrinkles, try travelsmithoutfitters.com
They sell some great clothes that pack neatly, don't wrinkle, and they have lots of collections that go together, so you can mix and match and still have nice, comfortable outfits.
July 27, 2009
0

found this helpful
In our camping trailer I hung shoe organizers in different areas of the trailer. In the bathroom and I put shampoo and toothbrushes and paste, in bedroom, scissors, remotes. In the common room and kitchen it was a godsend. It really works. If you sew you can sew them and it looks pretty. The kitchen I had one just for spices
July 28, 2009
0

found this helpful
It is possible to find storage space in a camper that may not have been thought of. If you have steps up, like in a fifth wheel, you can open those up, put a hinge on the step, and use that for storage. If you do not already have storage under the bench seats by the table, you can put drawers or doors there. Check out above cupboards, above the built in couches and so on. There may be unused space that can have a door built in, and then you have extra space. If you have open decorative shelving in the bedroom, perhaps you can make that into a cupboard, or find some sort of special containers that would fit there.
There are often storage spaces accessible from the outside for things like BBQ's and lawn chairs. Be sure you are taking advantage of all that sort of space, and again, check to make sure all empty spaces have doors built into them, so you can use that space. If you have a large area for a TV, and you do not intend to install one, make that into a cupboard. Look around and you will likely find a number of areas that you can convert to cupboards.
Read More Answers...
This is an idea for getting use out of your shower in a trailer. We have a trailer that we live in 6 months of the year. I am sure there are lots of others like us doing the same thing. I love house plants and came up with an idea to allow them in my trailer home. Our shower has a skylight in it. I put my plants in it when we are not using the shower. It's like a mini solarium and looks great in the bathroom. My plants seem to love it and have grown tremendously.
By pennypacer from Ontario, Canada
If you have a camper, you know about the refrigerator odor that can occur after a camping trip. I have found that after emptying the refrigerator, if I leave the door open, all of the condensation will evaporate from the unit. No mold from the moisture and no odor from the unit being closed up tight!
By Gwen from Columbus, MS
My husband and I just purchased a small camper. I would love to hear your space-saving and organizing ideas for in a camper or RV. Also any camping tips in general that you might have.
© 1997-2016 by Cumuli, Inc. All Rights Reserved. Published by
ThriftyFun
.
Page
generated on July 21, 2016 at 1:34:58 AM on 10.0.2.51 in 3 seconds. Use of this web site constitutes acceptance of ThriftyFun's
Disclaimer
and
Privacy Policy
. If you have any problems or suggestions feel free to
Contact Us
.