Mice ate through the canvas and screens of my 1993 Pop-up camper. Big holes! How can I fix or where can I get canvas to replace it. It's not just one spot. Thanks for any suggestions!
Answers

June 13, 2021
0

found this helpful
Best Answer
I do know this is not always an easy job so maybe you should join a forum so you can ask questions when you have problems.
This site will also recommend places to buy materials you will need:
www.popupportal.com/.../
Here are links to companies that sell canvas and/or repair kits:
www.hannarv.com/.../TentRepair
www.amazon.com/.../s?k=pop+up+camper+canvas+repair+kit (Affiliate Link)
There may be local shops that sell material. Try Google with canvas material for pop up camper with your zip code. You'll probably see most full top advertisements but keep checking. Some sites will have tent repair canvas but this is generally not heavy enough for a camper top.
Join the forum site so you can ask questions when you run into a problem.

gggd
Silver Answer Medal for All Time! 425 Answers
June 15, 2021
1

found this helpful
Best Answer
If you are up to a DIY, there are a few ways to patch your canvas and screens. It won't look perfect, but it will keep bugs and weather out. Get some fiberglass screen from a hardware store or Walmart. You can cut pieces a little bigger than the areas to patch, overlap on all edges and hand sew around the perimeter with a running or whip stitch, and knot off at the end. I use clear fishing line for screen repairs. For the canvas, I would go to Harbor Freight and buy one (or more if needed) of the canvas drop cloths. Then, if you can get the chewed canvas pieces off the pop-up to place on a flat surface, buy some heavy duty fusible web interfacing from Joann Fabrics or Walmart, and cut the new canvas a bit bigger than the holes to be fixed. Cut the fusible for just the overlap area of the canvas patch onto the holey pop-up canvas and using an iron, follow the fusible directions to iron on canvas patches. If holes are small, Joanns and other stores that have sewing departments will most likely sell SMALL iron-on patches in several colors ready-made which you can use. You may want to also do some hand sewing around the edge just in case the fusible might not hold up to heavy winds or rain.
If you can NOT get the pop-up canvas off the pop-up, you will have to cut new canvas patches and sew them on by hand. Any of these fixes are going to take a lot of time and effort on your part, and of course, will not be invisible fixes, but WILL patch up your canvas and screens. Both of the canvas repairs will have to be waterproofed. You can usually find waterproofing stuff in the camping and sporting goods section of Target, Walmart, and Sporting Goods stores. Just follow application info on the product. After considering all of the above, and the amount of work you think it will be, if you feel unable to DIY or it is a lot of very large or irregular holey areas that need to be fixed, you can always contact a shop that does RV repairs. Whatever you decide, good luck, and let us know how it goes.
PS- make sure all of your screen and canvas repair are put on from the inside, so it makes the outside look a bit neater. And if you want to color or dye the canvas patches you make, cut out the oversized patches, color or dye them, let dry, then attach to pop-up canvas and continue with directions.

DianaHM
Silver Answer Medal for All Time! 440 Answers
June 26, 2021
0

found this helpful
Best Answer
You can fix it yourself.
How to repair canvas:
Purchase the desired color canvas, canvas adhesive, waterproof silicon spray / wax
or buy a patching kit www.amazon.com/.../ref=sr_1_1?tag=thrif06-20 (Affiliate Link)
Measure the hole.
Cut out a piece of canvas that is similar to the original color of canvas.
Cut it one inch larger all the way around than the problem area.
On the inside of the camper coat the area with canvas adhesive.
Cover it with the piece of cutout canvas.
Wait approximately 10 minutes until it dries.
Cut another piece of canvas for the outside of the camper.
Apply the adhesive and the canvas and wait 10 minutes till it dries.
Keep the pop up camper erect for 24 hours so the repaired area will dry completely.
Spray the patched area with a waterproof silicon spray or wax.
Repeat it for all holes.
How to repair screens:
If there is a tear in a window screen you can apply clear nail polish if the tear is small enough. If the tear is larger, purchase a screen repair kit.
I thunk you need to replace the screens:
Remove the rubber gasket from around the old screen.
Pull off the screen mesh. Cut a new piece of screen mesh to match the old piece (use the old mesh as a stencil).
Position the new screen mesh over the window. Have a friend help to hold the screen taut. Press the rubber gasket into its groove over the mesh until the entire perimeter is sealed.
Answer

this Question

One of the lift legs that hold up the top will not go up. The other 3 do just fine. How can this be fixed?

Answers

Pghgirl40
Bronze Feedback Medal for All Time! 196 Feedbacks
July 1, 2018
0

found this helpful
Best Answer
Not cool that you are having issues during a holiday weekend!
When I learned about YouTube it has become my go to learn how to fix things, make things, etc. This site proves you can fix old dogs like me new tricks like how to fix things :)
There are lots of good YouTubes out there for campers.
Without knowing the brand, I found one about fixing lifts. If you put your brand in, I bet you will find something perfect to get you started! Sometimes even if the videos are bad (and boy are there some bad ones), they have one grain of helpful that gets you where you need to be in your to do! The link I found is:
Answer

this Question

How do I repair a pop up camper where the canvas is sagging on the sides?
Answers

Hello
Bronze Post Medal for All Time! 107 Posts
May 21, 2018
0

found this helpful
Best Answer
two reasons might be that you don't have appropriate poles, or that the canvas itself is old/used up, therefore sagging
if the canvas itself is sagging because it's stretched out, you are probably better off not purchasing it
the big problem with a sagging canvas is that water collects which can have obvious problems
if it's just the poles that are an issue you first find out if the shepherd's pole is adjustable. Or sometimes the shepherd's pole gets bent due to weight. Then you can replace it or try to unbend it
some people just use pool noodles to correct the sag, at the connection points. One example is shown in the pic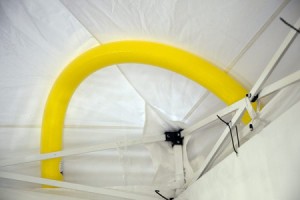 Answer

this Question

I have an old Coleman pop top caravan, the sides are aluminum, but the front and back are a hard plastic. I have two holes at the front in the hard plastic and a crack in the back. The plastic is very brittle from age.
Does anyone know how I can fix these holes? My kids love camping and I can't afford to pay for expensive repairs. The whole caravan is not worth much, but we love to go camping the kids and I.
Answers

December 16, 2016
0

found this helpful
I know someone who had a similar problem and he repaired it with duct tape and painted the tape to match the paint on the car. It's a cheap solution to the problem and worth trying. Good luck.

wordswork
Bronze Feedback Medal for All Time! 170 Feedbacks
December 17, 2016
0

found this helpful
Why not stop by an auto-body repair shop, Marina, and ask them about using "bondo." It's a type of putty which dries when applied and the technicians then sand it down to match the countours of the vehicle. No drilling of holes (in your already fragile plastic) and of course you don't have to sand it down, just apply it to fill the holes and reinforce the strength of the front and back.
Good luck!

Judy
Gold Post Medal for All Time! 677 Posts
December 29, 2016
0

found this helpful
What about using a flexible cutting board as patch? You could use the duct tape as someone else mentioned, or a product called Fiber Fix, that was featured on Shark Tank?

December 31, 2016
0

found this helpful
Since my son is the camper in the family, I ask him for an opinion.
He said he had repaired fiberglass on a boat but never anything else - so - his suggestion was to take it to a local shop and try to get their opinion on repairs and cost as this may turn out to be a big job and may only be necessary for "looks".
If there is no local RV/Camper repair shop near by maybe there is a boat sales/repair shop that may be able to help you - either with a cost to repair or a shop that does that sort of repair.
If it is determined there is no structural damage maybe you can think of a way to "camouflage" the damage?
My daughter even suggested asking someone at a Corvette repair shop for advice seeing as how they have to repair this "type" of stuff on Corvettes.
Hope you and your family are able to go camping soon.
Read More

Answers

I need to clean and repair canvas and screens on 1976 Coleman Popup camper. I am also having problems with bunk slide outs and with cranking. The canvas is very dirty; not much mildew; need to resew at the door. The screens are brittle, cracked. Can slideouts be removed and gliders lubed? Same for the cranks? any advice greatly appreciated.
Shirley from Sandusky, OH
Answers

June 14, 2007
0

found this helpful
SIMPLE GREEN should clean the canvas with no problem even if there is a lot of mildew on it...something else I've discovered that cleans mildew is DOW SCRUBBING BUBBLES BATHROOM CLEANER believe it or not!! My son bought a 1969 Chevy station wagon that literally had sat in a field for about 20 yrs. and I'm talking major mildew here!! I did the entire inside of the car with the scrubbing bubbles and it looks like new! If the company knew how well it works for that, they would probably charge much more for the product!
We bought an old Scotty camper many years ago and the awning was horrible looking and smelly with so much mildew..used simple green and looked like new.
As far as repairing the canvas, I notice that you live in Ohio...are there any Amish people near you that you could ask about sewing it?? We had a Starcraft pop-up many, many years ago and it was torn around the screen windows on each end where the beds pulled out and they were able to sew it; did not charge a lot either.
Good luck with it, and happy camping!

June 15, 2007
0

found this helpful
www.popupexplorer.com/.../default.asp?CAT_ID=1
Please check out this site. There is an unbelievable amount of help available to pup'ers there. And the guys are really funny to boot! :-)
March 18, 2011
0

found this helpful
We live in NJ and just bought a used pop up trailer. The screens on each side need to be either replaced or repaired. Any thoughts on where to go for either one. So far we found one place but they want over $500.00 to just repaire it. Is it easier to just buy new.
Please advise.
Read More

Answers