December 16, 2016
0

found this helpful
I know someone who had a similar problem and he repaired it with duct tape and painted the tape to match the paint on the car. It's a cheap solution to the problem and worth trying. Good luck.

December 16, 2016
0

found this helpful
Hi Anne,
Thank you so much for your reply, one of the holes wraps around the corner so it needs to be a bit more supportive. But thanks anyway
cheers Marina

August 16, 2019
0

found this helpful
Use fiberglass resin and coat entire surface

August 21, 2019
0

found this helpful
My older Coleman also came with a badly damaged corner covered with duct tape. I removed the duct tape and found cracks and a gaping hole the size of my fist. At the auto parts store, I got the supplies for fiberglassing. Since the pup was hollow behind the hole I had no solid surface on which to work. So I used foam insulation, the kind that comes in a spray can.
After sanding it, shaping it, I began the fiberglass process. It took several days as I let it dry and sanded the fiberglass between applications. The repair is completely waterproof, the materials are lightweight, and it is stronger than it was before.

wordswork
Bronze Feedback Medal for All Time! 170 Feedbacks
December 17, 2016
0

found this helpful
Why not stop by an auto-body repair shop, Marina, and ask them about using "bondo." It's a type of putty which dries when applied and the technicians then sand it down to match the countours of the vehicle. No drilling of holes (in your already fragile plastic) and of course you don't have to sand it down, just apply it to fill the holes and reinforce the strength of the front and back.
Good luck!

Judy
Gold Post Medal for All Time! 677 Posts
December 29, 2016
0

found this helpful
What about using a flexible cutting board as patch? You could use the duct tape as someone else mentioned, or a product called Fiber Fix, that was featured on Shark Tank?

December 31, 2016
0

found this helpful
Since my son is the camper in the family, I ask him for an opinion.
He said he had repaired fiberglass on a boat but never anything else - so - his suggestion was to take it to a local shop and try to get their opinion on repairs and cost as this may turn out to be a big job and may only be necessary for "looks".
If there is no local RV/Camper repair shop near by maybe there is a boat sales/repair shop that may be able to help you - either with a cost to repair or a shop that does that sort of repair.
If it is determined there is no structural damage maybe you can think of a way to "camouflage" the damage?
My daughter even suggested asking someone at a Corvette repair shop for advice seeing as how they have to repair this "type" of stuff on Corvettes.
Hope you and your family are able to go camping soon.

December 31, 2016
0

found this helpful
I wonder if you could use the fiberglass repair kits on it? Its a fiberglass tape and you brush on the adhesive, then it all dries to a hard finish.
I will seek advise on this and see if fibreglass can be applied to plastic? it will be a great idea as you can buy kits, if it will adhere to hard plastic. Thank you so much for your idea
kind regards,
Marina

June 25, 2017
0

found this helpful
If the parts involved are hard plastic? Then it is ABS plastic. You can make repair glue/filler for cracked pieces. and with the proper backing until dried. You can rebuild damaged or missing sections with a thicker mix similar to bondo or body filler putty. You need a clear glass jar with a good twist on cap, a pint of MEK ( Methyl-ethyl ketone ) solvent. You also need to get some air soft ammo from your local sporting goods store variety of colors to choose from. Fill jar with air soft ammo top off with solvent let stand and desolve over night. Stir you want a consistency of between room temperature honey or creamy peanut butter. add additional ammo or solvent to achieve. stir and let stand again over night.

January 11, 2017
0

found this helpful
Gorilla Tape may work. It comes in a wide clear tape now. I've used it on holes in the bottom of a latex pool and it has held up. You could cover the holes with plastic from food containers, which would be bendable for the corners, and then tape over it on both sides. A square food container would provide you with four corners.
Perhaps you could fill in the cracks with an outdoor silicone. The same company puts out clear Gorilla Sealant, which is for outdoors and is waterproof. Best of luck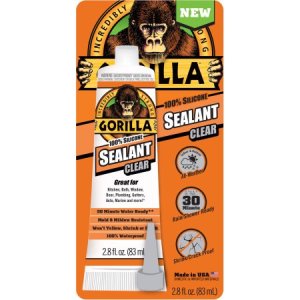 April 3, 2017
0

found this helpful
Marina, I have a 1989 coleman pup and used the fiberglass method and it worked great. you can buy a fiberglass repair kit and any auto repair store.