Hello
Bronze Post Medal for All Time! 107 Posts
May 21, 2018
0

found this helpful
Best Answer
two reasons might be that you don't have appropriate poles, or that the canvas itself is old/used up, therefore sagging
if the canvas itself is sagging because it's stretched out, you are probably better off not purchasing it
the big problem with a sagging canvas is that water collects which can have obvious problems
if it's just the poles that are an issue you first find out if the shepherd's pole is adjustable. Or sometimes the shepherd's pole gets bent due to weight. Then you can replace it or try to unbend it
some people just use pool noodles to correct the sag, at the connection points. One example is shown in the pic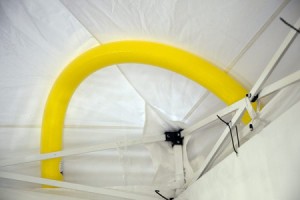 May 22, 2018
0

found this helpful
Thanks that helps a lot I made another post about the same thing that has a picture that you could tell. But I think it just needs new poles.

Judy
Gold Post Medal for All Time! 677 Posts
May 21, 2018
0

found this helpful
The Popup Princess has advice on all kinds of repairs to popup trailers. www.thepopupprincess.com/.../

May 21, 2018
1

found this helpful
That didnt really help my canvas on each side over the bed is sagging like there is zero support. I was wondering because I havent bought it yet if I should just keep looking for a different one.