I have a lot of these shelf units. The cool thing about them is the support rods have holes in the shelves themselves. Using two Dollar Tree hooks that normally go over the door, I found that I can use something to make a rod and hang a bunch of things like: hammers, tape, ribbon, scissors, kitchen utensils, and so much more.
For simplicity sake, I hung all the things in this list in one shot, but you could make one on each side of the shelf unit if there is room and have one thing on each one.
I hope this helps.
By Sandi from Salem, OR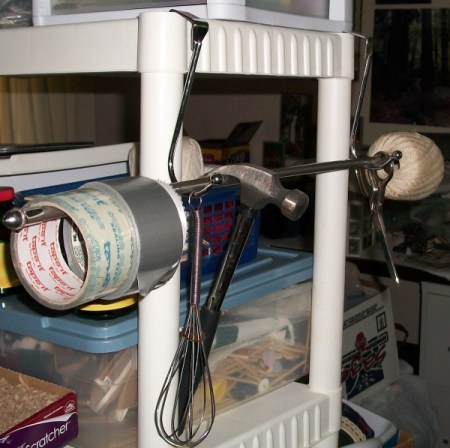 October 7, 2011
1

found this helpful
I hadn't thought about the 'thumbs down' being from someone who made a bad comment. I've noticed the last couple of months that people seem to be getting more 'thumbs down' & usually it seems to be people with higher vote numbers. I thought it might be someone giving thumbs down in hopes of knocking down the final score on someone. Hopefully it doesn't subtract from the 'thumbs up' final score. Wish they could see who's doing it & see if it's the same person doing it to everyone.
Whoever it is needs to stop, you aren't playing fair!
April 24, 2016
1

found this helpful
I thought I posted this but for some reason it didn't. Thank you so much for your kind words. This was that "OMGoodness" moment I needed today. I will keep up the great work. I just was asked to make cat mats' for our local no kill shelter. Will post it tonight for a "just share". For the few negitive nellies I get on here, there are 50 that like what I post. I will keep it up for you all. Sandi/PBP
October 6, 2011
0

found this helpful
I think this is a good idea, I'm definitely going to share it with my mom, because she can never find her hammers in the mess in her garage! And I'd sure like to know who keeps giving 'thumbs down' to entries, it isn't very nice!
October 7, 2011
0

found this helpful
Thanks. it's a good idea and it can be used for all kinds of good things.
I agree on the thumbs down.
What happened is a reader sent in a rather rude comment, and I reported it. Now, I am sure they are one and someone they might know is another but that's ok.
Chances are by the time this is read, there will be more but we all know why.
I just try and focus on the positive things we get done here and consider the source.
I hope this helps for your mom. Also tell her that wide handled pliers and other tools that are too wide to slip down inside, can be stored in that top hole, too. I keep my butlers dust pan in upside down which really helps keep it out of the way.
I appreciate the positive support. PBP

April 20, 2016
0

found this helpful
I totally agree with 'this person not playing fair' that is giving the thumbs down on things Sandi has taken the time to share with us. Personally I look forward to her posts, she does a great job of keeping us involved in saving money and I personally can not thank her enough. I have been a Thrifty Fun Member for years, if not decades actually. Sandi you do a wonderful job on this site and I look forward to reading your posts so, keep up the great work!
April 21, 2016
0

found this helpful
We took away the "Thumbs Down" option for situations just like this. It was abused by people who thought it would help them win. It isn't really in the friendly spirit of ThriftyFun anyway. I always love Sandi's posts, she has been an important part of ThriftyFun for years.
Glad to see you active in the feedback, Paula. :)
April 24, 2016
0

found this helpful
Oh Jess...you always make me feel appreciated. I can't thank you and your family enough for keeping this site alive!! Will post a cool new development tonight. Thanks! PBP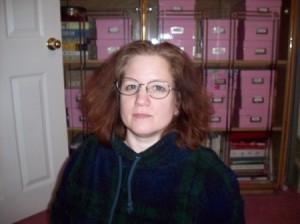 I purchased several photo boxes at Walmart, that has a label holder on the front. I got them all the same color so they would blend in with my wall color. This organizes my craft supplies. I can replace the paper label and change it anytime. For example: I have labels such as Lace, Ribbon, Tools and Paintbrushes, Project in Process, etc. I know where things are, without looking at clutter.
Recently I've started to spray paint shoe boxes (they are nearly the same size as the photo boxes). I used a glossy spray paint and it's such a close match. An alternative would be covering the shoe boxes with wallpaper, scrapbook paper or decoupage. All of my boxes are on a book shelf, so the look is consistent and uncluttered. Hope this helps someone else. Not the greatest picture, and it's more boxes than books these days.
By glimmer62 from Maine
August 19, 2013
0

found this helpful
I love the symmetry of your idea, and the idea of spray painting them! There are so many gorgeous colors of spray paint out there now. I foam stamped some swirls on one plain white box and have received so many compliments on it. More than purchased already designed boxes!
You must love pink! It is supposed to make us happy to look at it!
Thank you!
March 30, 2011
0

found this helpful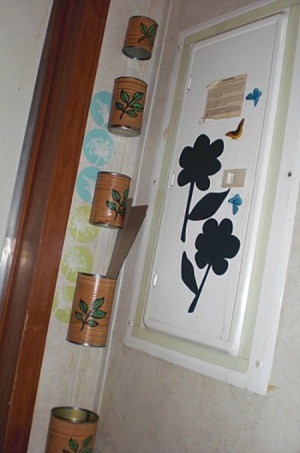 Reuse decorated empty food cans as vertical space saving storage to organize. Remove labels, wash cans and let dry, choose a peel and stick paper that matches your theme, and cover your cans.
If it isn't exactly what you want, decorate it with markers or something else. Use a nail to make a hole to fit the nail you intend to use to hang your can(s). Choose a handy location. Start hanging your cans at the bottom of the space you choose and work upwards, making sure you leave enough space between cans.

Fill with items you use often, but don't want in drawers taking up space or causing clutter.

I chose a tiny unused space in my laundry room in a corner. I covered my cans with inexpensive wood grain peel and stick and repeated a leaf pattern on all with a paint pen. I placed the fattest can at the bottom and then the next size and so on, with the smallest can on top. As you can see there isn't equal space in between the cans.That's because I use them for craft sticks, bamboo, other wood sticks, crochet hooks and other items which are different sizes.

Also, it was best for me to use a nail smaller than the hole in the can, so that I can easily remove and replace the can to get my items out with no trouble.

By melody_yesterday from Otterville, MO
Answers:
Imaginative Wall Storage Ideas
Love your unique and thrifty tip - thumbs up! (12/02/2010)

By JustPlainJo
Imaginative Wall Storage Ideas
What a wonderful idea! I have a tiny home office that doesn't have much room for shelves or other storage solutions but I need to put my office supplies some place handy. The cans are perfect for pens, pencils, highlighters, ruler, etc. I'm thinking maybe a Spam-type can would work for stickynote pads. I'd love to have these small supplies up and off my desk and this will work beautifully. Thank you, Melody! (12/02/2010)

By SavingGrace
Imaginative Wall Storage Ideas
What a great idea. Good job on decorating them and recycling too! I think I might do this in my craft room too. Thanks for sharing. (12/02/2010)

By keeper60
Imaginative Wall Storage Ideas
This looks really good. Thanks for the idea.
(12/02/2010)

Imaginative Wall Storage Ideas
Love the idea! I especially loved the way you painted and decorated the cans. Can't wait to try it myself! (12/03/2010)

By linex_4
Imaginative Wall Storage Ideas
That is awesome. (12/03/2010)

By Ivy Wall
Imaginative Wall Storage Ideas
I like that you whimsically decorated your electrical panel. ;-) (12/20/2010)

By Deeli
Imaginative Wall Storage Ideas
Deeli, Ivy Wal, linex_4, jehosophat jones, keeper60 and JustPlainJo, thanks! I'm so glad you like the idea and some of you have plans to improve on this one with uses of your own !

SavingGrace

I am wondering about colorful golf tees on the pegboard. I don't have any (where I know where they are right now, possible a couple floating around here some place) if they would fit the pegboard holes? That would be cool or other common items; saved wooden sticks from restaurant corn-on-the-cob for instance?

Someone should let us know!

I'd imagine there are several items that could be utilized in place of the standard hardware store hooks. (01/04/2011)

Imaginative Wall Storage Ideas
I picked up 2 more rolls of the woodgrain peel-stick at the store this past week. Seems this stuff is too wonderful to live without when it comes to using it for storage cans or giving little candy treats and so on to the letter carriers!

I use that same leaf pattern all through my house. and if anyone wants a pattern made of this leaf, send me a SASE (message me where to send it) and I will cut you one. It will be the inner piece + the outer stencil shape
made from household recycled cardboard empties. or if you want it cut from a specific piece of paper, like scrap booking paper or lightweight card stock, you can send it to me SASE, and I will return the die cut product (no cans or heavier than stated please).

I have reused this in several projects: wooden craft boxes, bags, notebook covers and will always have a use for it. Let me know!

Using 2 more cans decorated the same way in the laundry room, handy for items left in pockets!
(fabric from thrift shop) (01/04/2011)

January 21, 2017
0

found this helpful
This is sooo cute. I would never of thought of hanging a can on the wall. There is all sorts of places I can use this idea. So excited I saw this!