Being organized is nice, however it is not always easy. Whether your items are odd sizes or you are working with a small space, sometimes you have to get creative to organizing things. This is a guide about creative storage ideas.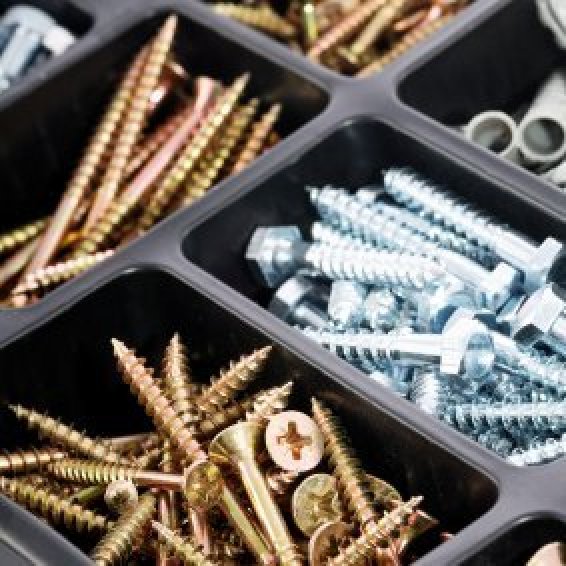 Filter

: All Articles
Sort

: Relevance
I have a lot of these shelf units. The cool thing about them is the support rods have holes in the shelves themselves. Using two Dollar Tree hooks that normally go over the door, I found that I can use something to make a rod and hang a bunch of things like: hammers, tape, ribbon, scissors, kitchen utensils, and so much more.
For simplicity sake, I hung all the things in this list in one shot, but you could make one on each side of the shelf unit if there is room and have one thing on each one.
I hope this helps.
By Sandi from Salem, OR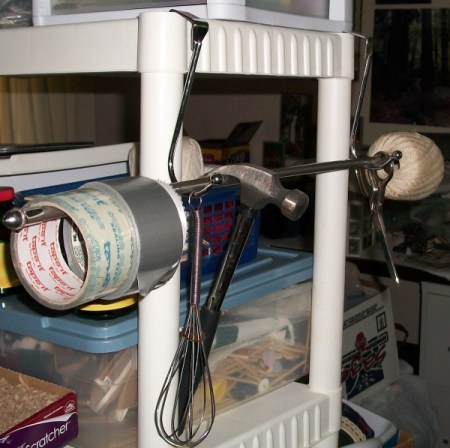 The plastic zippered bags that sheets come in are wonderful as carriers for a shower, (towel, bath items, etc.)
These are also useful for putting an extra pair of shoes in prior to placing in your suit case. I also store my embroidery in them. These zippered bags are wonderful because they are water proof, clear, and just the right size.
By Judith from Waco, TX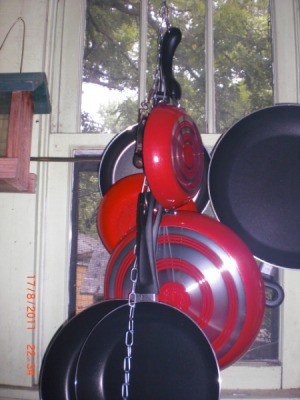 The best way I've found so far to store unused cookware, is on a chain (nail was already there) using older metal shower curtain rings through the hole in the pot handle. I had one with a glass lid, so I figured I could use large rubber bands to strap the lid on so I could hang that one as well.
Other things could be hung this way including stuffed animals, using a ribbon, cord around their neck, or a bracelet on the wrist to suspend them from. Or if you have a lot of coffee mugs, you could free up a lot of cabinet storage!
By melody_yesterday from Sedalia, MO
I purchased several photo boxes at Walmart, that has a label holder on the front. I got them all the same color so they would blend in with my wall color. This organizes my craft supplies. I can replace the paper label and change it anytime.
If you are low on storage, like me, you can take a towel rack or two and attach them to the back of your bedroom door to hold any extra blankets or comforters from your bed.
I store all my dry foods in glass bottles, often in quart sealers. I ran out of room, so I opened up a small blank wall by cutting into the drywall. This exposed the 2x4s. Between each blank space, I installed shelves made of 1x4s.
How about brainstorming on how to find more storage room? To start off, I hide stacks of magazines, books, or baskets of knitting, underneath floor-length tablecloths.
Sometimes, people leave things in the apartments I live in. These Dollar Tree hooks and an old curtain rod gave me more space in my closet.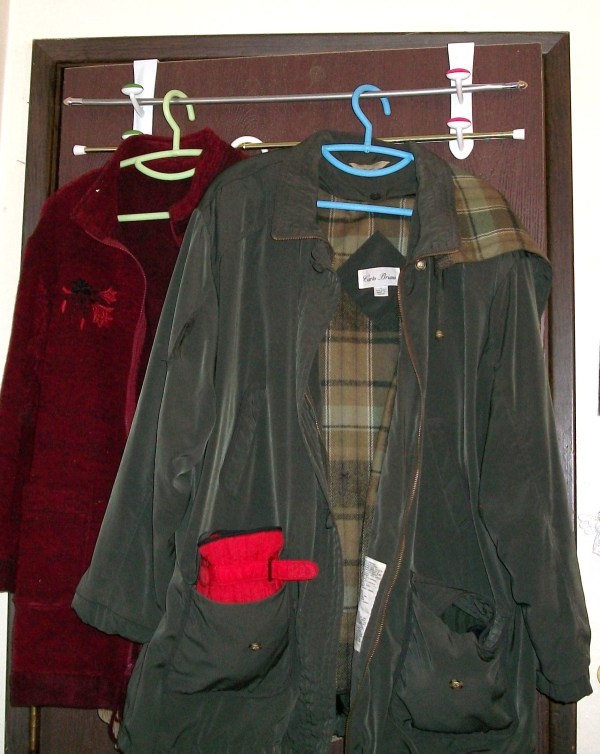 A few years ago, a friend gave me a Christmas gift which was a deluxe assortment of nuts and candied nuts. They came in a round, thick, tough, plastic container with 6 sections and a lid.