Reuse decorated empty food cans as vertical space saving storage to organize. Remove labels, wash cans and let dry, choose a peel and stick paper that matches your theme, and cover your cans.

If it isn't exactly what you want, decorate it with markers or something else. Use a nail to make a hole to fit the nail you intend to use to hang your can(s). Choose a handy location. Start hanging your cans at the bottom of the space you choose and work upwards, making sure you leave enough space between cans.

Fill with items you use often, but don't want in drawers taking up space or causing clutter.

I chose a tiny unused space in my laundry room in a corner. I covered my cans with inexpensive wood grain peel and stick and repeated a leaf pattern on all with a paint pen. I placed the fattest can at the bottom and then the next size and so on, with the smallest can on top. As you can see there isn't equal space in between the cans.That's because I use them for craft sticks, bamboo, other wood sticks, crochet hooks and other items which are different sizes.

Also, it was best for me to use a nail smaller than the hole in the can, so that I can easily remove and replace the can to get my items out with no trouble.

By melody_yesterday from Otterville, MO
Answers:
Imaginative Wall Storage Ideas
Love your unique and thrifty tip - thumbs up! (12/02/2010)

By JustPlainJo
Imaginative Wall Storage Ideas
What a wonderful idea! I have a tiny home office that doesn't have much room for shelves or other storage solutions but I need to put my office supplies some place handy. The cans are perfect for pens, pencils, highlighters, ruler, etc. I'm thinking maybe a Spam-type can would work for stickynote pads. I'd love to have these small supplies up and off my desk and this will work beautifully. Thank you, Melody! (12/02/2010)

By SavingGrace
Imaginative Wall Storage Ideas
What a great idea. Good job on decorating them and recycling too! I think I might do this in my craft room too. Thanks for sharing. (12/02/2010)

By keeper60
Imaginative Wall Storage Ideas
This looks really good. Thanks for the idea.
(12/02/2010)

Imaginative Wall Storage Ideas
Love the idea! I especially loved the way you painted and decorated the cans. Can't wait to try it myself! (12/03/2010)

By linex_4
Imaginative Wall Storage Ideas
That is awesome. (12/03/2010)

By Ivy Wall
Imaginative Wall Storage Ideas
I like that you whimsically decorated your electrical panel. ;-) (12/20/2010)

By Deeli
Imaginative Wall Storage Ideas
Deeli, Ivy Wal, linex_4, jehosophat jones, keeper60 and JustPlainJo, thanks! I'm so glad you like the idea and some of you have plans to improve on this one with uses of your own !

SavingGrace

I am wondering about colorful golf tees on the pegboard. I don't have any (where I know where they are right now, possible a couple floating around here some place) if they would fit the pegboard holes? That would be cool or other common items; saved wooden sticks from restaurant corn-on-the-cob for instance?

Someone should let us know!

I'd imagine there are several items that could be utilized in place of the standard hardware store hooks. (01/04/2011)

Imaginative Wall Storage Ideas
I picked up 2 more rolls of the woodgrain peel-stick at the store this past week. Seems this stuff is too wonderful to live without when it comes to using it for storage cans or giving little candy treats and so on to the letter carriers!

I use that same leaf pattern all through my house. and if anyone wants a pattern made of this leaf, send me a SASE (message me where to send it) and I will cut you one. It will be the inner piece + the outer stencil shape
made from household recycled cardboard empties. or if you want it cut from a specific piece of paper, like scrap booking paper or lightweight card stock, you can send it to me SASE, and I will return the die cut product (no cans or heavier than stated please).

I have reused this in several projects: wooden craft boxes, bags, notebook covers and will always have a use for it. Let me know!

Using 2 more cans decorated the same way in the laundry room, handy for items left in pockets!
(fabric from thrift shop) (01/04/2011)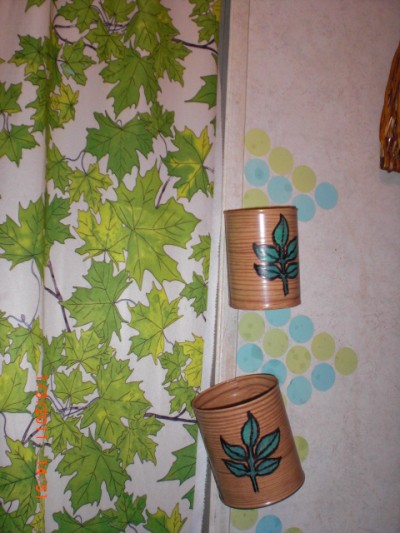 January 21, 2017
0

found this helpful
This is sooo cute. I would never of thought of hanging a can on the wall. There is all sorts of places I can use this idea. So excited I saw this!
By Pamela Cole Harris
Everyone can use more organization in their lives (except those misguided souls who alphabetize their spices, canned goods and color-coordinate their laundry supplies!). Additional wall storage can help bring that organization into your home. And original and unusual wall storage ideas can help organization become décor pizzazz! Here are some ideas to get you started:

1. If you have old fruit crates or soda pop crates, attach them to the wall to become a wonderful storage unit to display books or knicknacks. You can paint the units to match your décor or leave the original labels and wood to create a rustic and unusual centerpiece of your room.

2. Do you have an old garden bench or one of those wooden benches which are frequently beside dining tables or in entry halls? Try it attaching upside down on the wall. Use the shelf created by the bench top to display collections. Just think of using a white distressed bench as a shelf for teddy bears in a child's room.

3. Old wooden hangers can make beautiful storage units for jewelry, ties, and even shoes. Paint the hangers a solid color and let dry. Then add decorative touches such as hand-painted flowers or stripes. Or wrap the hangers with strips of fabric using glue to adhere the strips to the wood. When the hanger is completely wrapped, cover with a decoupage finish. Attach to the wall with painted or plain hooks.

4. Want a wonderful idea for towel storage in a bathroom? Try attaching a window box or planter to the wall and fill with folded towels and washcloths, soaps or creams. Add trim and paint to make a unique storage unit.

5. Need an easily accessible place to store your pots and pans? Attach a narrow wrought iron curtain rod with decorative finials to the wall. You can hang the pans from S-hooks which have been hooked over the rod. A great idea!

Use your own imagination to turn everyday objects into storage areas. You might come up with the perfect solution to your organization needs. Hmmm any ideas for storing the 20 years back issues of "Better Homes and Gardens"?

About The Author: Copyright © 2004 Pamela Cole Harris - Home and Garden Makeover
http://www.homeandgardenmakeover.com">http://www.homeandgardenmakeover.com
Pamela Cole Harris has been a writer for over 35 years (Yikes! Has it been that long?) Her fun, tongue-in-cheek approach to decorating has made http://www.homeandgardenmakeover.com">http://www.homeandgardenmakeover.com one of the most popular décor sites on the net. She brings the same spirit of fun and practical advice to her newest site at: http://www.diy-homedecor.com .
Answers:
Unique and Imaginative Wall Storage Ideas
Although peg boards are often used for workshops, you can also use them for other parts of your house. They are inexpensive and are flexible to your changing needs - different style hooks accomodate different types of items, and you can move the hooks as necessary. Paint the smooth side to match or contrast with your walls. Use coordinating ribbon to hang items like scissors, photo frames, etc. (07/03/2005)

By lmr5140