Okay, I know what to do with things when reorganizing my home. Throw out what you don't need, etc. The problem I have though is how to organize what I have left for "free". Sure, Martha Stewart says buy these cute bins or buy this closet organizer and whatever else. While I'd love to use her ideas, I don't have Martha Stewart's money. It may as well be Monopoly money.
So my question is, what are some ways to organize your home, using common household items. When I say 'common household items' I mean common. For example, I see a lot of suggestions on clothes pins. Who has clothes pins anymore? Not many. Another example are gift wrap tubes. That's great for later, but right now I don't have gift wrap tubes sitting around the house because when I reorganized, I got rid of what I didn't need. Shoe boxes are another issue. That's great for later, but right now they are either already being used or they don't exist. See the problem here?
So! Any suggestion on things that are common and how you retask them? The first thing that pops into my mind are drinking glasses and coffee cups that don't get much use. They make great pencil holders. Those are things people have.
Hopefully you have some suggestions for me. I'm visiting my mother right now, who suffers from rheumatoid arthritis, and am trying to make her life easier.
Thanks in advance for any advice!
By MagnoliaSouth from Mobile, AL
Answers
November 10, 2010
0

found this helpful
Best Answer
The cardboard boxes that sit under cases of water are great for "in" boxes, especially covered with fabric or paper. If you get cookies or cakes in plastic/clear containers, they can be used either upside down (cakes have more room when turned upside down) for food, crafts, etc. At the Dollar Tree, you can get magnetic clips and keep things on the fridge. You can also get plastic food containers for inside the cupboards or drawers, which work great because they stack. Go to the local thrift shops and get tubs, bins, and suitcases that slide under the bed. That will help most of all. I find that shoe bags and such really help to separate things in the bathroom, kitchen and utility/craft room.
Good luck!

November 9, 2010
0

found this helpful
You can ask 4 shoe boxes at your local Pay Less shoe store; they always seem to have them. Other sturdy boxes can be gleaned from liquor stores. Check out threadbanger.com for their home section for organizing ideas with recycled materials. I also suggest getting thrift shop baskets/boxes for storage. Flat shallow baskets can almost function like drawers. And bread baskets can hold papers. Clothes pins are at the dollar store. You can cover cardboard boxes with contact paper from the dollar store, if you like. If you find old drawers, you can make them into under bed bins - or use them elsewhere. Hubby just pounds in nails to use to hang things. Just some suggestions. (We have found shelves on the street & a bookcase by the side of the freeway!) Good luck.
November 10, 2010
0

found this helpful
We buy coffeemate at Sam's Club in big plastic containers with screw on tops. I use them for many different things. I leave my clothespins in them outside and they stay nice and dry.
I also use them for charcoal and wood chips for the grill. I store top soil in them instead of the plastic bags that rip. Also nails, etc. so that they don't rust. They have man uses for smaller items. Very handy.
November 10, 2010
0

found this helpful
I love using my silver and silverplate items to store things in. Recently I picked up a casserole dish at the local Goodwill. It was oblong shaped with an attractive cover, and was darkly tarnished, but polished up beautifully. I put my daily cosmetics in it, and with the cover, it makes the counter in the bathroom neat and sparkly. Likewise, I store Whiteout and other small office items on my desk in a silver sugar bowl that sits on a silver tray. I use an old charger plate on the bedstand so the water bottle doesn't leave a mark on the nightstand. Silver pitchers can be vases for flowers. These items are inexpensive when bought second hand and are much less costly than buying new items. Your home has an ambiance that adds a bit of glamour and warmth. I also find that using silver picks up the light, which I especially need in the grey Pacific Northwest weather, and since it hasn't any color of its own, leaves a room less cluttered looking than if you use multicolored objects or knick Knacks.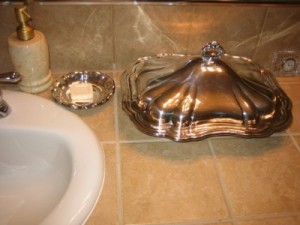 Read More Answers