November 10, 2010
0

found this helpful
Best Answer
The cardboard boxes that sit under cases of water are great for "in" boxes, especially covered with fabric or paper. If you get cookies or cakes in plastic/clear containers, they can be used either upside down (cakes have more room when turned upside down) for food, crafts, etc. At the Dollar Tree, you can get magnetic clips and keep things on the fridge.
You can also get plastic food containers for inside the cupboards or drawers, which work great because they stack. Go to the local thrift shops and get tubs, bins, and suitcases that slide under the bed. That will help most of all. I find that shoe bags and such really help to separate things in the bathroom, kitchen and utility/craft room.
Good luck!

November 9, 2010
0

found this helpful
You can ask 4 shoe boxes at your local Pay Less shoe store; they always seem to have them. Other sturdy boxes can be gleaned from liquor stores. Check out threadbanger.com for their home section for organizing ideas with recycled materials. I also suggest getting thrift shop baskets/boxes for storage. Flat shallow baskets can almost function like drawers.
And bread baskets can hold papers. Clothes pins are at the dollar store. You can cover cardboard boxes with contact paper from the dollar store, if you like. If you find old drawers, you can make them into under bed bins - or use them elsewhere. Hubby just pounds in nails to use to hang things. Just some suggestions. (We have found shelves on the street & a bookcase by the side of the freeway!) Good luck.
November 10, 2010
0

found this helpful
We buy coffeemate at Sam's Club in big plastic containers with screw on tops. I use them for many different things. I leave my clothespins in them outside and they stay nice and dry. I also use them for charcoal and wood chips for the grill. I store top soil in them instead of the plastic bags that rip. Also nails, etc. so that they don't rust. They have man uses for smaller items. Very handy.
November 10, 2010
0

found this helpful
I love using my silver and silverplate items to store things in. Recently I picked up a casserole dish at the local Goodwill. It was oblong shaped with an attractive cover, and was darkly tarnished, but polished up beautifully. I put my daily cosmetics in it, and with the cover, it makes the counter in the bathroom neat and sparkly. Likewise, I store Whiteout and other small office items on my desk in a silver sugar bowl that sits on a silver tray. I use an old charger plate on the bedstand so the water bottle doesn't leave a mark on the nightstand.
Silver pitchers can be vases for flowers. These items are inexpensive when bought second hand and are much less costly than buying new items. Your home has an ambiance that adds a bit of glamour and warmth. I also find that using silver picks up the light, which I especially need in the grey Pacific Northwest weather, and since it hasn't any color of its own, leaves a room less cluttered looking than if you use multicolored objects or knick Knacks.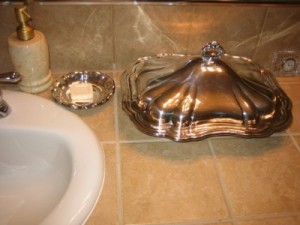 November 10, 2010
0

found this helpful
I use freecycle.com a lot and find many things that I can use for storage and other things. I can also freecycle out things that I no longer use to hep keep my clutter under control.
November 10, 2010
0

found this helpful
Cereal boxes for coupon mailers, magazines and coffee cans for lots of stuff. You can glue paper or fabric to cans, or use patterned contact paper on cereal boxes.
November 10, 2010
0

found this helpful
Dollar Tree has craft caddy for $1, handle in middle and opening around it: great for cleaning products all together to do a room (wipes, microfiber cloth, polish, window cleaner, Magic Eraser, etc. just grab and go! Used plastic laundry detergent bottles: cut off tops for wider opening and fill with rock salt to sprinkle on icy walkway using handle to carry.
Empty plastic "wrap" that curtains, drapes come in, can store anything and snap it shut. Empty plastic comforter packaging that zips, store extra linens in there & can see through for ease in selection. Great for Xmas/holiday cloths, place mats, etc. or for kids' sleeping bag storage. Also great to hold seasonal clothing, purses.
Use small boxes or plastic bins to store pot lids in, just slide out to pick what you need. Over the door hangers (Walmart), good for robes, jackets, towels, holding a cane, etc No shoe boxes? Just use a rectangle laundry basket and stand pairs of shoes up together on their heels with toes pointing up, slides in&out of a closet. If extra room, add purses, tote bags.
November 10, 2010
0

found this helpful
I've found clothespins at some hardware stores.
November 11, 2010
0

found this helpful
I use the cardboard carton from a 6-pack of beer or soda pop to hold boxes of plastic wrap, aluminum foil, etc. under the kitchen sink and another to hold a few items under my bathroom sink. If you don't buy these, just ask a neighbor for theirs!
November 11, 2010
0

found this helpful
I use the cardboard carton from a 6-pack of beer or soda pop to hold boxes of plastic wrap, aluminum foil, etc. under the kitchen sink and another to hold a few items under my bathroom sink. If you don't buy these, just ask a neighbor for theirs!
November 12, 2010
0

found this helpful
These are such good ideas! I have a lot of small things like batteries, tacks, cloths pins, etc. And what I did was with a old cracker box. Was cut it in half. So I can store these things in. It's much easier for me to find what I need now. And with plastic baggies. I sorted out my plastic cookie cutters and put in separate clear bags and put them in my drawer.
November 15, 2010
0

found this helpful
We have also used our cans from the grocery store. To prevent rust, any kind of clear enamel paint (we use the spray paint which is only 1-3$ a can) should work. I then use different craft materials to cover it up, then hubby uses them for either his painting crafts, or the smaller ones I use pens and pencils and stuff like that.
If you smoke save the carton when you buy it. My mother in law does this. Then she takes either uncooked rice, beans, or even some gravel if you have small pebbles and put it in the bottom. She uses the glue gun to put a layer of glue to hold the weight to the box and keep it from shifting. She'll then put a "floor" on top of the weight making a flat surface, then she takes the middle of the toilet paper roll when the roll is finished and decorate to her desire. And then she uses the clear waterproof enamel spray paint from the dollar store to spray.
She uses this for EVERYTHING. She has one for utensils (she lives alone so a set for one person works for her), she has used it to put different size nails and screws, she has used this idea to hold office supplies (paper clips, binding clips, erasers, pens-pencils-highlighters, etc), she has made smaller versions of this for other people and filled them up with stuff, she has put it next to bed to create a launch pad (hold keys and cell phone), she made one to go in a school box. This one was a little different because the tubes were more from paper towel rolls glued together; one tube for pencils, one tube for crayons, one for markers. You can even create the tubes to slide out of the school box for easier access. Or (my thought), you can use it for different size paint brushes in each tube. Lol, then you have one box for easy access. :)
Hope any of this helps!
November 8, 2015
0

found this helpful
I use country time plastic containers to store small items in and to clean paint brushes and after I clean my paint brushes but just a little bit of dish soap o them and run water over them and get the soap out and they will always be like new
November 17, 2010
0

found this helpful
Wow! Thanks so much to everyone (not just those I posted comments to directly) for these ideas. I absolutely love them all! I just knew this would be the right place to post my question.
Do any of you think decoupage (I know very little about it, but had a patient that used to do it a lot) would work on any of these cardboard suggestions? What about a twist like a decoupage using photos?
@Rosiegirll: What a unique idea. I have to admit that this idea has never crossed my mind before. Martha Stewart would be very jealous. ;)
@homesteaddreamer: I think you mean freecycle.org? I tried .com and got a malicious site warning. Either way, freecycle.org looks amazing. I can't believe I've never heard of that before. Bookmarked!
@Iluv2craft: About those purses. I use old purses and camera cases for storing things such as the bazillion cords I have collected over the years; mostly from charging my various phones, blue tooths, etc. Excellent suggestion.
@itzy: Love the carton idea, but even if I don't smoke, there are plenty of flimsy boxes this idea could be used with. One question though, you said, "the middle of the toilet paper roll". I'm not sure I follow that. Does she cut it? Oh wait. Maybe you meant "the roll that comes inside (middle) of the toilet paper". Either way, love this idea!