Read and rate the best solutions below by giving them a "thumbs up".
CD Crafts
What kind of crafts can you make with old CDs that you no longer want? I would like to make crafts with these. Thanks for your help. Deb from NE
---
Decorate Them
My parents were getting all kinds of CDs in the mail like AOL, Earthlink, etc. so my mom decided she would decorate them with pictures cut from greeting cards, magazines, etc.; glitter; different types of ribbons; etc. She would also have themes like 4th of July, Santa Claus, Thanksgiving. Depending on your imagination you can decorate the recorded side and completely cover the inked side with felt, velvet or something else; or decorate the inked side and leave the recorded side alone and it makes a neat hanging picture or as mentioned before add clock hands which makes a unique clock. Also great for Christmas tree ornaments (minus the clock since then it would be too heavy). If you can paint you can try painting on them as well. (04/21/2005)
By Curtis
More Ideas
I use them as coasters for drinks and hang them under my bar for creative color with double-sided sticky tap, be sure to follow a pattern. Hang them from fruit trees so that they move in the wind to keep birds away from robbing your fruit and be sure to move them occasionally because the birds get used to the placement as being non-threatening! Glue them with hot glue to an old eyeglass frame for a funky pair of glasses sure to make them laugh! (04/21/2005)
By Leggsolott
Mosaic Tiles and a Groovy Light
You can also break them up (wear safety glasses, they shatter) to use for really pretty mosaic tiles.
You can stack 100 or more and run a short 10 or 15 strand christmas light up the middle and make a groovy night light. Put inside a CD case (like the ones blank CDs come in at the store) and add vellum with pictures on it around the outside and it makes it even prettier. (04/21/2005)
By Kim
Christmas Lights
I saw this really cute idea at our local re-store. Take the outdoor christmas lights (the ones with the big bulbs) and sandwich the CD in between bulb and socket. The prism from the CD with bulb color is really pretty. (04/24/2005)
By starchild
CD Birds
You can make birds out of them using foam sheets. The wings go in the center of to CD disc. Make a tail and a head with eyes. Glue them onto the 2 discs and hang them from fishing line and a swivel hook and hang them in trees, on your porch, etc. Once you have done one you can use your imagination and make butterflies, bats, Santa Claus, fish, etc. have fun.. (04/25/2005)
By constance
Suncatcher
You can make a three tiered suncatcher by gluing three sets of two CDs back to back (shiny side showing) then heat a nail or other sharp object to make a small hole at the top and bottom of two and at just the top of the third. Decorate using a few glittery doodads, then string together and hang where they catch the sun. (06/06/2005)
By Lynda T. Scott
Ideas
1. Looking at a randomly, see the recording side you can see a kaleidoscope of colors with distortions.
2. if you point and hold it right it is a mirror for everything but your own reflection.
3 The Cd itself is frisbee like, so it could be involved in many tossing games
4 you could paint or glue designs or pictures on 1 or both sides.
5 The recording side could be used as a lighting reflector
6 by holding up the recording side of the CD to a mirror you can get many mind blowing distortions.
7 Create an original Mobile out of your CDs
8 A platform for small figurines
9 a paper mold or circle maker
10 Use center hole to arrange and hold artificial flower arrangements steady in vases or other containers.
11- Or you can just listen to your old CDs 5 years from now and remember when.
Craft On People
Mr. Thrifty (07/21/2005)
By Mr. Thrifty
My Ideas
I would like to know if anyone has any craft ideas using CD Rom discs.
So far I use them for:
My bird uses them as toys and mirrors.
I made Chanukah dreidels with them using polymer clay.
I am thinking of making mobiles after drilling holes in them.
Maybe Passover model seder plates.
Any other ideas? (10/14/2005)
By Deborah
CD Shards
You can put them in a plastic ziplock bag then give them a couple pounds with a hammer until they break into shards. The shards are really pretty and cool looking you can fill clear christmas ornaments with them, glue them on picture frames, flower vases or and attach them to christmas packages for that extra shine. (10/14/2005)
By may-fairy
CD ROM Fish Craft
Instructions to make a cute, hanging fish out of old CDs.
Materials Needed:
2 Old CDs
Construction Paper
Large Wiggly Eyes
Glue
Yarn or Fishing Line
Instructions:
Using whatever color of paper you prefer, cut out the fish's lips, fins, and tail (figure 1). Glue the lips and fins to the side of the CD with the writing on it (figure 2). Set aside one of the top fins.
Cut a piece of yarn or fishing line 3 - 4 feet long. Tie a knot in one end. Run a line of glue from the hole in the center of the CD up to the top edge of the top fin that is glued onto the CD. Lay the yarn or fishing line on top of the glue so the knot is in the hole in the CD as shown in figure 3. Glue the extra top fin on top of the other top fin to cover the yarn (figure 4). Spread glue all over the side of the CD that everything else is glued to. Set the other CD on top of the glue and match up all the edges. Make sure you have the side of the CD with any writing facing down into the glue.
Glue the wiggly eyes on your fish as shown in figure 6. Glue one on each side of his head. If you don't have wiggly eyes, you can also use a small white pom-pom and a black bead. This will give your fishes eyes a more 'buggy' look! The last thing you need now is a fin on the side of the fish! You will make these by using a 5 x 6 inch piece of construction paper. Accordion fold the paper. Using figure 7 for an example, you would fold the paper back and forth on the white lines. Once it is fold, hold the folds together and slip in through the hole in the center of the CD. Center the paper in the hole and unfold the ends a bit to fluff them out. Add a little glue to hole of the CD and the paper. You can now hang up your completed fish (figure 8).
Happy creating! (10/14/2005)
By Connie A.
CD Clock
You can make a clock from a CD. Paint one side any color then you can use stamps to decorate. I prefer to use a stamp of a woman's face, and some stamp with a saying about time. Then you can say your clock has a face. Purchase clock parts at the craft shop , about $5.00, insert in center. You can buy old clocks at thrift stores for way less. and remove the works to use in your CD clock. Use the ones that take batteries. Don't forget to take a AA battery with you to check if the clock works. This also works for old records. (10/15/2005)
By Janet Leyshon
Candle Bases
I use my old CD's to make crafts for the holidays. Christmas time we use them as candle bases with the shiny side up. We decorate them with little holly leaves, berries, small beads, jewels, glitter, fresh garland, and some ribbon.
In the spring we glue silk flower petals to shape a flower, add glitter in the center, glue a long wooden match stick to the back, cover wood stem up with some big green leafs and stick in the garden, or make a flower box full. (10/16/2005)
By Crystelc
Yarn Spindle
CDs make good spindles if you spin your own yarn. Just put in a stick that is long enough for the shaft. There are rubber washers to fit them just for this purpose for sale somewhere on the internet. (10/17/2005)
By Ann Brandenberger
Round Pot Holders
If you crochet you can make two round pot-holders, put a CD inside and whipstitch together making a hot pad. (10/18/2005)
By mamascott
Christmas Ornament
I have used cutouts from christmas paper to fit the CD and applied them with modge podge. Drilled a small hole at the top of the CD and used fish line for a hanger. Makes a cool Christmas ornament. Also have used puffy paint and jewels and made decorative fridge or locker magnets. (11/29/2005)
By Anna
Picture Frames
I use the cases and cut a picture to fit 4x6 and put different colors of construction paper behind them and hang them 3 in a row and add ribbon and hang them on a wall (08/24/2006)
By jessica
---
CD Crafts
I have dozens of CDs (round shiny) that I want to use for a craft project. Any ideas? OhioGirl from Cleve, Ohio
---
Glue
If you find the right glue (they have it at hardware stores. Its the kind that will glue porcelain. Comes in a tube like silicone) you can make some great Christmas decorations. A Christmas tree is really cute or a snowman & then put lights in the holes on the CDS (09/08/2006)
By nikki
Garden Border
I've used the CDs I've received in the mail as a border around my garden and edgers between the walk and the grass. (09/14/2006)
Ornament
I took old cd's and make ornaments out of them. I also won a contest here on Thriftyfun with that one. I took a cd, two pieces of cardstock, drill, paint, picture, glitter, mod podge, wire and beads.
I cut the cardstock into the shape of the cd, you will use two pieces. I drilled a hole into the cd at teh top center for the hanger. Drilled three holes at the bottom of the cd to hang beads on. I painted the paper circles and aged them to my liking. I mod podged them onto the cd after the paint was dry. Then after everything was dry I mod podged the picture on the front. Let that dry...with two coats. Added some wire and beads and you have an ornament!
http://www.thriftyfun.com/tf504358.tip.html (09/15/2006)
By Michele
Hole Punch
I Read that using a hole punch (I assume it must be a heavy duty one or one that's used for making holes in belts.) Makes holes in cd's so no need for drilling. (09/20/2006)
By Tess
---
CD Crafts
I have a lot of used CDs which I want to recycle making some attractive crafts. Could you suggest me some craft ideas which i can do using these CDs. I have 100s of CDs with me.

Thanks,
Anand from New Delhi, India
---
RE: CD Crafts
You can glue them to your wall or a big thick cardboard. and make a cool wall art. it would be great in a kids room. (02/07/2007)
By Mia.
RE: CD Crafts
I also had many cd's. My friend is a "Lucy" lover. So I went online, cut & pasted pics of Lucy, Fred, Ethel, Rickey and put into my pictures. Then I used my cd labeling software and put the pics on the CDs. Makes pefect decoration on shower curtain/ring, hang on walls, etc. If you have an animal theme, put different pics of animals and place on lamps, etc (02/07/2007)
RE: CD Crafts
If you crochet you can crochet two circles and put the CD in between the two circles and you have a coaster or potpad. Here is a pic of a Halloween one I did. (02/08/2007)
By Robin Mays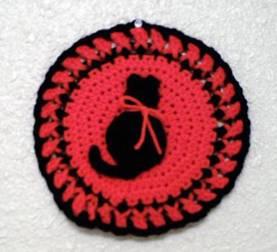 RE: CD Crafts
I make twirlygigs by putting them back to back on fishing line with a loop for hanging using lots of hot glue between them - the whole yard is quite the spectacle when the sun is shining on them! I dont have to drill any holes. i like to do em 7 in a row. (02/08/2007)
By Lily 59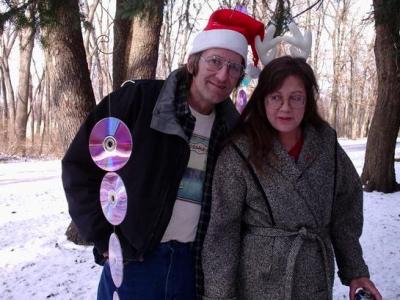 RE: CD Crafts
Glue a CD on a painter canvas and decorate with squizz paint, in geometrical motives (eg. mandala) and you have a bright 'painting' to decorate any darker wall. A.Sylvia Sommer sylvia AT evadin.com.br (02/12/2007)
By TURUL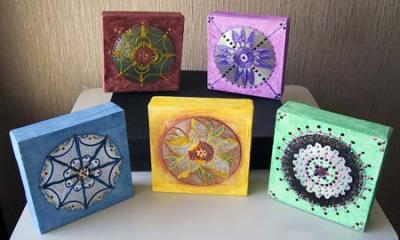 RE: CD Crafts
I saw a program on TV where CDs were cut into mosaic pieces and used them to line a birdbath in the garden. It was beautiful, as all the colourful light was reflected. I want to do this project myself! (02/19/2007)
By Cathy
RE: CD Crafts
Break them up using strong snips and gloves into smaller pieces and glue to a styrofoam ball, your choice of size, but I recommend at least 3" Add a hanging loop and you have your own disco ball! Be sure and glue the pieces shiny side up!! (03/14/2007)
By thriftmeg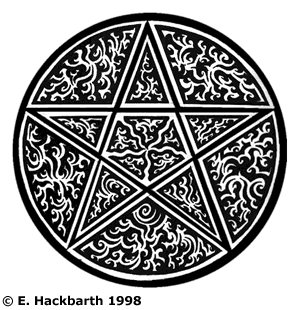 RE: CD Crafts
You can use them as a little carpet for front doors, it will be easy to wash, thanks (04/11/2007)
By muslim
RE: CD Crafts
They make great little clocks. At yard sales I look for frugal clocks and use the arms, etc on the CD. Also, use them for outside CHRISTMAS decorations. (07/11/2007)
By keeper60
RE: CD Crafts
I've seen CD's used for the top of decorative windchime type items. you could drill small holes into the cd and tie string or thread, even fishing line through it. adding embelishments of your choice, charms, bells. or if you work with polymer clay you can handmake little suns moon or stars ( or anything you can imagine) and attach those to it. :) (10/16/2007)
By GROSJACQUES1
---
CD Crafts
Does anyone know of crafts or uses for CD's?
Carmela
---
RE: CD Crafts
I use old CDs for making little figurines. You just take some heavy duty construction paper round it to a cone and stack CDs on that to make a tree or if you want to get creative you could make people and even more. I don't know your skill level so that would be your choice. (06/17/2008)
By Sadie
RE: CD Crafts
I take the cds and place them flat on top a glass bowl, place them on a cookie sheet lined with foil, and place them in the oven at 300 degrees F for about 30 minutes. The time might vary depending on your stove. Check about every 10 minutes or so. The cd will melt over the bowl, but you can get some funny looking bowls.
It is better to do this in a well ventilated kitchen. Do not use a higher temp. You can paint them or whatever. I use them for candy dishes, small candle holders, jewelry holder for you girls, coin holder for loose change. I almost forgot I sand the cds down because it makes it easier to paint because sometimes all the writing doesn't melt.
Good luck. Angie (06/18/2008)
By pauley
RE: CD Crafts
allfreecrafts.com
CD Letter Holder
Recycle several cd's to hold notes or letters. http://www.allfreecrafts.com/mothers-day/cd-letter-holder.shtml
Timmy the Turtle CD Magnet http://www.allfreecrafts.com/kids/turtle-cd.shtml
Transform an old CD into a turtle fridge magnet. Recycled CD Memo Bunny http://www.allfreecrafts.com/easter/recycled-cd-memo-bunny.shtml Make an Easter bunny memo board from an old CD.
Here's some more to skim thru: http://flickr.com/search/?q=cd%20craftsandw=all (06/19/2008)
RE: CD Crafts
I use the old CD's for crafts at Church Camp. The kids can get really creative with Sharpie makers, paint, rubber stamps, and even big sculptures using hot glue. They like it since they can use lots of them and if they mess up they can just start over with a new one.
I have also made a wiggle wobble ladybug using the cd with a flat marble glued underneath. Decorate the top with a circle of paper and add a head. This was a little more involved, but the older kids seemed to like it. Hope this helps and keep those creative juices flowing. (06/20/2008)
By OkieLady
RE: CD Crafts Angel Ornament
Here is my cd angel made from a half cd and a fourth of one. (10/08/2008)
By Lainey Lee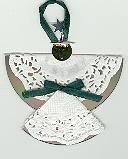 RE: CD Crafts
Here is something I made out of CD's. (11/16/2008)
By Myra W.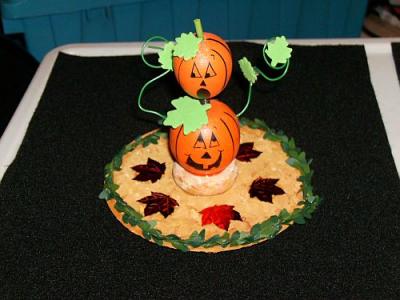 RE: CD Crafts
Another CD project. (11/16/2008)
By Myra W.
RE: CD Crafts
Use a heat gun on the cd and it will distort into wonderful shapes, it looks like bubbled and cracked glass. Applying the heat to the text and grove side, it produces different effects and you can also mark or write on the grove side, although this turns into brown colour as the heat distorts the cd. I applied extra heat to the centre of the cd and it collapsed inward. You can mould this carefully whilst still hot. My little experiment with the heat gun produced a really "nice candle drip disc". There's probably many more uses of the heat gun. If you know, I would love to know. (06/20/2009)
By Annchristin
RE: CD Crafts
Here's another link: http://www.make-stuff.com/recycling/cd.html (06/20/2009)
By Annchristin
---
Crafts Made With CDs
I have lots and lots of old CDs and I don't want to just dispose them. Does anybody here have craft ideas that I can make out of them? Thanks.
Loi from Philippines
---
RE: Crafts Made With CDs
My neighbor strung them with fishing line and used them on his outside Christmas tree. The sun picked up the silver shine and they were very pretty. Another neighbor used them in his cherry trees to scare birds away. Another neighbor tied them to his grape vines for the same reason. (08/01/2008)
By Glenn'sMom
RE: Crafts Made With CDs
My son used them as a border around the top of his walls in his bedroom. Used bluetac to put them up on the wall. Very nice in a teen's room.
I have also used them at school with my students. We draw geometrical or abstract designs on them with fine black marker (waterproof) and white out pen. Kids love them. (08/03/2008)
By louel53
RE: Crafts Made With CDs
I have a program on my computer that prints a CD cover. I have used it to make clocks. Just buy the clock parts at the craft store, print out whatever design you want on the computer (I used photos of my grandchildren. There will be a hole in the middle of it, so place the faces correctly). Then attach the clock parts and you have a unique clock. Could use many other ways to design your clock -- painting, markers, decoupage, etc! Fun and cute! (08/06/2008)
By HalfWhit
RE: Crafts Made With CDs
There are tons of great ideas for using Cd's on crafster.com (08/06/2008)
By tahlula
RE: Crafts Made With CDs
Make a CD Flower:
For the Daisy Girl Scouts I used a CD to make a flower. Take a large button and put cotton crochet thread through it to make a hanging loop. Put the loop through the center hole of the CD with the button on the shiny side. Glue a white cardboard circle on the printed side with the hanging loop sandwiched between the cardboard and the CD. Using various colored pieces of art foam, cut out a circle and petals. Glue to the cardboard. With the Daisy GS I printed words from the Girl Scout Law, and as they earned their petal they glued it onto the flower CD. (08/07/2008)
By Hill8628
RE: Crafts Made With CDs
I made hanging mobiles. They glitter in the sun. My grandchildren love chasing the reflections. To do it, drill holes opposite each other on the edges. I used the tool that came with the ink cartridge refill kit. Then put a fishing swivel with a clip on it and tie fishing line between. I make mine 4 discs long and hang them where they catch a breeze and the sun. (08/07/2008)
By Roamin46
RE: Crafts Made With CDs
Years ago I made some Christmas decorations using CD's and small ornaments. I had a snowman figurine, Santa Claus, and a few others. I added some cotton balls to the CD in a few places to make it look like snow and the open CD parts looks like ice. Then add the figurine to the center, and once dry, it looked like Santa was standing in the snow with ice showing through. Very cute. (08/07/2008)
By Karyn01