Does anyone have any methods to remove what seems to be black rubber grease stains on new carpet. It has come from the black stoppers at the back of a portable piano.

Carolyn from Melbourne, Australia
By Carolyn
Ad
---
By pat. (Guest Post) 01/30/2009 Flag
Hi, try wiping the marks with orange oil or eucalyptus oil or tea tree oil, all will loosen tar and other marks,Try it on a piece of the carpet that can't be seen first to check for adverse effects. Use a clean white cloth for this. Hope this works for you.
By regina beers 1 06/11/2014 Flag
How to remove rubber stains from my carpet.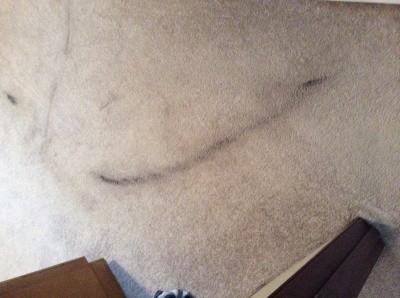 I just registered with this site to thank all the people who helped me. I was removing an old shelf stereo system, and put it down on the carpet. When I picked it up there were two very black rubber marks. I found the answer (rubbing alcohol) at this site, and will be happy to participate here if I can in the future.
Archives
Thrifty Fun has been around so long that many of our pages have been reset several times. Archives are older versions of the page and the comments that were provided then.
A friend of mine just purchased tan berber carpet about 6 months ago, he was vacuuming the carpet when the belt broke. Now he has rubber streaks on his brand new carpet. We've tried several things including oxy-clean, but the stain won't budge. Is there anyway to get the streaks off without hiring a professional?

Lynda in Cleveland

Answers:
RE: Rubber Streaks on Carpet
02/17/2001
I would try club soda or rubbing alcohol. Or call Berber. If nothing else works, turn it into your insurance company.
By AZLEADFOOT2
RE: Rubber Streaks on Carpet
02/22/2001
I have found that "Spot Shot" carpet cleaner is the best at getting out all kinds of stains. You can find it at grocery stores, Target, Sam's, etc.
By AmyMasson
RE: Rubber Streaks on Carpet
02/23/2001
Because it is a new carpet (and Berber's I believe are made out of synthetic materials,) it might be best to hire or at least call a professional. A solvent that will take the stain out might also melt the carpet. Call around, some carpet cleaning services are better than others. Look for one that is bonded and certified. Call and ask questions about the rubber stain. It may cost a little to get the stain removed but replacing the carpeting is much more expensive. In any case if there are any scraps, test on the scrap or in a place that won't be seen.
By Susan
RE: Rubber Streaks on Carpet
08/12/2002
Same thing happened to me but not on a berber carpet, but it was a closed loop large rug, I scrubbed it out with Simple Green.
By dabirdie39
RE: Rubber Streaks on Carpet
11/27/2004
Same thing happened to us. Cotton balls and rubbing alcohol took it right out.
By John & Vicki (Guest Post)
RE: Rubber Streaks on Carpet
02/12/2005
The alchohol worked like a charm!

Thanks for the idea.

By Joyce. (Guest Post)

I have a 7 foot long pair of awful looking rubber streaks left on my carpet after having moved a piece of furniture that had rubber feet. The carpet is a tight, low pile loop of blended colors, basically blue and gray. I desperately need help in finding a way to remove this from my carpet. Thank You!

Jocelyne from Norway, Michigan
Answers:
RE: Rubber Stains on Carpet
I had rubber stains on a tablecloth from the rubber feet of a small appliance. I tried Stainstick, Shout, and laundry detergent to pre-treat it. Nothing worked. I read the advice to use rubbing alcohol on a cotton ball. I tried it and it immediately worked. I used about 3 cotton balls on each small stain, using a new one as the old one turned gray. Thanks to everyone for the much needed help. No elbow grease needed for this.

(01/28/2007)

By Lynn
RE: Rubber Stains on Carpet
The WD40 method was excellent, worked like a charm. Try using on pen marks on wallpaper this also works (07/29/2007)

By Chris
RE: Rubber Stains on Carpet
WD 40 did the trick! I placed old electronic equipment on a white tabe. Took the black (little feet) marks right off! (10/21/2007)

By Al