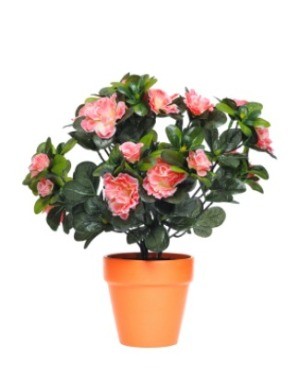 They may not need light and water, but artificial plants do require regular cleaning to look their best. This is a guide about cleaning artificial plants.
Ad
---
Solutions: Cleaning Artificial Plants
Read and rate the best solutions below by giving them a "thumbs up".
To clean artificial flowers, pour some salt into a paper bag and add the lowers. Shake vigorously as the salt will absorb all the dust and dirt and leave your artificial flowers looking like new! Works like a charm!
I spray Febreze generously onto the whole flower/foliage arrangement, tree, etc. This works just as well as commerical cleaners made specifically for silk flowers. Just spray, no wiping necessary. And you can choose the scent (or no scent) of your choice.
By 2ndsight [4]
Give a "thumbs up" to the solution that worked the best! Do you have a better solution? Click here to share it!
Questions
Here are questions related to Cleaning Artificial Plants.
I had a house fire three months ago and lost most of my belongings that meant the world to me. I have a artificial tree that I love. It reeks of smoke damage and I want to know how to get that smell out?
Due to health problems this year my spring cleaning is also going to entail an attempt to remove quite a bit of dust and dust/grease 'gunk' from some artificial plants which I have in my bedroom and above kitchen cabinets (no, I don't want to get rid of them).
I was thinking of spraying on a diluted Dawn mixture, then taking them outside and hosing them off, but also wondered if anyone in the wonderful Thriftyfun community has a better/easier way to accomplish this yucky task? The arrangements are too large to do the garbage bag/salt. Thank you in advance for any info you can give me; hopefully next year they won't be as bad.
By Marilyn from Orlando, FL
AnswerWas this interesting? Yes No
Ad
---
---
Most Recent Answer
By Pat Phillips [3] 03/24/20110 people found this helpful
Do not try to put permanent flower arrangements in a bag with salt and shake them to clean them. That process is for individual stems of flowers. It would beat the arrangement in to an unrecognizable mess. Polyester silk flowers can be cleaned with a mild detergent and water but again that is mostly used for individual flowers, not arrangements. Only assembly line manufactured arrangements like foliage designs will take the abuse, with out ruining the arrangement.

You can wipe down the arrangement flower by flower and then rinse it the same, carefully, to restore the original look of the design. Design Masters aerosol silk flower cleaner will do the trick if used regularly but try not to let the grease or grime build up.

I am a professional florist with over 45 years of experience, and this is the method we ask our clients to employ to keep their nice silk arrangements fresh and looking their best.
---
I am looking for a homemade recipe for cleaning artificial plants. I know one of the ingredients is liquid fabric softener. Does anyone know about this recipe?

Jeri from Indiana
AnswerWas this interesting? Yes No
Ad
---
---
Most Recent Answer
By Chad 10/16/20090 people found this helpful
I've found that Silk N Splendor works great on my dusty plants. You can just spray it on and let it dry...works great and no mess. Just lay a towel down because it will drip slightly. You can buy it at QualitySilkPlants.com
---
Does anyone have an easy way to clean artificial trees. Dusting with a duster dosn't work ..
- Loafer98
AnswerWas this interesting? Yes No
---
Most Recent Answer
By Jean (Guest Post) 07/25/20060 people found this helpful
Use 1 part vinegar to 2 parts water in a spray bottle. It seems to work well.
---
How do I clean artificial flowers?
By Charlie
AnswerWas this interesting? Yes No
---
Most Recent Answer
By Paula Jo C. [24] 03/21/20110 people found this helpful
I do not buy anything other then cheap furniture polish. Spray 'it' on my silk flowers and walk away, folks compliment how nice my silk plants and flowers look. I got the idea from these folks (thrifty fun) some time ago and it works!
---
I don't understand what ya'll are saying about using salt to clean artificial plants.
By Angie
AnswerWas this interesting? Yes No
---
Most Recent Answer
By Regina M. 05/05/20150 people found this helpful
This is when you have silk flowers that are dusty and need cleaning. Not good for an arrangement because it will come apart, it is mostly for something like single stems or say a small stalk of greenery.

First: get a paper bag big enough to hold the arrangement. Second: add in about a cup to a cup and a half of salt (depending on the size of the arrangement). Third: place the arrangement into the bag keeping the container or excess stalk out.

Fourth: tighten the bag around the stem by wrapping and twisting it, and secure it with some tape or tie a string around it. Fifth: shake the bag vigorously, this could take a few minutes depending on the amount of dust.

Sixth: untie or remove tape from the bag and slightly shake the arrangement as you remove it from the bag, this is to shake off any salt that may be down in between the leaves or petals.

Now you are done. This should have removed the dust and is so easy. Here is another tip, you can close the bag up tightly and reuse it on other arrangements or have it on hand for next time. I hope this has helped explain this process for you, I kind of thought it was crazy when I first heard about it too. I kept trying to figure out if you just rubbed salt on the plant or used salt water or what?
I have a beautiful vase filled with tulips.They are packed in very tightly and then there is glue with rocks at the bottom,so there is no way to take them out.The vase is getting slightly dusty inside. I can't figure out what to do to clean it.
By JH