I am looking for a simple pattern to make a "neck" wine glass holder to hold a standard wine glass at wine tasting functions.

Mike from Whitby, Ont.
By mike ryan
Ad
---
Recent Answers
Here are the recent answer to this question.

By Toni W.07/13/2014
I found this basic pattern:
http://honestysprotegee.com/2013/01/16/diy-deva-wine-lanyard/

& then made one using some of that cheap "no-slip" roll you can get from hardware & bargain shops, a couple of staples & some leftover yard & beads. Great thing is, it doesn't *just* fit wine glasses - here it is with vodka & orange! The yarn is a bit short (but it was all I had in the house). Think I'll buy a lanyard tomorrow.


By Mark (Guest Post)09/07/2008
Hey Mike,

This is what your looking for. We supply these for use at food and wine festivals.

http://www.lanyardwineglassholder.com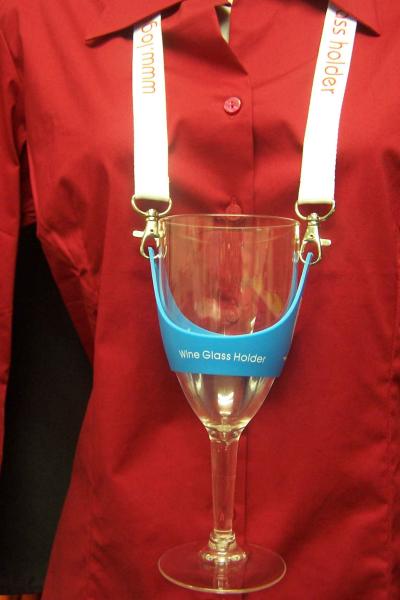 By Kathy (Guest Post)07/29/2008
Found a free pattern at woodcraft.

By Carol (Guest Post)05/24/2008
Do you evre get a pattern for these. If so I really would love to have it. I have never heard about them and would love to make these for Christmas gifts for the family.

TIA

By Peter Young (Guest Post)02/18/2008
Check out the "EXTRA HAND" wine clip at www.corpawards.org
They've sold over a million of them so they must work.

By Donna (Guest Post)09/24/2007
Did you find a pattern yet? I am also looking for a pattern. I bought one at the wineries made of leather, but I would like to make some for gifts out of another material. If you find a pattern, I would be interested.

By Diana (Guest Post)03/16/2007
If you are talking about identifying your glass with a charm or something that hangs on the stem of a wine glass
you can check out grandmageorge.com for printable wine glass holders

I make mine from wire, charms and beads

By Lily [11]03/15/2007
I saw them used on either Martha Stewart or The Today Show. You could check both of their websites and type it in the search box.
Answer This Question
Add your voice to the conversation. Click here to answer this question.