December 20, 2005
0

found this helpful
You all were such a big help with my Lab mix puppy's new chewing habits so I thought I'd try again. Now that we have her back in her crate, I need to find something indestructible for her to lay on while she's in there. We tried towels but she rips them to shreds. At night she sleeps on a doggy bed in our bedroom and she's fine so we bought one more for her cage. It lasted all of one day. She absolutely ripped it to shreds, stuffing and all.

I hate to have her sleep on the cold metal of the cage, but I don't know what to give her that she won't rip apart. Any ideas?

Thanks in advance for your help! :-)

Chima0692 from NJ
By guest (Guest Post)
December 20, 2005
0

found this helpful
Best Answer
I am a huge proponent of crate training and firmly believe that my dogs need their own private space as do I ; )
Find a rubber toy that you can fill with treats, or as we did, with peanut butter. Freeze it then give to your pup as a nighttime treat. This alleviates anxiety and is a great teething device.
Just remember that crating is no substitute for love. Think of it as a playpen for your child, a place where they can safely play or rest; NOT something to be left in all day.
By guest (Guest Post)
December 21, 2005
0

found this helpful
Best Answer
I think this is just a phase. My rescue dog (He's 5 and I got him a year ago) stays in his crate at night and sometimes just wanders in for a little quiet time. I put in an old bed pillow with a pillowcase on it. If that doesn't prove indestructable, you can make a simple pillowcase with something heavier, like an upholstery remnant, whic tends to be quite durable. I make a simple case with the fabric overlapping in the back- just two seams (or 4 if you want to finish the edges.) The pillow just tucks in, and with the opening face-down, she won't really be able to get through to the pillow. Keep at it- crate training really pays off!
December 21, 2005
0

found this helpful
Best Answer
For those that think my dog is spending too much time in her crate, let me just explain that she is only in there for about 3 1/2 hours a day. It's not like we're gone for 9-10 hours. She has toys in her crate (nyla-bones and strong rubber balls) but she tears up her bedding. If she destroyed her dog bed, I'm sure she'd destroy a pillow with a sheet over it. I hadn't thought of an army blanket. I'll try to look for one. Other suggestions are welcome! Thanks!
By guest (Guest Post)
February 16, 2006
0

found this helpful
Best Answer
Try taking the pup on a serious walk BEFORE you leave it in the crate. When they are exercised, they sleep for hours! I have a golden retriever. 9 months, also crate trained. Goldens and labs are notorious chewers and quite energetic So they need a lot of exercise. (The backyard is not enough!) We call it her "house" and there is nothing wrong with keeping them safe there while they can't be supervised. As long as it is never used for punishment, they have no negative feelings for their house and even go there voluntarily for some quiet time.
Also, try a rubber mat, like the kind you would put in the back of an SUV bed or car mat, not squishy like a yoga one.
By guest (Guest Post)
August 2, 2007
0

found this helpful
Best Answer
I take my hat off to everyone on this post who crate trains his/her dogs. I had a Great Dane Lab mix puppy many years ago and she was crate trained and did very well. I made the mistake of thinking that when she was 2.5 years old she was ready to use the front bedroom and my Stearns and Foster Queen sized couch as her new "den/house". That worked for about a week ... and then one day at midday everything was fine ... and when I got home from work she had torn up all six of the cushions on the couch. Now, in the USA we have about 9 Million families a year that take their dogs to the pound where they are put down for such infractions. But anyone who has bred a litter of puppies knows the female shreds whatever you give her to make a nest for the pups - so some of this distruction is instinctive - I am not saying it all is - just some. Teddy went back to a more confind environment during the day ... and she and I walked every day but Sunday for more than 2 hours at least once a day ... I lost 18 pounds simply by being committed to that wonderful dog ... and the Stearns and Foster got "rehabbed". :-)
Canvas beds can be very durable and the ones with the PVC pipe may have a sufficiently unique shape and off the floor motif to make the dog love it. Whatever you do ... check the crate everyday to make sure the dog is not ingesting any cloth or any string like plastic material. If this gets stuck in the GI tract the dog could die ... and those long stringy plastic fabrics appear to be very nasty in the GI tract. A wonderful 5 year old Canaan Dog from GB was being shown in the US and was terrific ... but the last show weekend before he was to go home ... he chewed his towel in his show crate and it got caught in his GI tract ... he'd never done this before in his life. He died because the section of intestine where the towel piece got trapped essentially died and had to be removed but such an operation often ends in the dog dying anyway ... and this dog did die. The point is that even a dog that you think is totally reliable is not ... it is only a dog ... and lives in the moment ... and does not have a clue what a "consequence" is. Think of all the human beings you know that understand consequences attach to our actions ... and still do stupid things!
Bless you ... bless your dogs.
By guest (Guest Post)
March 11, 2008
0

found this helpful
Best Answer
My dogs are in agility and exercised and messed with a lot and they still destroy their crate pads or beds. One is a Sheltie who is not that destructive of a dog, but if you put ANYTHING with a zipper in his crate, he will have it destroyed within 30 min. The other dog is a Border Collie and is extremely rough on everything. So I have been going crazy trying to find crate pads and beds. If you don't let them sleep on pads at night, whenever they shift their position at night (my BC tends to be a toss and turner when she is asleep at night) you hear this AWFUL scratching and scraping noise from the plastic (of course I live in a loft where every tiny noise carries). I will probably be trying these beds out. Yes, they are expensive but they look like they will work.
http://www.cush _Bed_System.html
By guest (Guest Post)
January 7, 2009
0

found this helpful
All these dogs that chew, or tear up their bedding, and other things are probably going through a classic case of "separation anxiety". It's a panic mode that dogs go through, out of fear of their owners not returning. I have an 11 year old chow mix, and have had her since 8 weeks. I crate trained her ASAP when she was still a puppy. I'm single, and she sleeps in the crate only when I'm not at home. When I'm there she's fine.
She still tears up her bedding sometimes though. I usually find old carpeting that people are throwing out, and put down a couple of pieces in the crate. Separation anxiety for the most part gets better the more you leave the dog alone. The dog will tend to be more anxious after long periods of having its owner around, ie: a long vacation. There are simple steps an owner can take to help a dog with it's separation anxiety problem, but its usually a long process. The owner needs to crate the dog, and gradually extend the time which its left alone.
Putting chew toys (Kongs), stuffed with peanut butter, or a treat is a good idea, as well as leaving something with your scent, like an article of clothing (something that you wont mind if it tears up of course). There are quite a few web sites to lead you through the steps to help your dog with "separation anxiety", and if you're not having success, and are affluent, there are trainers that deal with dog behaviorism.
By guest (Guest Post)
January 21, 2009
0

found this helpful
Has anyone else tried "primopads" posted by billy on 2/12/08 or "cushionguy's titan bed posted by Kara on 3/11/08? I have a 9 month old foxhound/catahoula leopard dog mix and he lives to chew things. He has dog bones all over the house and is always chewing them, I don't know how his jaws don't get tired. He is also crate trained and he often goes in the voluntarily.
We have yet to find a toy he can't rip apart and most things won't even last an hour. He has many bones in his crate with him and would have stuffed toys too if we could keep them alive and in on piece. We can't even leave kong toys for him to play with.
I think he spits all the plastic out but just in case. I am home all day and he does get exercise but with a home daycare and his chewing habits I can't trust him if I can't keep both eyes on him! He even chewed apart the bottom of his crate so we had a steal tray made. It is actually quieter then the plastic but I feel bad for him and just wish I could find something soft for him to sleep on. I have already tried fleece blankets, rug remnants, bath mats, towels and regular dog beds!
February 3, 2009
0

found this helpful
In the UK you can buy stop-chew beds, which have a 6 month guarantee.
December 24, 2009
0

found this helpful
www.orvis.com Amazing customer service, product is guaranteed, and they have a Toughchew product that is extremely durable and the zipper is heavy duty. The zipper is covered and doesn't have a pull so they can't swallow it. My dogs did get to the zipper but they weren't able to rip it out or ruin it. However, Orvis sent me new ones when i sent them an email explaining they ripped out the stuffing- no questions asked and I didn't have to send the beds back. With the second beds I secured the covered flap over the zipper with a 6 "stitches" down the side that can easily be pulled out with a seem ripper when you want to wash the cover. I then put the bitter orange no chew liquid along the seams and zipper to discourage biting. So far so good! I've tried everything else mentioned above with my two Bernese Mountain dogs and nothing has worked. The only solution is a bed with minimal seams (a round bed), no zipper (or a zipper on the bottom of the bed), and a tough material. But then you cant wash the cover and a round bed doesn't fit in a kennel. I am very interested in the straw idea though- what a cheap and easy solution!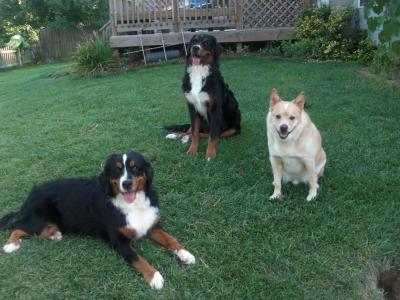 Read More Answers