I have an old metal meat grinder. How would I go about cleaning it so that I can start using is? Thanks.

Pam from Wichita, KS
By Pam Strunk
Ad
---
Recent Answers
Here are the recent answer to this question.

By Goldie (Guest Post)02/24/2009
I haven't tried this but I remember older relatives talking about putting bread through the grinder to clean it. Hope it works!

02/24/2009
I am giggling from my toes ;-) Those old metal meat grinders would "maybe" rust if they've been left out in the rain for a decade or more ;-) I still have my mom and dad's old meat grinder that they received as a wedding gift in 1953 and, believe me, those puppies can take great abuse ;-) They're like the old Timex watch ads, "They take a licking and keep on ticking." :-) Die-hard cooks still demand them and they are still produced ;-)

Just soak it in the bleach and water as I mentioned below and then soap clean and all the bacteria and possible gunky build up of food particles will definitely be gone :-)

Oh, and chris t makes a good point about taking them apart ... I am glad chris mentioned it :-)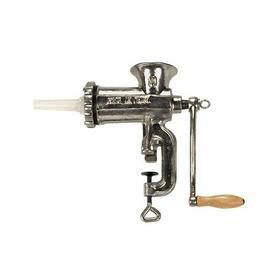 By Mary Lou [14]02/24/2009
Try putting some slices of bread through the meat grinder to take off the surface rust inside the grinder

By Cheryl [1]02/24/2009
Maybe a toothbrush and vineger?

By Grandma J [46]02/23/2009
It may have a little rust on, use an old tooth brush to clean in the little places. Don't let it soak in water long. Rub a little cooking oil, shortening on them, then wipe it off. Seasoning the metal. Old kettles, appliances, tools always did best when cared for with a little 'lard'ing.

By chris t (Guest Post)02/23/2009
Most food grinders I have seen can be taken apart to be cleaned. The front part usually unscrews to expose the blade the meat comes through, and you should be able to pull out the blade as well. Just watch how you take it apart, so you can get it back together. Grinders have to be taken apart, as they can harbor bits of meat that would end up making you sick (that's why they make them able to be taken apart). You can always look for the brand name on it and check the internet for info on that company.

02/23/2009
Just soak in super, super hot water with 1 tablesspoon bleach per 1 gallon of water for about an hour and then wash well with soap and water in the sink or place on the top rack of a dishwasher ...
Answer This Question
Add your voice to the conversation. Click here to answer this question.