Cleaning Cat Urine Smell on Hardwood Floors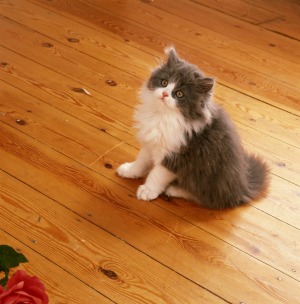 When your cat has an accident, it can be a challenge to remove the smell of urine from hardwood flooring. This is a guide about
cleaning cat urine smell on hardwood floors
.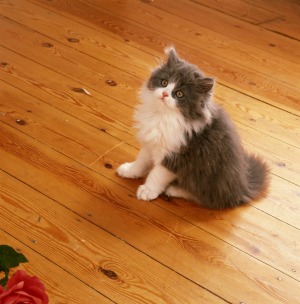 Questions
Ask a QuestionHere are the questions asked by community members. Read on to see the answers provided by the ThriftyFun community or ask a new question.
We need help! We just recently bought a house and the previous owner had over 30 cats that she let go wild around the house for probably over 15 years, we think. She is deceased and was a recluse, so getting information on her is difficult. But what we do know is there is the worst cat smell you could ever imagine. We had to rip up some of the hardwood floors in some rooms as well as the baseboards in those rooms. We were hoping to spare some of the rooms from having to rip up the floors.
We have two serious concerns. Into the corners of the stairs where the stairs turn was evidently a regular peeing spot so the urine has soaked down into the wood that makes the stairs, not just the tread but the wood that holds up the stairs. If we have to dismantle and replace the whole staircase it would be deadly expensive. The walls around this area are down to the studs so we can see where the source of the problem is. We have used enzyme sprays on the area to try to break up the urine enzymes to get rid of the smell, but it prevails. Then we started covering it in baking soda but that did not help either. Keep in mind this is a vertical problem we are trying to fix as it is along the wood that makes up the stairs going up the stairs.
So does anyone know a product we could use to get rid of the smell so we don't have to dismantle and replace the whole staircase? The second issue is that on the second floor (where it seems less cats were). We were hoping to save those floors, but last week we had some extremely humid days and floors that were dry and non stained on a cool dry day were all covered in wet, stained areas that seemed to seep up through the floors. Now granted these were very humid days, but still it was ridiculous the amount of stains and wet marks that were all over the floors. Do you think we just need to pull up all the floors? Please help!
September 19, 2016
0

found this helpful
I would probably leave all the Windows open for a month or more even in cold weather, but my guess is you'd be better off tearing it down and building a new house sometimes that don't cost that much more in labor and money than all that work and you still have an old smelly house I really doubt that you will be able to get rid of it entirely without it coming back after a while, just get rid of the house and build a new simple but efficient and sufficient house and you won't regret it.
September 19, 2016
0

found this helpful
We decided to pull up the floors and subfloors and the smell is gone along with the old smelly floor wood!!!! When we go past the dumpster we can get the smell so we are happy that we came up with this plan. We have called to have the dumpster removed asap. Thank goodness my husband is a contractor so he is able to replace all the subfloors himself.
Related Content
(article continues below)
December 13, 2016
0

found this helpful
Oban only at Wal-Mary and Sam's Club
I am having a hard time keeping urine smell out of my home. One of my cats for some reason is peeing on the floor around his liter box instead of in it. I don't know why he started doing this. Is he trying to tell me something? Is he sick, is he mad at me for something? I don't understand. I need to know how I can stop him from doing this and what I can do to get rid of the urine smell on the wood floor and my carpet. Please help!
By Linda D. from Bellmawr, NJ
December 17, 2014
0

found this helpful
Best Answer
This behavior is the most common sign of a bladder infection. The cat associates the liter box with pain and begins to avoid it, thinking it can get away from the pain. You need to get your cat to the Vet right away to avoid having this behavior become habitual, and to relieve its' pain.
December 16, 2014
0

found this helpful
Your kitty may have a medical problem. Please take him to your vet to address and correct the behavior. He may need medication and your vet can help you with possible changes in his environment.
How can I get rid of the cat urine odor so that I can refinish and stain the wood? I'm really having trouble with this.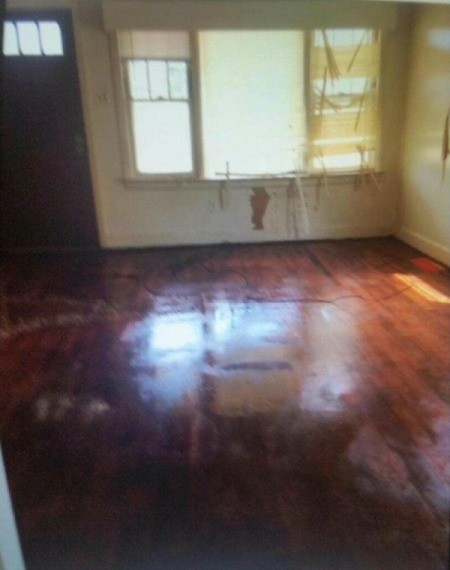 July 15, 2016
0

found this helpful
You do not want to hear this! If there is cat or dog urine soaked into the wood floor, there is very little you can do and, even trying several methods, will most probably need to either deep sand the wood to below the urine stain or replace the area completely. We had a horrible dog urine problem in a house we purchased when the windows were wide open for the summer breeze. After we closed the windows, the stench made us gag! Ended up replacing most of the house floors as urine had soaked into most of the house.
Good Luck!!!
The always helpful site below will provide what possibilities are available and will fully explain each attack. If you are not sure where the urine is, borrow or buy a ultraviolet light; it will show the patches of cat urine:
http://homereno c7a10e6a4-0-ab_m
September 18, 2016
0

found this helpful
My Dad was working with the Housing Authority in California. He found something that works and that you can buy. I have several cats and as they age they have had accidents on the carpet, which soaks to the hardwood floors. I live in a little town in Oklahoma and I went to a small Janitorial supply store here and they actually had what I was looking for Enzyme D. It wasn't expensive, $5.00 a bottle and they gave me a free sprayer head. I spayed it in some areas and others I had to soak the floors with it. It worked no cat urine smell.
Does anyone have a recommendation on how to remove cat urine odor from a hardwood floor? It seems to get a strong odor when the weather gets humid.
By Kandy
March 31, 2012
0

found this helpful
Best Answer
This works:
I would look around for a better price.
This will hurt ( warp.. stain ... lift up ) your wood floor cause its a liquid and you need to really spray a lot so it works
I have laminate flooring in 2 rooms, hardwood floor in one, and rubber tile flooring in 2 rooms. We are smelling cat urine as soon as we come in the house, but can't find the exact location of the where she did it. So I need some advice as to what to use on each of these floorings since this is going to be a whole house with the exception of the bedrooms where there is no odor. I will appreciate all suggestions and thank you.
By slg
November 10, 2014
0

found this helpful
Buy or borrow a black light to find where kitty left urine. Cat urine fluoresces under the light. Use a Product called Nature's Miracle to clean and deodorize.
Now you need to determine if kitty just had a accident or is actively potting in the wrong places. If it's the latter, you need to put the litter box where the cat is wetting. Then gradually move it where you want it. Some cats are really finicky about the box being clean too.
If you have a male cat, they may spray even they are neutered. To stop this, identify the places and clean with Nature's Miracle then spray with pheromones which calm the cat. A good pet shop will help you find the right product. Good Luck, kitty deserves your help being the kitty you want in your house.
I have discovered dark patches on the wooden floor where my cat has previously peed and it has dried in. I am not too bothered about the stain it has made as it will be covered by a new rug. I will have to throw away the old rug which is shaggy pile and replace it, but I need to get rid of the smell. The floor is teak. Any ideas please?
By Lynn from UK
February 6, 2016
0

found this helpful
the best solution is 1tsp diswashing liquid 1 tbsp baking soda an d 16 ozs hydrogen peroxide mixed together. pour on area where urine is/ it will fizz, leave til next day or when dry. wipe down and voila your smell is gone. unfortunately the dark stain will remain. but odour gone. one hundred per cent
Categories
Products
Guides
More
Categories
You are viewing the desktop version of this page:
View Mobile Site
.
© 1997-2017 by Cumuli, Inc. All Rights Reserved. Published by
ThriftyFun
.
Page
generated on March 30, 2017 at 9:29:34 AM on 10.0.1.224 in 3 seconds. Use of this web site constitutes acceptance of ThriftyFun's
Disclaimer
and
Privacy Policy
. If you have any problems or suggestions feel free to
Contact Us
.