Upholstering Caned Chairs
I inherited a dining room table and chairs. The chairs have cane backs that are starting to fall apart. I took one of the pieces of caning off and want to replace the caning with fabric and padding. Has anyone done this before and have any advise?
By vbraga from Aurora, CO
Answers: Upholstering Caned Chairs
Questions
Here are questions related to
Upholstering Caned Chairs
.
Upholstering Dining Chairs With Cane Seats
I have dining room chairs that have a woven cane material on them. They need to be repaired. I would like to find an alternative to repairing them, perhaps a fabric. However, the seats don't come off and are part of the chair. Any suggestions on how to do this and make it look nice?

By Tami F.
---
Most Recent Answer

By flying-brush
10/13/2011
I have revamped my dining room caned chairs and like what I got! I cut the cane out and cleaned that area up. I measured for plywood pieces that would be a little larger than the hole where the cane was. I had the plywood cut, then I padded with upholstery foam. Cut fabric large enough to cover the wood and foam with 3 inches extra on all sides. I turned the wood/padding over on wrong side of fabric and stretched and stapled the fabric to the wood bottom.

I started in the corners and pulled it tight did all 4 corners first. Then I stretched the sides and stapled that tight and smooth, opposite sides both then the other 2 opposite sides, pulling tight and smooth as you go. I put scrap wood squares in all four corners to hold the seats in place while in use. It is really simple and straight forward if done step by step.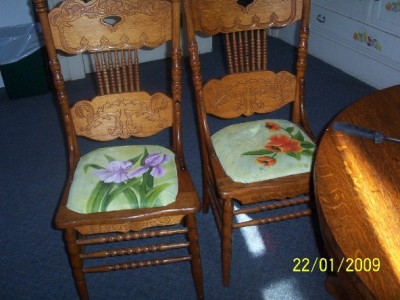 Answer This Question
Add your voice to the conversation. Click here to answer this question.
Related Guides
Related Posts