Painting or Refinishing Kitchen Cabinets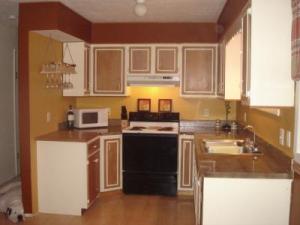 I need some advice on re-finishing or painting my kitchen cabinets. Here's a look at my kitchen. What do you think I should do with these cabinets?
I have no style, just want something that looks good.
By Sabrina from Painesville, OH
Answers: Painting or Refinishing Kitchen Cabinets
Read answers for this question below.
I really like the colors of the kitchen but I think the cabinets need some attention.
What do you think? I'm ok with painting them, but I don't have a clue as to what color would go nice with the current colors of the kitchen.
Thanks!
I would just paint the kitchen eggshell white, and you will find the cabinets are pretty.
Completely refinishing them would be a lot of work---you would have to take the old finish off first. I would take the doors off and pick a color of paint you like and paint them and then paint the actual cabinet part in either a matching color or a contrasting one.
Answer This Question
Add your voice to the conversation. Click here to answer this question.
Related Guides
Related Posts