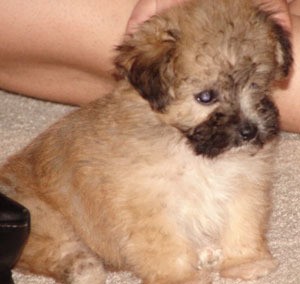 Teddy Bear is a Shih Poo. Teddy is about 9 weeks old here. We got Teddy in the summer to replace our kitty who died. Teddy loves to jump but because he is so small, he doesn't get up on anything. But I give him an A for effort. Teddy seems to love everybody and all of our other pets. He is such a blessing to us!

By Sherri T. from Granbury, TX
By Sherri T
Ad
---
Feedback Forum
Feedback about this article is posted here. Want to contribute? Click above to post feedback.

By Robyn Fed [394]02/07/2009
I moved to Tennessee from Texas five years ago....what an adorable baby! So sweet.....
Give him a hug for me!

Racer

By valery [19]11/13/2007
He's so cute. Post pictures as he grows. I would love to see how he looks when he's older. I also have a mix, "designer dogs" as they call them these days. My Molly is a pug a poo. Val

By Pat Giles11/09/2007
Teddy Bear is a doll! I know he is going to grow into a handsome boy. Give him a big hug and kiss from Missy's Mom. Thanks for sharing, and God bless you.

By lavonneann [6]11/09/2007
Too cute!
Post Feedback
Add your voice to the conversation. Click here to share feedback.