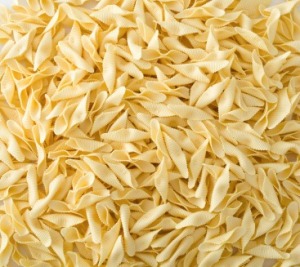 Whether you make your own or buy them, this tasty pasta is delicious with many foods. This page contains recipes using egg noodles.
Solutions: Recipes Using Egg Noodles
Read and rate the best solutions below by giving them a "thumbs up".
Quick, easy and tasty!
Ingredients:
8 oz. egg noodles
1/4 cup butter
2 tsp. dill seeds
2 Tbsp. lemon juice
2 tsp. fresh Italian parsley, chopped
salt and pepper to taste
Directions:
Cook noodles al dente according to package directions.
Meanwhile, melt butter in a small saucepan over medium heat, add dill seeds, saute 3 minutes, stir in lemon juice, parsley, salt, and pepper and remove from heat.
Drain pasta, place in a large serving bowl. Pour sauce over noodles, stir and serve.
By Deeli from Richland, WA
This is Cabbage 'n Noodles, the Slovak Way. My Mother-in-law used to make this for my husband when he was a child. Now I make it for my family. It's very filling and frugal.
Ingredients:
1 head cabbage
1 pkg. noodles, shells or wide noodles
butter, oil, olive oil, or margarine
salt and pepper
Directions:
Rinse and clean a whole head of cabbage. Try to remove as much as the core as possible. Place whole cabbage head in the microwave with a little bit of water, and loosely cover with a paper plate. Cook on High for about 10 minutes. Let the cabbage drain and cool, and slice up the whole cabbage.
Place butter or oil, in a large frying pan, put all the cabbage in your pan, and saute until golden brown.
While you are browning up the cabbage, cook noodles as directed.
When your cabbage is golden browned and the noodles cooked, mix them in a bowl. Salt and Pepper to taste. Serve Warm.
7. You can add ham or bacon if desired. You can also just saute the cabbage raw, it takes longer to brown, and the microwave is just a bit faster.
Servings:
8
Time:
20 Minutes Preparation Time
40 Minutes Cooking Time
By Jenny from Dallas, TX
Ingredients:
1 lb. ground beef
1 lg. jar spaghetti sauce with mushrooms
2 eggs
1 pkg. cooked and drained noodles (8 oz.)
1 pkg. frozen chopped spinach, cooked and drained
1/3 cup grated Parmesan cheese
1 cup cottage cheese
1 pkg. sliced American cheese
Directions:
Cook and stir ground beef in large frying pan until brown. Stir in spaghetti sauce and simmer 15 minutes. Beat 1 egg slightly, pour over noodles, mix well. Beat second egg and add to spinach. Add cottage cheese, Parmesan cheese, 1 teaspoon salt to spinach, mix well. Pour half the spaghetti mixture into baking dish, layering half the noodles on top. Spread with all the spinach mixture. Repeat noodles layer, top with remaining spaghetti sauce. Cover with foil. Bake in moderate oven (350 degrees F) for 45 minutes. Remove foil, arrange strips of American cheese on top. Bake 5 minutes longer. Makes 6 servings.
By Robin from Washington, IA
Give a "thumbs up" to the solution that worked the best! Do you have a better solution? Click here to share it!
Questions
Here are questions related to Recipes Using Egg Noodles.
I am looking for simple noodle recipes that do not use cheese, tomato sauce, or butter. Thank you in advance.
By Randa
---
Most Recent Answer

By Linda09/10/2010
Simple Sesame Noodles
12 oz thin noodles cooked and drained
1/4 cup Soy Sauce
2 Tablespoons Sugar
4 cloves Garlic, minced
2 tablespoons Rice Vinegar
3 tablespoons Hot Chili Oil
2 tablespoons Canola oil
2 tablespoons hot water
4 whole green onions, sliced thin
Wisk all ingredients except noodles together in a bowl. Pour sauce over warm or cold noodles and toss to coat enjoy!
How long should I cook dried egg noodles?
By neckbet from OH
---
Most Recent Answer

By kate illing [1]07/26/2009
Cover noodles with boiling water, leave for 4-6 minutes, stir well, then drain.
I bought some egg noodles (they happen to be egg-free) at a great price (50 cents for 12 oz). I thought I'd figure out how to cook them later! I know there are noodle casseroles, but don't seem to be able to find many recipes at all, and I would like recipes, esp. without tuna because of the mercury issue. Thanks to anyone who can help!

Ann from So. Maine
---
Most Recent Answer

By Laura (Guest Post)10/11/2007
I forgot to add that whenever a recipe calls for lasagne noodles I substitute it with egg noodles, or a different shape of pasta. I don't like dealing with lasagne noodles.