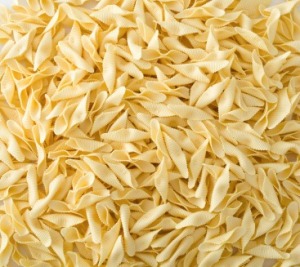 Whether you make your own or buy them, this tasty pasta is delicious with many foods. This page contains recipes using egg noodles.
Ad
---
Solutions: Recipes Using Egg Noodles
Read and rate the best solutions below by giving them a "thumbs up".
Quick, easy and tasty!
Ingredients:
8 oz. egg noodles
1/4 cup butter
2 tsp. dill seeds
2 Tbsp. lemon juice
2 tsp. fresh Italian parsley, chopped
salt and pepper to taste
Directions:
Cook noodles al dente according to package directions.
Meanwhile, melt butter in a small saucepan over medium heat, add dill seeds, saute 3 minutes, stir in lemon juice, parsley, salt, and pepper and remove from heat.
Drain pasta, place in a large serving bowl. Pour sauce over noodles, stir and serve.
By Deeli from Richland, WA
This is Cabbage 'n Noodles, the Slovak Way. My Mother-in-law used to make this for my husband when he was a child. Now I make it for my family. It's very filling and frugal.
Ingredients:
1 head cabbage
1 pkg. noodles, shells or wide noodles
butter, oil, olive oil, or margarine
salt and pepper
Directions:
Rinse and clean a whole head of cabbage. Try to remove as much as the core as possible. Place whole cabbage head in the microwave with a little bit of water, and loosely cover with a paper plate. Cook on High for about 10 minutes. Let the cabbage drain and cool, and slice up the whole cabbage.
Place butter or oil, in a large frying pan, put all the cabbage in your pan, and saute until golden brown.
While you are browning up the cabbage, cook noodles as directed.
When your cabbage is golden browned and the noodles cooked, mix them in a bowl. Salt and Pepper to taste. Serve Warm.
7. You can add ham or bacon if desired. You can also just saute the cabbage raw, it takes longer to brown, and the microwave is just a bit faster.
Servings:
8
Time:
20 Minutes Preparation Time
40 Minutes Cooking Time
By Jenny from Dallas, TX
Cook and stir ground beef in large frying pan until brown. Stir in spaghetti sauce and simmer 15 minutes. Beat 1 egg slightly, pour over noodles, mix well.
Give a "thumbs up" to the solution that worked the best! Do you have a better solution? Click here to share it!
Questions
Here are questions related to Recipes Using Egg Noodles.
I bought some egg noodles (they happen to be egg-free) at a great price (50 cents for 12 oz). I thought I'd figure out how to cook them later! I know there are noodle casseroles, but don't seem to be able to find many recipes at all, and I would like recipes, esp. without tuna because of the mercury issue. Thanks to anyone who can help!

Ann from So. Maine
AnswerWas this interesting? Yes No
Ad
---
---
Best Answers
By Sandy Kinney 24 10/10/20070 people found this helpful
I have a recipe I got from "The Tightwad Gazette" for creating a casserole dinner.
1 cup main ingredient (tuna, cubed chicken, turkey, ham or seafood)
1 cup second ingredient (thinly sliced celery, mushrooms, peas, chopped hard-cooked eggs)
1 to 2 cups starchy ingredient (thinly sliced potatoes, cooked noodles or cooked rice)
1 1/2 cup binder (cream sauce, sour cream or a can of soup)
1/4 cup "goodie" (pimento, olives, almonds or water chestnuts)
seasoning
Topping (potato chips, cheese or bread crumbs)

Thoroughly mix your combinations of the above ingredients. If it seems dry, add 1/2 cup milk or stock. Place in a buttered casserole dish and bake at 350 degrees for 30-45 minutes.

This is a very good way to use up leftovers.
---
By U*u*U (Guest Post) 10/10/20070 people found this helpful
Noodles for DESSERT!

Water
1 teaspoon salt
1 1/2 cup wide noodles
1 egg (beat well)
3 tablespoons sugar
1 tablespoon butter or margarine
1/4 teaspoon cinnamon
1/2 cup raisins ( I soak mine first)
1/8 teaspoon salt
1 1/8 cups cottage cheese
3/8 cup sour cream
Preheat oven to 350°F. Place water in a saucepan with salt and bring to boil. Add noodles and cook for 10 minutes. Drain and place in mixing bowl. Add the rest of the ingredients. Blend well. Pour into a greased casserole. Bake in 350°F oven for 30 minutes.
---
By Holly 367 1,264 10/10/20070 people found this helpful
I made this to go with dinner tonight. Yummy.
SHABBAT KUGEL
Printed from COOKS.COM

12 oz. noodles
3 eggs
3/4 c. sugar
4 tbsp. dry bread crumbs
4 tbsp. vegetable shortening
3/4 tsp. cinnamon
1 1/2 tbsp. lemon juice
3/4 tsp. grated lemon rind
1 c. raisins
1/2 c. chopped almonds
Cook noodles, drain, rinse. Mix with beaten eggs and sugar. Add balance of ingredients and pour into well greased casserole. Bake 400 degrees for 45 minutes or until brown.
Optional topping: 1 tsp. cinnamon 1 tbsp. sugar
Mix together and sprinkle over kugel before baking.
---
By Laura (Guest Post) 10/11/20070 people found this helpful
My family likes this better than regular lasagna. You can get creative and add more spices or ingredients.

LAZY LASAGNA

12 oz. egg noodles, cooked
2/3 cup Romano and/or Parmesan cheese
16 oz. ricotta or creamed cottage cheese
2 eggs, lightly beaten
1 1/4 cup shredded mozzarella cheese, divided
5 cups spaghetti sauce

Preheat oven to 375°.

In large bowl, gently toss noodles with combined cheeses and eggs. Optional, add 1/8 teaspoon nutmeg to noodle mixture.

In a greased 3-quart casserole, spoon enough sauce to cover bottom. Layer the noodle mixture and sauce, repeat., ending with sauce.

Bake 25-30 minutes. Top with additional mozzarella cheese, and bake 10 minutes or until cheese melts.

If desired, cooked ground beef, sausage or pepperoni can be added to the sauce.
---
I am looking for simple noodle recipes that do not use cheese, tomato sauce, or butter. Thank you in advance.
By Randa
AnswerWas this interesting? Yes No
Ad
---
---
Best Answers
By Lisa 2 656 09/07/20100 people found this helpful
How about a stir fry? Sometimes I'll do this with ramen, or some flat noodles (looks sort of like fettuccine) from the oriental food store. Boil the noodles, but not too long (shorter than if you were making soup). Drain and rinse the noodles. Stir fry some veggies with whatever meat you happen to have around (sliced leftover chicken, pork, steak, whatever -- or you could even skip the meat!). When the veggies look about done, toss in the noodles. Fry a little bit longer, seasoning and mixing everything together. You can be creative with the seasoning, but just using some of the ramen seasoning packet is easy (I never use the entire amount, too much salt!). And you're done!

I'm making this tonight. I'm using a bag of frozen stir fry veggies, and some leftover meat from a tri-tip roast we grilled this weekend. It's easy and fast.
---
By Colleen Stuchal 6 76 09/10/20100 people found this helpful
1 bag noodles
2 cans cream of chicken soup
1 can milk (use soup can to measure)
1 package frozen mixed veggies

Boil the noodles for 6 minutes, drain place in 9 x 13 baking dish, stir milk into soup, add veggies, pour over noodles and stir. Bake in 350* oven for about 20 minutes or until hot and bubbly
---
By Linda 65 09/10/20100 people found this helpful
Simple Sesame Noodles
12 oz thin noodles cooked and drained
1/4 cup Soy Sauce
2 Tablespoons Sugar
4 cloves Garlic, minced
2 tablespoons Rice Vinegar
3 tablespoons Hot Chili Oil
2 tablespoons Canola oil
2 tablespoons hot water
4 whole green onions, sliced thin
Wisk all ingredients except noodles together in a bowl. Pour sauce over warm or cold noodles and toss to coat enjoy!
---
How long should I cook dried egg noodles?
By neckbet from OH
AnswerWas this interesting? Yes No
---
Best Answers
By mcw [80] 07/26/20090 people found this helpful
6-8 minutes + taste and see if they are cooked for enough time.
---
By kate illing [1] 07/26/20090 people found this helpful
Cover noodles with boiling water, leave for 4-6 minutes, stir well, then drain.