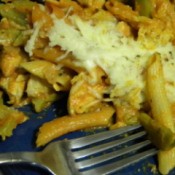 There is just something about pasta. It's versatile, delicious both hot and cold. It's also a comfort food for many, including me! In August, I spent a week in Spokane, WA and Coeur d'Alene, ID for my oldest nephew Marco's wedding (Steph, welcome to the Nuthouse!).

A bunch of the cousins decided to head to dinner together the night before, and we walked to Cyrus O'Leary's from their Spokane hotel. When the Goulds and Strecks come together, much fun is to be had! I decided on O'Leary's Baked Chicken Mostaccioli, and WOW, that was a good choice. Tender roasted chicken breasts sauteed in homemade Alfredo and marinara sauces, tossed with mostaccioli, then topped with mozzarella and Parmesan and baked until golden brown.

I prepared a 2-to-1 marinara - alfredo ratio. When you mix them equally, the sauce is pink (also called a pink sauce). Here's my version of that yumminess, substituting Ronzi Garden Delight Penne Rigate for mostaccioli. I always have Garden Delight on hand. It tastes great, and has one serving of vegetables in each serving portion. Those parents with picky eaters might relate to my sneaking veggies into meals however I can! I portion this into 6 large servings, and each has 2 1/2 servings of vegetables.
Ingredients:
1 (12-oz) box Ronzoni Garden Delight Penne Rigate
3 boneless, skinless chicken breasts, halved and sliced into chunks or strips
1/4 cup diced onion
3 tsp. minced garlic
1 Tbsp. EVOO (extra virgin olive oil)
2 cups shredded mozzarella cheese
1/4 cup shredded Parmesan (not that powder junk)
2 cups prepared marinara sauce
1 cup prepared Alfredo sauce
1/4 tsp. black pepper
1 tsp. dried basil (or 1 tbs freshly chopped)
1 tsp. dried oregano (or 1 tbs freshly chopped)
1 tsp. dried rosemary (or 1 tbs freshly chopped)
Directions:
Preheat oven to 350 degrees F, and bring water to boil for pasta.
At the same time, add pasta to water to cook and get chicken started. Drain pasta when done, return to pot and set aside.
To a heated skillet with EVOO, add onion, garlic and chicken. Saute on a med/med-high setting until chicken is no longer pink. Sprinkle on the pepper and herbs while cooking. Drain and add to the pot with pasta.
Mix in the marinara and Alfredo sauces. Transfer to a 3-qt baking dish, and top with Parmesan and mozzarella cheeses. Bake uncovered for 20 minutes.
Nutritional Information (each serving, portioning the dish into 6 servings): 480 calories; 35g protein; 6g fiber; 7g saturated fat
By Beth from Dublin, OH