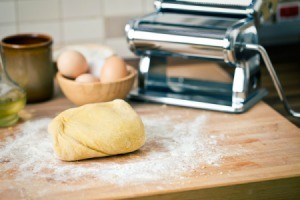 This is a bread machine recipe for noodles. It's from my Oster bread machine manual.
Basic Pasta
Ingredients
2 cups all-purpose flour
1 cup semolina flour
1 teaspoon salt
1 tablespoon olive oil or vegetable oil
7/8 cup water
Directions
Do not use delay timer feature. All ingredients should be at room temperature (70-80 deg. F.)
Measure all ingredients into bread pan. Select Dough setting. Press "Start/Stop" and allow to mix 8 to 10 minutes. Then press "Start/Stop" to cancel. Remove dough and roll out on lightly floured surface. Roll to 1/8-inch thickness. Dust with flour if dough is sticky. Cut into 1/8-inch wide strips for narrow noodles or 1/4-inch for medium-wide noodles. Cook noodles in a large pot of boiling, salted water for 10 to 15 minutes. Drain in colander.
As you can see, the machine is used just for mixing the dough, so if you have a different machine, you'd just run it on the Dough setting for 8 to 10 minutes.
I got an email through Thriftyfun asking for this, but the emailer is no longer registered with Thriftyfun, so I can't send it directly to her.
By jantoo from Kenosha Co, WI
Comments
Read More

Comments