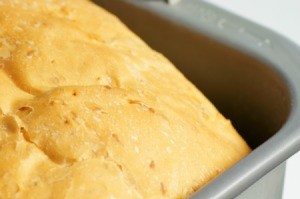 I have a breadmaker that the bread sticks in the bottom. What is the solution to getting the bread out without tearing all up?
Also, what is the solution to keep it from sticking in the first place?
Answers

April 19, 2002
1

found this helpful
Try spraying the container and beater with Pam or rub it with oil before you put in all the ingredients. Also make sure you turn the beater back and forth to loosen it (little thing that mixes the bread) before trying to remove the loaf.
- Susan

March 24, 2004
0

found this helpful
What brand and model of breadmaker is this? I have been looking for a breadmaker that does not contain teflon.
By Harlean from Arkansas (Guest Post)
May 1, 2004
2

found this helpful
This tip is a little different from what you are asking for, but really worth trying. I have a breadmaker, but I don't like the hard thick crust that I get from it. So I now use my own favorite bread recipe and just use the dough cycle to mix and knead it. Then I stop the machine, place it in a greased bowl, turn, cover and let rise until double.
Form into a loaf and place in greased pan. When it rises just above the rim of the pan, bake in the oven at 375º for 30 minutes. Remove from the pan, Wrap in a heavy towel and let cool. If you want my bread recipe, check the new tips as I am going to enter it there.
By fletcher763 (Guest Post)
October 27, 2006
1

found this helpful
I've been using my breadmaker for over a year now, gradually the sticking problem got worse. I've read a few forums but haven't yet seen the answer. So, I tried my own solution - and it works!!. Load up the breadmaker as usual, then after it has finished its second knead - probably about one and half hours (depending on the cycle you're using), take the tin out of the breadmaker and let the contents drop into a mixing bowl, there shouldn't be any sticky dough in the tin at this stage, but if so, just remove it.
Then rub margarine or butter on the paddle and just underneath the paddle, let the dough "plop" back into the bread tin, continue the baking cycle - end result NO STICKING BREAD. Obviously, you won't be able to use this method on an overnight batch, unless you set your alarm and are prepared to get up before dawn! Hope this works for everyone. Let me know.
March 2, 2016
1

found this helpful
Hi
I just take the pan and put it in cold water up to the bottom of the pan for 30 sec.Bread slips strait out very little damage to loaf very little residue on paddle.

July 21, 2016
0

found this helpful
Hamilton Beach

November 20, 2016
0

found this helpful
Rose
Do you put it straight in the water from hot - i.e immediately the cycle has finished?
Read More

Answers