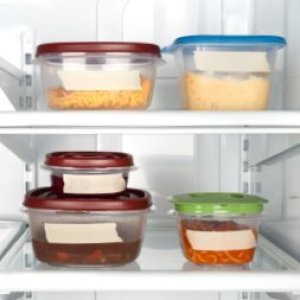 One problem many people have is getting a chance to eat leftovers before they go bad. One option is to freeze them until you are ready to eat them. This is a guide about freezing leftovers.
Solutions: Freezing Leftovers
Read and rate the best solutions below by giving them a "thumbs up".
Saving the contents of a partially opened can; and other tips to use freezing certain condiments, spices and even garlic.
This one is really easy. Once you have opened a large jar of a product, usually it goes into the refrigerator, and sometimes spoils if you do not use it quickly enough. This applies to most canned goods, or other things that may only be used a certain amount of the time.
Why waste opening another jar, or buying more of that item? Get out your ice cube trays! This is a great solution if you are saving something like pizza sauce, tomato sauce, broth, salsa, barbecue sauce and many other items. Even cheese dip seems to work as well. We've tested most possibilities over the years and the only poor outcome was potatoes; mashed or cubed.
This also works really well with garlic. If you are like me; you may like fresh garlic, but it's a pain to peel, chop, and sometimes goes bad if you leave it in the refrigerator too long.
For each liquid item, fill up the ice cube trays about 2/3 full (each "cube"). put in the freezer and when frozen, pop out and put in a ziplock bag and keep it in the freezer. Use as many cubes as you like, it's the perfect portion size and no chance of waste.
The garlic trick is to peel and wash the garlic, toss it into the blender with some water and then pour it into the ice cube trays. it's a wonderful way to have fresh garlic around at all times. Only one warning with the garlic, please make sure you put your frozen garlic cubes in a good container to prevent the garlic odor from mingling with the other foods. I don't recommend ziplock (odor still got out into the rest of the freezer). Now I use a glass jar, which seems to be working just fine.
All those left over sauces and broths can be frozen as well, with the exception of flour-thickened gravy.
I believe over the last 15 years that I have been using this technique it has worked with all items with those exceptions: gravy, potatoes. Everything else comes out just fine. So easy to reach for the proper amount without opening a new can.
By Bella S. from Forks, WA
Baggies are essential in your kitchen. When bringing home those large frozen meat "specials" divide them into meal portions as soon as you get home instead of putting the whole package of meat in the freezer.
Example: Baggie up two porkchops. With a permanent marker, write (2) PC (abbreviation for pork chop). Do this with pork steaks (PS), hamburger (HB). I also cooked up my taco meat for the future and when I bag it up, I write TACO or T on the baggie.
Also when cooking spaghetti sauce, bag it up and write SS on the baggie, etc. Do this also with leftover SS and you will soon have another pot with all of your smaller leftover baggies for another meal! Happy Baggie Days.
By Jane from Paducah, KY
Sometimes a recipe calls for broth and you purchase a larger amount than needed. To avoid waste, you can pour the leftover amount into ice cube trays or a plastic container and freeze. After broth is frozen you could switch cubes into plastic bags and return to freezer. You now have a small amount for any recipe.
Source: From a friend
By Lynn from Bridgeville, PA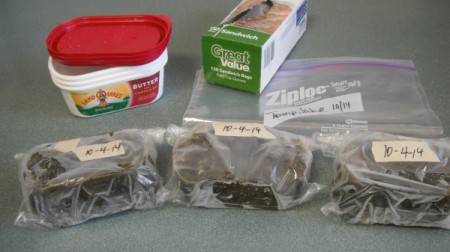 I don't mean to be advertising for Land O Lakes butter but this little 8 ounce container has really come in handy for me. Being flexible, rectangular shape and having a lid make it the perfect container for me to use for freezing turnip salad in a serving size for the two of us. I am so glad that I did not put these containers in the recycling bin.
Yesterday, I cooked my first pot of turnip salad right out of the garden and prepared some to put in the freezer. After putting it in the butter containers, I placed it in the refrigerator freezer over night.
Today, I removed the frozen turnip salad from the containers and placed each cube in a cheap sandwich bag and taped it shut. They fit perfectly in the bottom of the gallon zip lock bag and there's room to add more. I washed the containers and have them ready to the next cooking.
When preparing soups or anything with leftovers to be frozen for later use, I save the excess in ziploc freezer bags. When the food is cooled enough for freezing, lay the bags flat in a baking pan until they are frozen. They take up less freezer space than regular storage containers. This can be adapted to single serving size very easily, so it is simple to thaw just what you need quickly.
By macou33 from Lewiston, NY
Even though the kids are grown and away from home, I figured out a way that I could save a lot of money and we could still eat the meals that we've grown to love over the years. When TV dinners were on sale, I purchased a number of them. We used these dinners when we were in a hurry rather than eating fast food.

When done, I washed and saved the "plate". Then, whenever I fix a roast, I create TV dinners with some of the leftovers and create a beef stew or a casserole with the rest. The trick to doing this is to have a variety of dinners on hand (turkey, roast beef, chicken, or even left over casserole).

My husband figures we've saved a lot of money by not having to pay for fast food. There's also the energy savings because I don't have to heat the oven every day and the A/C doesn't have to work as hard as it does when the oven is on. If I don't want to fix a meal or if we're in a hurry, all we have to do is take out a homemade TV dinner and we can eat a good balanced meal that is seasoned the way we like them.

Just because the kids aren't here now, doesn't mean that we can't eat the good meals that my husband loves all the time. For example, if I fix a large roast beef for dinner, I'll fix perhaps 4 or 6 TV dinners with sliced roast beef and then get another 4 to 6 meals from the leftover beef when I fix it as a Beef Stew or Shepherd's Pie. That saves me from having to cook a minimum of 4 additional meals. It is a little extra work, but in the long run, it's not that much extra work.

Just make sure you place the "plate" in a freezer bag and make sure it's flat in your freezer to keep everything on the "plate" and reheat in the microwave just like the TV dinners you purchased at the store.

By Bobbie from Mesa, AZ
I really think that the introduction of Clip Lock bags (Freezer Use) are the next best invention since sliced bread! I usually go over the top and make too much of a particular meal/soup sauce. All the kids have now left home and sadly I still cook for 6 rather than 2!
For instance, I use Clip Lock bags for the following food that rather than be thrown away can be frozen: soups, casseroles, spaghetti bolonaise, cooked spaghetti sauces, chopped uncooked onions, tomato based sauces - the list is endless. I fill the bags with whatever needs freezing and make sure all the air is pressed out of the bag (I use a drinking straw).
Make sure the food is dated and labeled, lay the bag/bags flat, and place onto a baking tray in the freezer. Use express freeze on your freezer. Once frozen, remove the baking tray, then stack bags in categories into the freezer. It is amazing how much more room you will have in your freezer; no need for bulky containers anymore.
The beauty of Clip Lock bags is they come in a variety of sizes - lunch size, medium, extra medium, large, and extra large. The Plus is, of course, that you that you have a nice neat, easily accessible freezer every time you need an item - no more standing and wondering where that frozen bolonaise is!
Source: My husband and I are aged Pensioners, and I have always hated waste. What I didn't give to friends and family, I used to throw away. I was browsing the Supermarket aisles, and noticed a new line (a few years back now). I was not thinking of the freezing aspect at that time. I thought they would be handy for packing up picnic items, making sandwiches to be eaten later in the day, storing Cornflakes, oats, cereals (no more great big cardboard boxes in my cupboards), and I suddenly thought how useful they would be for freezing items.
By Carolyn from Kapunda, South Australia
Editor's Note: ClipLock is a plastic closure clips onto a regular plastic bag. If you are unfamiliar with the product, here is a link to the manufacturer's website:
If a leftover food is good for a soup, wrap it, write on it what it is, and freeze it. Some things will need to be chopped fine before use, but add a lot of flavor.
By rain200 from Chilliwack BC, Canada
Experts say that the best way to SLASH your grocery bill is to eliminate the waste-stop throwing things out! Here is my way of salvaging the tablespoon of corn or green beans that is not enough to eat but I can't bear to throw out.

Here is my recipe for leftover soup:

Place a large Tupperware-like container in the freezer. At the end of every meal, throw all your leftover vegetables and their broth into this container. In addition, add any beef scraps from roasts, steak, etc. When the container is FULL, place in your crock pot with a large can of tomato sauce. You may have to add vegetables (or a small piece of round steak if necessary) to to balance it out.

I do NOT place broccoli, beets or asparagus in this pot (Save your broccoli in a separate container for Cream of Broccoli soup if you desire). I do not place ground beef, chicken or pork in this container.

It is delicious! NO more leftovers! Serve with crusty French bread for a delicious and hearty meal that's good enough to serve for company! Enjoy!

I make Swiss Steak (crock-pot round steak with tomato sauce) and the leftovers of this dish are a rich base for my leftover soup!

By Diana from Prospect, KY
I purchased a set of 4 trays for $1 at my local discount store and have used them for all sorts of non-ice items. Cubes thaw faster than blocks of food in larger sizes, and store easily in zipper freezer bags. Just be sure to label the bags.
Freeze leftover jarred tomato sauce that you won't get to use up right away. That way, it won't go bad, and you can thaw out just how much you need for a recipe.
Freeze leftover rice. The cubes can be dropped into soups, or mixed with other foods for a quick lunch for an adult or child.
Freeze the juice you drain off your canned fruit. It can be used to sweeten different baking recipes or in punch. A fruit juice cube in a glass of iced tea is quite tasty.
Freeze your herbs. To preserve herbs with a high water content, like basil, chives lemon balm, mint and tarragon, fresh freezing is a better option than drying. The herbs will become limp in the process, but their flavor will be intact.
Tips For Freezing Herbs
Harvest the freshest, heathiest leaves
Wash and pat dry with paper towels
Stuff 2-3 individual leaves in ice cube trays. Pack them in so that at least half the cube is herb leaves. (for chives you can chop them up and put as much as you want into each cube)
Fill the tray with water. Make sure the leaves are down into the water, as best you can, and place in the freezer. (If you are planning to use them in particular soups or something, you can also freeze them in broth)
When the cubes are frozen, remove from the tray and store in zippered freezer bags.
When ready to use, toss the whole cube into your favorite stew or dish.
By Regina from Rochester, NY
When making pizza, there always seems to be more sauce than we need, so I freeze leftovers in ice cube trays and take out one or two when needed. These are great for a quick tortilla pizza night. Just use tortilla shells instead of pizza dough. Use your relish/veggie trays to put toppings in, then have everyone make their own pizzas (good for taco night too). It is a really good way to use up those leftovers.
By Dee
When you cook a chicken and have leftovers to put in the freezer, store the chunks of chicken in broth to keep it from drying out. Your chicken will be nice and moist when you need it for casseroles, etc.
By Katz
Give a "thumbs up" to the solution that worked the best! Do you have a better solution? Click here to share it!
Questions
Here are questions related to Freezing Leftovers.
Can I freeze leftover lasagna? And if so, in what, a glass container, or plastic?
By Sonia I
---
Most Recent Answer

By Litter Gitter [109]10/07/2014
I would say, yes, you can. What I would do is refrigerate it to get it firm, then cut it into serving sizes. Wrap each piece in plastic wrap and place them in a zip lock freezer bag and freeze. When you want some, take out what you need, remove the plastic wrap and heat in the microwave or a toaster oven.
I live alone, but when I cook I make recipes for a family, then put portions into small 1 or 2 cup containers and put them in the freezer. Then I take them out when I want them. However, often when I do, they are freezer burnt and I have to toss them!

I guess the containers I use don't do a good job of keeping the freezer burn out. I'm tired of throwing out food. How can I store these portions and not get freezer burn on them? Thanks in advance for your replies.
---
Most Recent Answer

By Jennifer [11]03/25/2009
Wow-- Thanks for all your clever ideas! I've got a meatloaf in the oven right now and I'll try a few of these ideas to freeze the slices and let you know how they turn out! :)