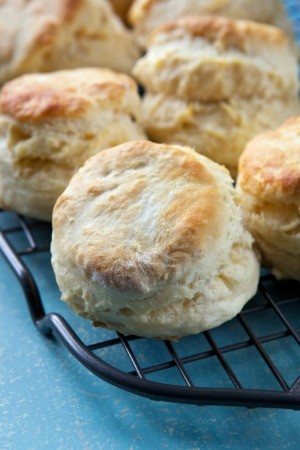 What can I do with leftover biscuits? I am on a budget.
By LeeAnn from Hampshire, TN

Answers

April 10, 2010
1

found this helpful
Best Answer
Use leftover biscuits for tarts, crumble and add coconut or date filling.
Crumble and use for apple, pineapple, or banana pie crust.
Layer in fruit or custard and jelly trifle.
Great for puddings.
Sandwich with strawberry jam and place in oven till jam melts and remove and cool.
Layer on a greased casserole and pour custard over and put another layer of biscuit and place in oven till biscuits brown a little and remove and cut according to the shape of the biscuits and cool and serve.

April 12, 2010
5

found this helpful
Best Answer
Here is a simple meal to make use of your biscuits:
1 lbs ground beef, browned with 1 small onion chopped up, stir in 1/4 cup bb que sauce & 1/4 cup catsup. Place in a baking dish, spread out and place busicuits on top in a single layer to cover meat.
Add shredded cheese and bake for 20 minutes at about 325.

April 12, 2010
3

found this helpful
Best Answer
I make some scambled eggs in a chicken or beef flavored gravy and warm the biscuits back up in the micro and put the eggs and gravy over them. Something cheap and easy the next morning for breakfast.

(Guest)
Gold Post Medal for All Time! 846 Posts
April 12, 2010
1

found this helpful
Best Answer
Cut in half sandwich slice style and use instead of shortcake for strawberries and whipping cream or, my preferred, raspberries and whipping cream ;-)
Speaking of sandwich style, why not make regular mini sandwiches with them?
Answer

this Question

Are there any recipes for using leftover baked biscuits and canned pie filling?
Answers

Judy
Gold Post Medal for All Time! 677 Posts
January 21, 2019
0

found this helpful
Scoop out some of the inside of the biscuit. Save that for bread crumbs. Fill with pie filling. Bake to warm up. Sprinkle with powdered sugar.

Pghgirl40
Bronze Feedback Medal for All Time! 196 Feedbacks
January 21, 2019
0

found this helpful
Yum!!! You can cut the biscuits into chunks, roll in sugar and cinnamon, toast them and put them on top of the warm pie filling. Top with fresh whip cream or ice cream! or
Separate the biscuits, them separately from filling, then layer biscuit, filling, biscuit, filling, ice cream. Like strawberry shortcake style.
Or you could press the biscuits into a buttered baking pan, top with filling and put your favorite streusel topping and bake until streusel has crisped...use the recipe you pick for time and baking temp.

Hello
Bronze Post Medal for All Time! 107 Posts
January 22, 2019
0

found this helpful
I would make mini biscuit pies by cutting the biscuits in 1/2, cutting out the crumby middle, filling it with the filling, then putting in oven for 10 minutes at 350degrees or less
YOu could also put the filling in a dish, pull apart the biscuits and cover it on top. I know this has a name but I forget what it's called, when you sort of put the crust on top and the filling on the bottom
Answer

this Question
What can I do with left over biscuits?
By Matt

Answers

July 20, 2013
0

found this helpful
You can take a can of chicken, a can of peas and carrots and a can of creamed soup any kind and heat them up and pour over the biscuits. Only seasoning you will need will be black pepper. Or if you like sloppy joes (slush burgers), pour that over them. Or if you have left over gravy, and veggies and meat and pour over them. You have now made an easy pot pie using leftovers.

July 20, 2013
1

found this helpful
Freeze them. If you want a biscuit, take one out and put it in the microwave on high for 20 seconds or so. You can heat a pan of frozen biscuits by putting them in a cold oven, set oven temperature at 450 degrees and bake them for 10 minutes. They taste like fresh baked biscuits.
We like to cut them in half, butter the halves and toast them. This is great with bacon and eggs for breakfast.
Answer

this Question