How do I keep my sugar from going hard in the bag?

By Shelly from Ashland, KY
Ad
---
10/23/2010 Flag
Moisture causes sugar to harden. You can avoid that by storing it in an airtight container.
By Pam Griffis 10 102 10/27/2010 Flag
I had that issue while living in Denver. Use a ziplock bag or a container that has a good seal. Add a slice of bread. You will have to change it every few days. Turn the stale bread into crumbs, make french toast from it, add it to dishes requiring bread, feed it to the birds, etc. I had to do the same thing when I made cookies.
Tupperware brand One Touch Reminder Canisters work great! They have a good seal so moisture is kept out, and they make it easy to scoop and measure ingredients. And, if you order them in January, they're usually on sale! At, $25-39 for a set of four, they're a bit of an investment, but I'd say they're definitely worth it!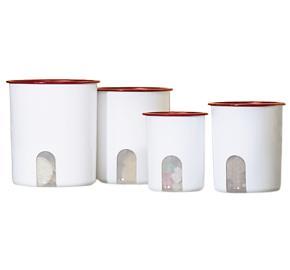 Archives
Thrifty Fun has been around so long that many of our pages have been reset several times. Archives are older versions of the page and the comments that were provided then.

How do I keep high humidity from hardening the granulated sugar? It seems like I remember seeing rice or something in the sugar container at the local cafe while traveling in the mid-west. The high humidity is a new problem in our home that we need to deal with but in the mean time - what do I do about the sugar hardening in the canister and sugar bowl?
Lorrie who has hardening of the sugar :(
Answers:
RE: Keeping Sugar From Becoming Hard
Put a slice on bread in the sugar container. It will get stale and the sugar will get loose again. (03/15/2005)

By Allison
RE: Keeping Sugar From Becoming Hard
I store my sugar and all baking supplies in an airtight container like tupperware or rubbermaid. The rice will help if your sugar is in a shaker type container. I always have rice in my salt shakers to absorb moisture and keep it from clumping. (My Mom always did this!:) Just make sure the holes of your shaker are small enough that only the sugar or salt comes out. Airtight containers may be your best solution. (03/15/2005)

re: Keeping Sugar from Becoming Hard
For those who use sugar or salt in shaker containers: if the holes are too large and the rice grains come out with the sugar or salt, use unpopped popcorn kernels instead. Works Great! (03/15/2005)

By Paula W
RE: Keeping Sugar From Becoming Hard
I live in the Midwest and have this problem also. What I do is place a saltine cracker in my sugar bowl and also in the canister that I store the sugar in. It keeps it from getting hard and becoming one big clump. I've heard of putting rice in your salt shakers to keep your salt from sticking together but never tried it. (03/15/2005)

By tiffanyau
RE: Keeping Sugar From Becoming Hard
Put a piece of a NEW terracotta in the sugar canister. It will absorb the moisture from the sugar. (You can get a small terracotta pot or plant coaster at garden store or discount store.) (03/16/2005)

By TeresaS
RE: Keeping Sugar From Becoming Hard
We live in Miami now and humidity is a big problem in the south, what has worked best for me to keep white sugar and brown sugar form hardening is that I keep them in those jars that have rubber rings attached to the lids and they have latches that are air tight when you close them, I don't remember where I got them, but my sugars never get hard, especially the brown sugar. (03/17/2005)

By Ana from Miami
RE: Keeping Sugar From Becoming Hard
I learned that brown sugar needs to "breathe" while it is stored. I keep it in a plastic bag in a canister and when I tie off the bag, I leave an air space so that it has some "breathing" space.
My brown sugar had not gotten hard since.
I live on an island, and we have lots of humidity, and I thought I needed to store brown sugar in an air tight container. Guess I was wrong.
(09/04/2007)

By Sandra Ireland
I keep my brown sugar in the bag and it gets hard when I want use it for the next time. When I tied it and put it up in the cupboard, it still gets hard. What can I do?

Dorothy
Feedback:
RE: Keeping Sugar From Becoming Hard
My Grandma always swore by a slice of apple in the bag. (02/12/2008)

By doodles
RE: Keeping Sugar From Becoming Hard
What works for me is my microwave. Put the whole package in the microwave on top of a pot holder and warm it up a couple of minutes. It will finally break apart and you can work the sugar with a fork while it's warm. Add another minute, etc. until sugar breaks apart easily. (02/12/2008)

By Lorelei
RE: Keeping Sugar From Becoming Hard
Seems for different people different things work. For me I find air causes hardening within 1 week. If I suck out all the air, twist tie the bag and double bag it into a Zip Lock bag that has the air removed, it will last for several months and remain soft. If any air gets to it, I find it goes hard in less than 1 week. When I see my brown sugar starting to go hard, I simply add slices of apple, rebag and within 48 hours I have soft sugar again. (02/13/2008)

By Chicklet
RE: Keeping Sugar From Becoming Hard
I found some Terra cotta bears (made for this purpose) at a local kitchen store. I put one in each of my sugar canisters and salt canister, also. No more lumps or hardening. They're pretty inexpensive, about $2.50 each. It comes with directions too, as sugars and salts differ. Hope this helps. (02/13/2008)

By Darlene
RE: Keeping Sugar From Becoming Hard
The slice of bread works great I do it all the time. A slice of bread also works if your homemade cookies are too hard. (02/13/2008)

By Ann
RE: Keeping Sugar From Becoming Hard
I keep my brown sugar in the freezer. It takes a minute or two to become very soft and then I measure it and pop it back in the freezer. I have been doing this for years and have had no problems. (02/13/2008)

By Andrea
RE: Keeping Sugar From Becoming Hard
I put mine in a Tupperware container. Stays fresh forever.
(02/14/2008)

By rda
How do you keep a bowl of sugar from getting hard?
By cuddlebug2710 from Sarasota, FL
Feedback:
RE: Keeping Sugar From Becoming Hard
This is what my grandmother used to do. Put a saltine cracker in the bowl. The cracker absorbs any moisture and leaves the sugar dry. Good luck. (06/11/2009)

By kateh09
RE: Keeping Sugar From Becoming Hard
I bought some very small clay bears ($1.00 each). They are sold for use in sugar containers. One fits perfectly at the bottom of the sugar bowl. They absorb moisture and the sugar stays soft. (06/12/2009)

By mulberry204
RE: Keeping Sugar From Becoming Hard
With white sugar a saltine cracker works/keep container closed and refresh periodically. I don't know if it works for brown sugar. With rolling tobacco apple slivers moisten it or else it gets dry city, so it might work well with brown sugar. Refeshen every couple days. (06/12/2009)

By PamelaW