Treating a Dog With Watery Eyes
Please can anyone help me? I have a 10yr old terrier mix and just lately her eyes have been watering quite frequently. She doesn't have any crust, nor are her eyes red. Occasionally she will lick her paws and rub her eyes with them, but other than that, she is absolutely normal. Sometimes I use a cotton wool pad, a clean one for each eye, and warm water to wipe away the tears because she looks like a panda! It doesn't happen all the time. Should I be worried and call the vet?
By cettina from Malta, Europe
Answers: Treating a Dog With Watery Eyes
Read answers for this question below.
rsrandr, I think you may be right but I'm really surprised since she has never had an allergy in her life! I've done nor given her nothing different from usual. The only thing I can think of is that the air outside is getting so polluted that its affecting her when I take her out for her walks. how sad that life has come to this.
It sounds to me like your terrier has allergies. I have a little Japanese Chin mix who has watery eyes all the time. My vet said it's allergies. I use a cotton ball moistened with warm water to wipe her eyes.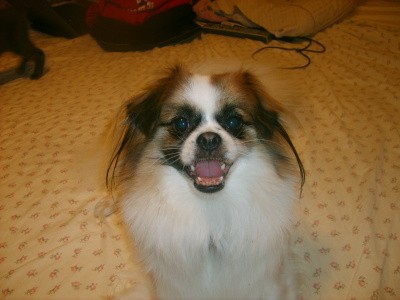 Answer This Question
Add your voice to the conversation. Click here to answer this question.