Treating a Kitten's Eyes
9 Questions
Ask a QuestionHere are the questions asked by community members. Read on to see the answers provided by the ThriftyFun community or ask a new question.
My 3 week old kittens have something wrong with their eyes. They keep closing up with crust.

Jeanine from Barnegat, NJ

Answers
By Cyndi from Ontario,Canada (Guest Post)
October 1, 2006
0

found this helpful
Best Answer
I always use the trusty old tea bag. Get a cup of warm water and dip a regular black tea bag in that is wrapped with a paper towel and apply to their eyes. Let it drip a little into their eyes as well. Make sure you use a seperate tea bag for each kitten. Do this several times a day and condition should be cleared up in a day or too. Works well on stys in humans as well. Good luck !!
By Carol (Guest Post)
October 1, 2006
3

found this helpful
Best Answer
The kittens eyes must be kept clean. Even with just a clean cloth and warm (not hot) water, wipe them. Then there is an antibiotic called teramycin that comes in a tube from the vet. You just squeeze a thin layer of it into each eye. Make sure you don't poke the eye and don't touch the eye with the tip.
Sometimes this works with just one use. Sometimes you have to use it more than once, but you must keep the eyes clean and crust-free with just water and a clean cloth. Don't use the same cloth on another kitten and use different sides of the cloth for each eye. After this, if it continues, you must take them to a vet or they can get worse and even go blind. Anymore questions that I might be able to answer, please email me: Samietooo AT aol.com I'm not a vet, but I do animal rescue and have gone through this many, many times.
By (Guest Post)
October 3, 2006
0

found this helpful
Best Answer
Your kittens may have cat flu. Crusty eyes is one of the symptoms. Check with your vet.
Ellie.
October 3, 2006
0

found this helpful
Best Answer
When I adopted two of my cats they came home with medicine because they had an upper respiratory infection. They had crusty eyes and Bailee also had a runny nose. It could be any number of things, you should call your vet, describe the situation and they will tell you whether you need to bring the kittens in or if they can give you something without an appointment. I wouldn't count on it clearing up on it's own, and the mother could become ill as well. They need her to be healthy right now so she can take care of them. I wouldn't take any chances.
JoAnn in Elkhart
Answer

this Question
My wife found a sick kitten last week. It has snot coming out of its nose. Its eyes are closed, we are having to use a warm wash cloth to get them opened.
The kitten is eating and drinking water and going to the bathroom. Would VAN BEEK GLOBAL DiaGel work for these symptoms?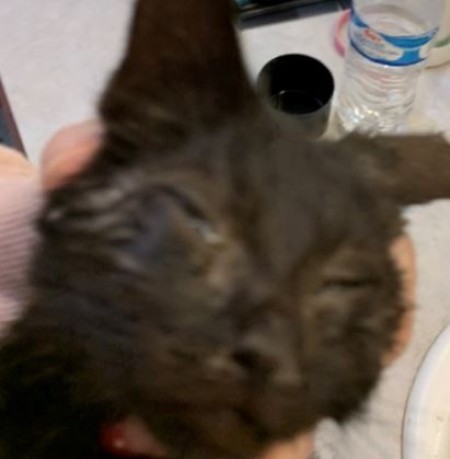 Answers
December 23, 2019
0

found this helpful
Best Answer
I would advise NO; it is meant for gut health not respiratory. Sounds like you're doing all the right things: plenty of hydration, nourishment, wiping the eyes gently, keep her away from drafts, etc. If the nasal discharge is dark or discolored, and/or she starts to breathe through her mouth, please call a vet right away!
December 27, 2019
0

found this helpful
Best Answer
Diagel is for digestive problems so it will not help the kittens eyes. Kittens get viruses that affect their eyes. Some times the eyes get a bacterial infection too. It sounds like that is what your kitten has. He will need an antibiotic to clear up the eyes. Your Vet will know what bacteria he has in his eyes and what antibiotic will work to clear it up. At the same vet visit you can get the vaccinations your kitten needs to avoid other kitten illnesses. If you need help with the cost call your local humane society or ASPCA. You can also make arrangements for your kitten to be spayed or neutered at around 6 months of age. Bless you for taking this little one in.
Answer

this Question
My sister has a 2 month old cat and can not afford a vet. The poor kitty has an eye infection and it keeps getting worse.
We clean it everyday, but it is not helping. What should she do? He is eating and drinking, but he is in such pain.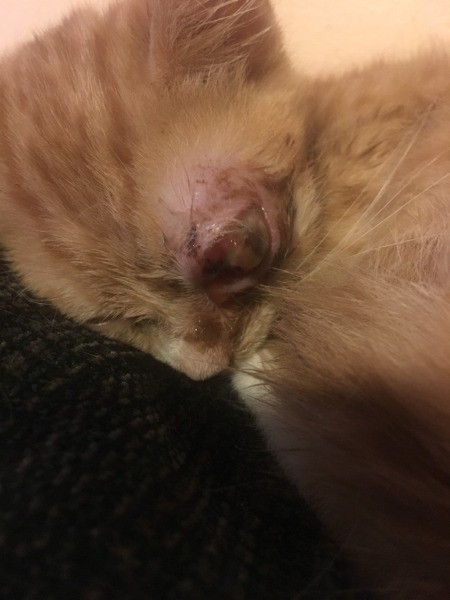 Answers
July 26, 2018
0

found this helpful
Best Answer
This warrants an immediate vet visit. Ask for a sliding scale or see if they have a free care fund, set up a Go Fund Me, Google free clinics in your town, something so the cat's pain can be resolved and to save it's vision.
Sending up prayers for you and the kit. Please give a status update. Good luck!
July 26, 2018
0

found this helpful
Best Answer
It is almost the weekend and vets are usually not available on Saturday or Sunday so unless you take the cat to the vet tomorrow (Friday) you will probably have to wait until Monday or Tuesday of next week. You need to have some sort of plan of action before then and you need to try and help relieve the suffering of this kitten.
There are several home remedies that you can try until you make arrangements to see a vet.
Clean eye as best you can. Mix up a saline solution, by combining ½ cup warm water and ½ tsp salt. Stir vigorously and apply the solution to your cats eye using a cotton ball and gently wiping the area.
You can clean the cats eye by putting a drop or two of milk in them. It relieves irritation generally and helps clear the eyes, both for cats and humans. You can also use tea.
There are several medications that may help temporarily. I suggest you go to PetSmart and ask about some of these products.
You can check out some of the suggestions on these links and maybe do something to help until you can see a vet.
Here is a site that offers some licks to check for financial help but these requests take time and this kitten needs help now.
Answer

this Question
A stray has had kittens in my back yard and their eyes are looking rough. They are crusted shut. I've tried warm water and a cloth and it's worked on a couple of them. I try to keep the area where they sleep clean, but it's not easy.
I can't keep them, but I can't throw them away either. Is this problem contagious as I have inside cats as well. Please help. Thank you.
Answers
July 12, 2016
0

found this helpful
If one of my kittens have an eye Infection, can it effect my other kitten in my home
August 1, 2016
0

found this helpful
I had the same problem and I just pulled off the crusty areas then tried to pinch or squeeze the green puss out of its eyes I don't know if the infection is internal at all but I'm just trying to clean up its eyes first for a couple days and see how that goes. Maybe if its internal, you can get some antibiotics or something.
September 21, 2016
0

found this helpful
DON'T EVER squeeze or pinch ANY animal's eyes!!! Would you squeeze or pinch your BABIES eyes?!?!? DON'T EVER DO THAT
October 12, 2016
0

found this helpful
hi I caught a 3 month stray kitten who is not approx. 2 years old she has had 2 litters of kittens and our other cats have also had kittens. for all our kittens we found this to be normal. if u can get red seal green tea this will work. put the tea bag in warm water from the kettle and wipe their eyes at least 2 times a day, I also gave my kittens a bath once a week and changed their bedding after I cleaned their eyes, a cut up sheet will do as their mother will keep them warm, once they are 7 weeks old and their eyes are fine give them away for free, we do and they seem to go in a day. with my kittens (2 weeks old) I found it could be a build up of sleep on their eyes with when they are older they wipe it them selves. with the tea it doesn't matter if it gets into their eyes cause it doesn't hurt them , just don't add milk or sugar. If this doesn't work then try warm water and normal salt and this will also help
hope this helps.
Answer

this Question
I found a kitten. It looks like his mom abandoned him. His eyes were shut and he had crust on his eyes. I cleaned it with warm water and his eyes are red and puffy.
Should I take him to the vet or is it normal because the mom cat didn't clean his eyes?
Answers
October 11, 2015
0

found this helpful
Best Answer
The cat has an eye infection. It may also have worms, fleas, mites, etc.
Since you don't know, take your kitten to the veterinarian. The vet will get your cat set up with worm medicine, eye medicine and all that stuff. If he's old enough he'll start his vaccinations for dangerous illnesses such as rabies. You can make an appointment for a spay or neuter.
Next, go shopping for a breakaway kitten collar. The vet can get you tags. Now is the time to think of a name for your kitty. With a name and phone number on his tag, everyone will know he's yours.
Answer

this Question
I have a kitten probably a few weeks old. His eyes are matted shut and his nose looks crusty. He is very lethargic and won't eat. Is there help for this little guy?
Answers
May 10, 2018
0

found this helpful
this sounds like an infection, common in baby cats. Defo take him to the vet. After that these are things you can use to help him in the future
May 11, 2018
0

found this helpful
I have had several stray kittens with the same problem. I would compare it to a bad head cold in a human. I always wiped their faces/eyes/nose with a warm cloth several times per day to keep them clean and comfortable. A vet can give antibiotics and vitamins to clear up the infection.
May 11, 2018
0

found this helpful
This kitten will need to see a Vet right away or you will lose him. He must have antibiotics for the eyes and respiratory infection. When they are this small you have no time to think about it. His best bet is to be treated right away by a Vet and staying with his mother. A local cat rescue might be helpful. Their foster care givers are very good with tiny kittens. Good luck.
May 12, 2018
0

found this helpful
Veterinary fees are high but this baby really needs to see one as soon as possible.
You can wash his eyes and face with a soft clean white cloth dipped in warm water just to give him some relief until you take him to the vet. Keep him warm also.
Be sure to change the water and cloth often.
Seeing the vet will also give you a chance to set up a schedule for his shots and vaccinations at a later date.
Answer

this Question
My kitten was born with one eye stuck shut and no signs of crusting over. It is 6 weeks old and the swelling is getting worse.
I did warm compresses and it doesn't work. What can I do? I need help!
Answers
April 19, 2019
0

found this helpful
Call the vet immediately. Your kitten could go blind if it is an infection
Answer

this Question
Some pet ailments can safely be treated at home whereas others need to be referred to a vet to determine the cause and proper treatment. This is a page about treating a kitten with eye discharge.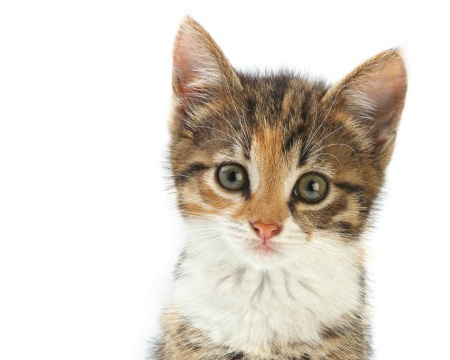 Published by ThriftyFun.
© 1997-2021 by Cumuli, Inc. All Rights Reserved.
https://www.thriftyfun.com/tf21090825.tip.html