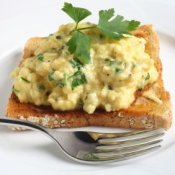 To fix watery eggs, add one of the following:
Reconstituted powdered egg, which is thicker than the fresh egg.
Imitation bacon bits. They soak up water and make a great low-fat burrito or omelet. This is my favorite way to jazz up simple eggs for grandchildren!
A paste of 1 Tbsp. cheesy Cream of Wheat and 1 tsp. water.
Source: Military Service
By Angela H. from Charlotte, NC

How do you prevent watery scrambled eggs?
By Kari

Answers

August 17, 2011
0

found this helpful
What did you mix them with? If you mixed them with margarine, diet margarine, or squeeze 'butter', the water in those will leach out and make the eggs watery. Or maybe they are just not cooked long enough.

August 18, 2011
0

found this helpful
It is not necessary to even add fluid to your eggs when making scrambled eggs. I add just a teaspoon of water when I am mixing them just to make them lighter.

August 18, 2011
0

found this helpful
I cook my eggs like the Barefoot Contessa does. Put about 1 tbsp of butter in your pan and let it melt. Meanwhile, beat your eggs and add about a tablespoon of heavy cream. Pour them in the skillet and as the edges begin to set, raise them with a spatula and turn the pan where the runny eggs can go under the edges.
I admit I can't leave them alone and stir them around a little as they cook but they are never watery. I wastold one time to use water instead of milk but I like this method best.

August 19, 2011
0

found this helpful
Overcooking scrambled eggs will cause them to be wattery. Use you favorite recipe and remove the eggs from the heat before the eggs are complety set. The eggs will continue to cook with the residual heat, and hopefully will be perfect.
Hope this helps.

August 19, 2011
0

found this helpful
I put a tablespoon of cornflour in my scrambled eggs and they are not watery.

likekinds
Gold Post Medal for All Time! 523 Posts
June 18, 2015
0

found this helpful
My scrambled eggs are never watery and I don't add anything to absorb water. At one time, they were. There is something about the cooking method that makes them watery. I found out what that was, but have forgotten. If I remember, I will post it. If my eggs were watery, I would turn them out on a paper towel rather than add anything. I do remember that watery scrambled eggs are also tough and rubbery.
As a matter of fact, I add about a teaspoon of water for each egg before scrambling and they still are not watery. For years I read to add a bit of water to eggs before scrambling, and for years I refused to believe it would help. I found out it does. I think it has something to do with the water to protein ratio. Anyway, they are lighter, fluffier and moister without being watery.
By the way, scrambled eggs shouldn't be. The solidified egg should be gently folded into the still liquid egg until all liquid is absorbed. Immediately remove eggs from pan as soon as you see there is no more liquid or semi liquid. The eggs will continue to cook for a few seconds in the serving bowl or plate.
Answer

this Question