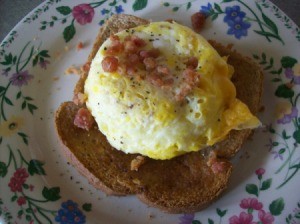 This is an easy alternative to the frying pan and requires only a tiny bit of butter, cooking spray, or diet margarine. Older children and teens can make this, or younger kids with adult help.
Ingredients:
1 slice of cheese
1 egg
1 Tbsp. milk
salt and pepper
toast or English muffin
thin bit of butter
real bacon bits
Directions:
On a piece of waxed paper, cutting board, or paper plate, press an inverted custard cup onto a slice of cheese so you end up with a round piece the size of the cup. You may be able to use a small microwavable coffee cup if you don't have custard cups. Set the cheese aside.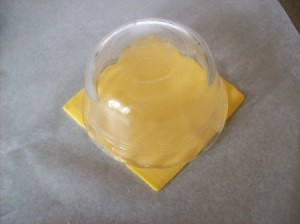 Lightly butter or spray the inside of the cup. Crack the egg into the cup, add the milk, salt and pepper. With fork or whisk, mix gently.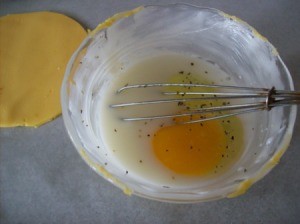 Top with the round slice of cheese and place in microwave on the waxed paper. Cook on high for 2 minutes. It will be very HOT, use towel or hot pad to take out of mic.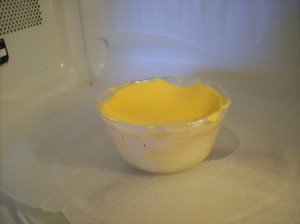 Place the toast or toasted muffin on top of cup and an inverted plate on top of toast. Carefully flip the whole shebang over (I use a spatula under the cup and my hand on the plate).
Egg should slide out of cup onto the toast. Remove cup. Sprinkle with some bacon bits and dig in.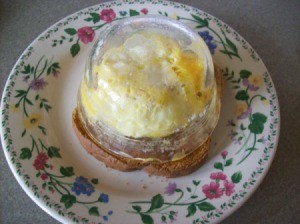 Servings:
Breakfast for one
Source: From the kids' cookbook, Messipies, by Gordon and Synarski
By ~gloria from upstate NY