I found a wonderful little sewing machine at my local goodwill but I can't seem to find any information on it. I was hoping someone could direct me toward a site that might be able to shed so light on my little machine. It is a Gamble 'Coronado' Brother sewing machine in a hideaway cabinet. I would really love to find a manual or anything on it. It runs but may need repair. I feel so lucky to have found it and would love to use it. Thanks for any and all help!

Amanda from Lamar, MO
Ad
---
Recent Answers
Here are the recent answer to this question.

By Dawn R.12/14/2014
I have the instruction manual for a brother deluxe sewing machine from about that time Model HA 4-B1 Let me know if you need more information :)


By Sherry (Guest Post)12/15/2008
Hi, I have a Coronado Automatic Zig Zag Sewing Machine Model TAZ 289 in a cabinet and I'm looking for a manual for it. From what I can find, I'm told it is a Japanese model from the 60's or 70's. . I was wondering Deb (Blair) what Model and manual you have. Or, if anyone knows where I might find a manual for this. Thanks & Cheers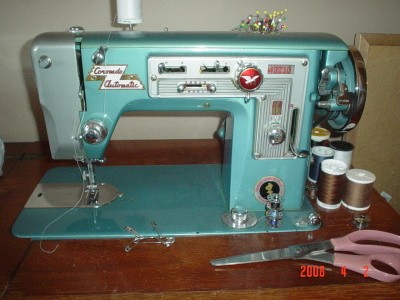 By Grandma J [46]09/22/2008
Just an added post note. The Gamble CORONADO brand was in the 1960s. They had lots of stuff with that name on. Freezers, fridges, de-and humidifiers, MY GUITAR, etc.

By Grandma J [46]09/22/2008
This is an old sewing machine and should be simple to figure out. The newer, the more complicated.
Find a sewing machine tech--one who repairs, not sells--and have them give it a once over, cleaning, oiling, and they will give you tips as well.
You might find them in the sewing machine vaccum cleaner repair in the yellow pages. OR by word of mouth from fabric shops--maybe a retired person who does this. Tweeking a sewing machine with adjustable tension takes an art. You have to know how to do it or it is frustrating. My 20 year old machine is a factory set, so if it is older than that, learn how to do the tension (top and bottom).

By Deb Blair (Guest Post)04/19/2008
I, also found a machine and also a manual. Are you interested?
dblair54151 AT yahoo.com



By Brian (Guest Post)06/03/2007
Hello Amber, and Mary,
Guess my last post did not go thru. I just bought a Coronado in a wooden cabinet sewing machine today at an estate sale. It came complete with manual! It is the Coronado model R40. Not sure if that is tha one you are looking for.... but if it is, put another comment here. Would be happy to either copy or scan and email it to you. Was online looking for additional accesories for it and found this site... Let me know.

By Mary (Guest Post)05/24/2007
Did you ever find a manual for the Coronado sewing machine? I am looking for one also.

By Willem (Guest Post)05/25/2006
Try the Brother Sewing Machines website and/or contact them. As manufacturers, they should have info on this machine. Please let us know when you have been successful, and also in which way.

By GraNita. (Guest Post)05/23/2006
Try www.sewusa.com. They have manuals for a number of sewing machines at a reasonable price and they even have free printable pages on how to thread the machine and bobbin... Anita from Montclair, NJ

By gale joiner (Guest Post)05/19/2006
I have received good and timely advice from http://sewvacdoctor.com. They really know a lot about a lot of things.
Answer This Question
Add your voice to the conversation. Click here to answer this question.