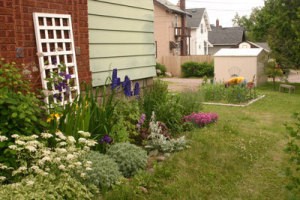 An organic garden is a garden that works in cooperation with nature. It minimizes and replenishes the resources it consumes. It's a place where every aspect of the environment; gardener, plant, animal, insect, micro-organism, weather, season, etc., assumes an important role in achieving overall balance with the surrounding ecosystem.
An organic gardener uses natural controls; mulches, beneficial insects and cover crops (rather than synthetic chemicals) to feed and nurture the soil. This suppresses and minimizes the effects that weeds and pests have on growing plants.
Start with the Soil
Compost is made from decomposed organic (living) plant and animal materials and is the cornerstone of organic gardening. Adding compost to your soil enriches it with important nutrients that encourage and promote the growth of vigorous, healthy plants-plants that are less susceptible to disease and pests. Compost conditions the soil, improves moisture retention and root penetration and converts soil nutrients into a form more easily taken up by growing plants. It's cheap and easy to make and best of all, it utilizes kitchen and garden waste that might otherwise be thrown away.
Before adding compost, contact you local county extension agency and ask for a soil testing kit. Testing can usually be done for as little as $10-$20 dollars and knowing your soil's condition is an important first step in the process of building it up organically. Using your results, start to enrich your garden's soil with the regular addition of compost and continue to test it every few years to make necessary corrections in imbalances.
Encourage Beneficial Animals, Insects and Birds
Most species of insects are beneficial to the gardener; they pollinate flowers and plants, eat weeds and pests, and provide a natural system of checks and balances that reduces the need for insecticides and herbicides. In the animal world, birds, toads, snakes and bats are among an organic gardener's best friends. They prey efficiently on large numbers of insect pest predators. Encourage a variety of beneficial animals and insects to reside in your garden by providing them with sources of food, water and shelter according to their habitat needs.
Grow Pest and Disease Resistant Crops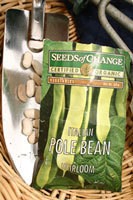 Healthy plants go a long way toward minimizing the damage from diseases and pests. Buy seeds from companies based locally and read catalogues and seed packets carefully to find plants specifically suited to your regions growing conditions. Many crops have been cultivated to be resistant to specific diseases and pests.
Practice Crop Rotation and Interplanting
Keep good records so you can employ crop rotation and interplanting techniques. Changing the location of your crops every year keeps pests that over winter in your soil away from next year's plants. Different crops also require different nutrients. Beans, for example, enrich the soil with nitrogen. Squash is a nitrogen depleter. Rotating them each year ensures all of your soil stays nitrogen balanced.
Avoid planting large rows of similar plants (monoculture). This makes it easy for insect pests and diseases to spread. Instead, plants crops in groupings throughout your garden (interplanting). Leave wide enough walkways between plantings to discourage disease and insects from hopping over to the next host.
Think Eco-logically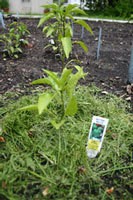 Make garden decisions keeping the environment in mind. Don't use synthetic chemicals to encourage plant growth or to control plant diseases or garden pests. Mulch bare soil with grass clippings or other organic materials to help control weeds, keep in moisture and return nutrients to the soil. Save seeds, recycle waste and be water wise. Most importantly, spend time learning about the plants and creatures that inhabit your garden ecosystem. Learn to identify beneficial insects, as well as insect pests and weed seedlings. Choose the right site for your garden, one with adequate sunlight and drainage that is away from the water consuming roots of trees.
Organic gardening won't give you perfect, weed-free rows of giant, steroid-enhanced vegetables or orderly beds filled with blooms devoid of visible imperfections. Instead, you'll find rewards in a garden that integrates with its environment, produces a bounty of nutrient-rich, safe-to-consume foods and vibrant, long-lasting flowers.
About The Author: Ellen Brown is an environmental writer and photographer and the owner of Sustainable Media, an environmental media company that specializes in helping businesses and organizations promote eco-friendly products and services. Contact her on the web at http://www.sustainable-media.com