Organic Gardening
Solutions
Share on ThriftyFunThis guide contains the following solutions. Have something to add? Please share your solution!
June 8, 2010
5

found this helpful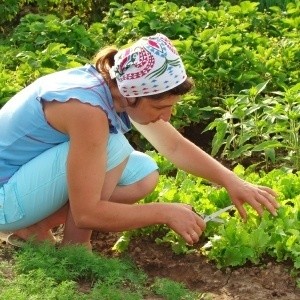 Organic gardening is not just a matter of replacing synthetic fertilizers and pesticides with more natural products. It's about learning to look at your garden as a whole system and how all things are interconnected. Here are three important things new gardeners need to do to get started growing organically.
1. Nurture the soil
Building and maintaining soil fertility is the most important aspect of organic gardening, because soil supports plants with a steady supply of the food and water they need. Make caring for your soil your number one priority and you'll find that managing weeds and insect pests become less of a challenge.
Fertile soil is rich in organic nutrients, but it also has good texture and structure. Plant's roots should be able to penetrate the soil, water should drain properly and air should circulate freely. The soil's texture should feel crumbly and friable in your hands. Have your soil tested to learn about its type and chemistry (pH), then add compost, manure, plant and animal remains (blood meal, bone meal, fish emulsion), as necessary to improve and maintain its structure and fertility.
Discovering Your Soil Type
Sandy soil. It's gritty and doesn't hold together well in your hand. Water drains quickly.
Clay soil. Heavy and sticks together when you squeeze it in your hand. It holds moisture and stays wet and cool for a long time.
Loamy soil. It contains an equal mix of clay, sand, and silt. Loamy soil is ideal for gardening.
When Should You Add Organic Matter?
Every time you plant, dig, or till. When preparing a new garden bed, add a layer of compost and well-rotted manure. Apply mulch around growing plants. When your crops are done, turn over the non-diseased crop debris and mulch back into the soil. In the fall, plant a cover crop of "green manure" like red clover to protect the soil and suppress weeds. Turn it back into the soil in the spring a few weeks before planting and apply another layer of organic matter.
2. Manage Weeds Effectively
Not all weeds are bad. Some attract beneficial insects, and provide food and shelter to wildlife. However, when left unmanaged, weeds will dramatically reduce your yields by out-competing desirable plants for food and water. Not to mention that fact they can quickly ruin the appearance of your garden. Learn to identify weeds on sight, the conditions they thrive in, and when they reproduce (are they annuals, perennials, or biennials?), before choosing the most effective method to control them.
Weed Prevention (never leave the soil bare):
Mulching
Planting cover crops
Weed Removal:
Hand-weeding
Flame weeding (using a heat torch)
Solarizing your soil (smothering weeds with plastic)
Planting cover crops
Remember, the idea isn't to eradicate every last weed (that would be impossible anyway), just keep them at an acceptable level.
3. Identify Pests From Predators
It's important to understand that not all insects in the garden are pests. Many serve as important pollinators and feed on pest species, and help recycle nutrients for plants. Learn to identify the good guys from the bad guys, what they eat and how they eat it, and their lifecycle. In organic gardening, prevention is always the best strategy to dealing with problems.
To manage pests, practice good horticultural practices including:
Building healthy soil
Correct watering
Planting disease-resistant varieties
Proper siting and spacing of plants
Rotating crops
Selecting sowing/planting dates to avoid specific pests
Providing natural predators with suitable habitat and shelter
Organic ways to manage pests include the use of biological controls like introducing natural predators and parasites to keep pests in check; setting up barriers and traps, and companion planting (mixing one or more plant types together for the benefit of both).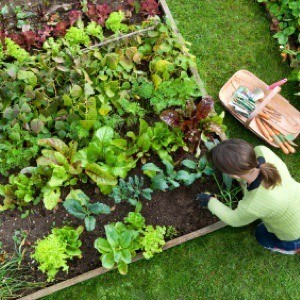 April is a great month for celebrating all things green and growing. Earth Day falls on April 22, National Arbor Day is on April 26, and the National Gardening Association designates all of April as National Garden Month. To celebrate this year, consider replacing some (or even all) of your conventional gardening methods with methods that are organic. Here are some ideas for getting started.
Switch From an Edible Garden to an Edible Landscape. Think big! Instead of planting trees, shrubs, and plants that are purely ornamental, consider mixing beauty and utility by planting edible alternatives. Examples of trees and plants that are both attractive and edible include berry-producing shrubs like blueberries, raspberries, and gooseberries; a wide variety of fruit and nut trees (apple, cherry, etc.); and edible flowers and herbs like pansies, day lilies, and nasturtiums.
Go Native. If you're adding new trees, shrubs, or plants this year, go native. Native species are well adapted to the growing conditions in your area, which mean they perform better than other plants during weather extremes and they are less susceptible to problems with pests and diseases.
Start Composting. Nature loves to recycle. All you need are some grass clippings, twigs, leaves, and food waste, and you before you know it, you've got a free, high-quality organic soil amendment for your yard and garden. From a sleek commercially designed composters to casual backyard piles, a system and technique exists for every gardener's situation and taste. The more adventurous types might even consider vermiculture (composting with worms). Whatever your preference, composting will provide your garden with a steady supply of organic nutrients, while helping reduce the amount of waste you contribute to landfills and the fossil fuels needed to get it there.
Conserve water. The water used for gardens and landscaping accounts for a large percent of our residential water use. Do your part to conserve water by repairing leaky faucets and hoses and using efficient water delivery systems like soaker hoses and drip irrigation. Select drought-tolerant ornamental plants and plant them in groups according to their water needs. Set up a rain barrel to collect runoff from your house and garage and whenever possible, plant species that are native to your area.
Power Your Own Tools. Choose hand-powered tools whenever possible. Instead of trimming to combat weeds around trees and buildings, use extra mulch. Swap your leaf blower for a rake or a broom. The air and noise pollution generated by electric and gas-powered equipment affects the environment beyond your own backyard. By switching to hand tools you'll reduce pollution and get more exercise at the same time. Sure, electric-powered tools are environmentally preferable to those run on gas, but that electricity still has to be generated somewhere and producing it causes pollution.
Shop Smarter. Buy durable goods and recyclable goods with minimal packaging. The best deal is usually isn't the cheapest product, it's the better-quality product. When making a purchase, consider how long it will last and what will happen to the product after its useful life is over. If you can, choose the product with less packaging or packaging that is reusable or recyclable.
Buy local. Support merchants, farmers, and producers locally. Money spent at locally owned businesses feeds the economic engine of your community and ensures that the farms and the food they produce will always be available. It also reduces the costs associated with transporting the product, which lowers the cost of the product, both financially and environmentally.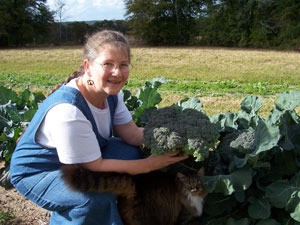 I love to grow organic vegetables they taste so much better than chemically grown. If you think that it is hard to do you are so wrong. It is actually easier once you get established.
First thing you need to do is decide if you are going truly organic or semi organic. If the thought of any bugs in your garden just makes you cringe, well you may be the semi organic type, but you need to realize bugs are a gardener's best friends. So spraying or dusting every bug you see is more harmful then helpful because the good bugs will get killed off and the bad bugs will just multiply like dust bunnies. Before you know it, your lettuce looks like lace and your carrots have tunnels. Spiders, Ladybugs, Praying Mantis, even wasps eat the weevils, caterpillars and flies. I have planted marigolds and other flowers around my beds and the spiders who live there do a great job as the guards keeping the perimeter safe. And birds are so much fun to watch as they hop around eating those fat worms that want to munch on your veggies. I've even watched a cardinal work it's way around a tomato cage to get at a fat tomato worm!
Second, the more organic material you put in the garden will make it easier to till. It will also hold water better, won't burn your plants like chemicals and will encourage the microscopic organisms in your soil to break down the organic matter to make it easier for your plants to get their daily nutrients. I also noticed that the more organic material is in the garden, the less fire ants I see. Seems they don't like the good stuff, mostly go for the "fast food diet".
Third, you need to consider starting to compost all your fruit, vegetable and yard scraps/clippings. You will be making the "black gold" that you can add to your garden or even your potted plants. Just don't use any clippings that you have applied chemical weed and feed, it tends to weed the vegetables too.
I could go on and on but make the effort to go organic, your carrots will be sweet, your broccoli will make your kids ask for seconds and the tomatoes will taste like tomatoes. Check out your local library for books on gardening, google organic gardening on the web and check out this website: http://www.gardensalive.com for great organic products and tips. I have been using their products for years and have seen great results especially when using their Tomatoes Alive and the WOW- (with out weeds) which really works to keep the weeds in check which makes the weeding chore much easier.
Don't get discouraged it takes longer for the effects of organic gardening to show but the benefits are far reaching,and knowing that you are not eating the chemicals that you used to "KILL" the bugs with should make you much happier.
I have shared my garden abundance with friends and they are the best advertisement for going organic when they say they have never tasted 'sweet' broccoli or really sweet carrots that come from the grocery store. And by the way, don't be surprised if you have bigger, brighter and healthier plants. Take a look at the photo, this is what organic gardening and soaker hoses on timers can do for Broccoli. I picked these after Thanksgiving last year. Each head was about the size of a dinner plate and I wasn't trying to enter any contest!
By piki viki from Abbeville, AL
An organic garden is a garden that works in cooperation with nature. It minimizes and replenishes the resources it consumes.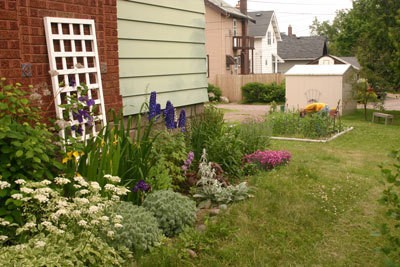 Read More...
I have a bucket in my kitchen next to the trash can, I call it my slop bucket. In it we rinse out food containers and cans, put in leftovers we don't end up eating, rinds, peels, sweeping the floor it goes in, vacuum bag, and hair cuttings. This bucket is dumped in the garden and flower beds all year around.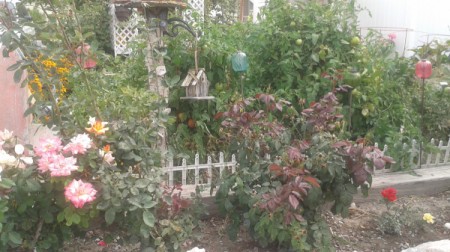 Row covers are wonderful and often underutilized organic gardening tools. Made out of lightweight, synthetic fabrics, they can be placed over entire rows of plants or individual pots for a variety of purposes, all of which usually result in greater yields.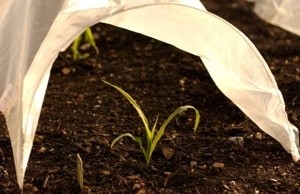 Read More...
Related Content