Use Wine Bottles In Stained Glass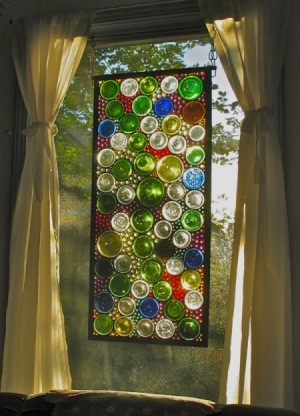 I work with stained glass a lot and often use the bottoms of wine bottles in my windows. The bottles with the pushed in bottoms look really cool with the sun shining through. It's a fair bit of work to get the bottoms cut and shaped for use, but well worth it.
Check on YouTube for several different ways to do this. I have over 30 years experience working with all kinds of glass and have cut up hundreds of bottles.
By Mr. Tim from Tinley Park, IL
Feedback
Read feedback for this post below. Click here to post feedback.

By
04/22/2013
Is there a link to your youtube video you mentioned? I'd like more info or basic instructions on how you made this.

By
11/27/2012
You show a picture of a steel glass cutter like you would buy at a hardware store. NOT GOOD!

I've been cutting glass for over 30 years now and the steel wheel cutters are junk. They get dull after only a few cuts and then you wonder why you can never get the glass to break properly.

If you are going to cut glass, get a good carbide wheel glass cutter with an oil feed. The carbide tip will stay sharp and the oil feed lubricates the score. However, they don't sell them at the local hardware store.

http://www.ameriglasco.com/Stained- ... and-Tools/Stained-Glass-Cutter.shtml

The cheap steel cutters cost $5 to $10. A good carbide glass glass cutter only costs around $25 to $30 and you will save ten times that amount by having less broken glass, not to mention all the frustration that it will save you.



By
03/31/2012
Reminds me of the antique windows made from the bottoms of mouth-blown glass. I've always wanted to try this. Unfortunately, it will have to wait longer.

By
03/26/2012
This is beautiful. I have had no training in stained glass and having looked online it is clear it is not a cheap hobby. Is there anyway you can contact me? I have looked on youtube and at the moment cant find the links you mention.


By
03/15/2012
There is a place in Prince Edward Island, Canada that this man spent years and years making buildings/structures from old bottles. It is totally amazing.
By
03/15/2012
I have seen this done with cement, too. You have a round or other shaped mold, set the bottle in, pour in the cement and let dry. When it's dry, undo the mold, break the bottles tops off, and you have a nice piece for a wall section, etc. This was from a book of handmade homes, but I no longer have a shot.
Post Feedback
Add your voice to the conversation.