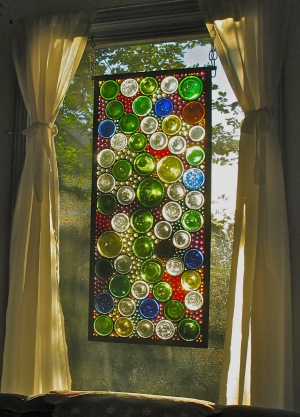 I work with stained glass a lot and often use the bottoms of wine bottles in my windows. The bottles with the pushed in bottoms look really cool with the sun shining through. It's a fair bit of work to get the bottoms cut and shaped for use, but well worth it.
Check on YouTube for several different ways to do this. I have over 30 years experience working with all kinds of glass and have cut up hundreds of bottles.
By Mr. Tim from Tinley Park, IL
November 27, 2012
1

found this helpful
Top Comment
I've been cutting glass for over 30 years now and the steel wheel cutters are junk. They get dull after only a few cuts and then you wonder why you can never get the glass to break properly.
If you are going to cut glass, get a good carbide wheel glass cutter with an oil feed. The carbide tip will stay sharp and the oil feed lubricates the score. However, they don't sell them at the local hardware store.
http://www.amer … ass-Cutter.shtml
The cheap steel cutters cost $5 to $10. A good carbide glass glass cutter only costs around $25 to $30 and you will save ten times that amount by having less broken glass, not to mention all the frustration that it will save you.
March 15, 2012
0

found this helpful
I have seen this done with cement, too. You have a round or other shaped mold, set the bottle in, pour in the cement and let dry. When it's dry, undo the mold, break the bottles tops off, and you have a nice piece for a wall section, etc. This was from a book of handmade homes, but I no longer have a shot.
March 15, 2012
0

found this helpful
There is a place in Prince Edward Island, Canada that this man spent years and years making buildings/structures from old bottles. It is totally amazing.
March 15, 2012
0

found this helpful
Beautiful! And what a kind offer to help others. Kudos.
March 26, 2012
0

found this helpful
This is beautiful. I have had no training in stained glass and having looked online it is clear it is not a cheap hobby. Is there anyway you can contact me? I have looked on youtube and at the moment cant find the links you mention.
March 31, 2012
0

found this helpful
Reminds me of the antique windows made from the bottoms of mouth-blown glass. I've always wanted to try this. Unfortunately, it will have to wait longer.
April 22, 2013
0

found this helpful
Is there a link to your youtube video you mentioned? I'd like more info or basic instructions on how you made this.
April 24, 2013
0

found this helpful
what kind of adhesive?
July 20, 2016
0

found this helpful
Hi Tim,
I want to make a window similiar to yours but with other recycled glass items such as the bottom of a glass butter dish with an etched design. Any good ideas for cutting off the lip of the butter dish so that I just have the bottom? I have a wet tile saw but when I tried to cut the lip off, I cracked the butter dish bottom in half, so that ain't working. Any help would be appreciated!
Thanks,
Carolyn
September 28, 2014
1

found this helpful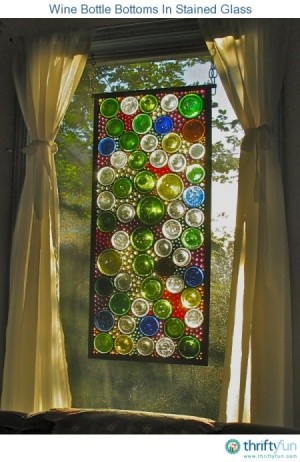 What do you use to connect the wine bottle bottoms and glass pieces together for the stained glass piece? It does not look like grout.
By Lisa
October 6, 2014
0

found this helpful
Best Answer
Check your local library for books on making stained glass pieces at home - the books will have complete guides including the materials you'll need, and will show you how to cut glass (and wine bottles) safely. To put the bottle bottoms together in a stained glass piece, you're also going to need to understand the principals behind supporting the weight of the bottle bottoms, and what materials are used to hold the bottoms together - usually lead came (a channeled tube of lead in long lengths) or 'copper foil', a technique done with a soldering iron and a roll of lead solder.
For starters, after the books, you're going to need a good quality glass cutter, a bottle cutter (a different tool than the glass cutter), a soldering iron and associated materials (lead came, copper foil, lead solder, flux and flux brushes, a stand for the VERY hot soldering iron, and a heat-fire proof mat for use whilst applying the solder).
There's a lot more, so be sure to borrow or buy a good book before investing in any other materials. Stained glass is a somewhat expensive hobby to get started in but if you think you would enjoy making numerous pieces for sale or gifts, it's well worth the work!
Otherwise, support your local artisans and buy from one of them - look in your telephone directory for stained glass artists. If the bottle bottoms are sentimental, many artists will work with those and charge you for the glass work to assemble your vision for you - might be less expensive than putting together the kit to make it yourself.
October 2, 2014
0

found this helpful
I wonder if that is plastic in between. I know that you can take small beads and put them into a mold and heat them in the oven and it makes a plastic stained piece. But I'm not sure without touching the piece to see if it is plastic or glass.
April 22, 2017
0

found this helpful
No, those are glass "cabochons" -- small round pieces of glass -- not plastic between the bottle bottoms. All of it's connected with metal (probably copper and lead, though you can now get lead-free solder easily, and that's what I use). I hope this is helpful!
April 23, 2017
0

found this helpful
It could be clear window calking. I've used this and it certainly works!
June 21, 2017
0

found this helpful
How did you do this with clear window caulking? I'd like to make a panel from the bottoms/bases of wine bottles to hang outside. Any helpful suggestions will be much appreciated!