Cutting Glass Bottles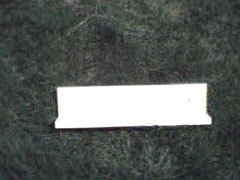 Here are instructions for making a jig to help hold and cut bottles.
Materials:
5 ft. of number 2 (1 by 4) pine board (pick a good straight one)
8 1-5/8 or 2 inch deck screws
wood glue
stain
polyurethane
1 wooden school ruler
Tools:
sander
clamp
1/8 drill bit
electric drill/driver
an electric saw of your choice
Directions
Cut wood in following dimensions:
2 pieces, 18 inches long
1 piece, 12 inches long
1 piece, 7 inches long
Glue and screw the two 18 inch pieces into a "V" Shape.Don't worry that one is going to be higher than the other.

The "V" shape

On our first attempt, we put the taller board to the back in assembly.

Glue and screw the 7-inch piece to the bottom. This is the bottle stop. Take special note that the bottom of the "V" and the bottom edge of the stop are even. This will assure good stability, I also left 3/4 of an inch between the front of the "V" and the front of the stop. This is done so that the 12 inch piece will also butt up against the stop and run across the front edge of the "V". A screw at a downward angle attaches the front plate to the "V", making sure not to stick out the inside of the "V". The 12-inch board is nailed to the shorter side to act as a hand rest for cutting the bottles.
Sand all corners and edges to make it user friendly. Attach the wooden school ruler along front edge for making exact cuts. Stain if you like, but a coat or two of polyurethane should help make this a lasting project and easier to use. That's all there is, folks.
To Make The Tapper
Materials:
1 piece of 1/2 inch steel rod, cut to 14 inches
1 ground rod connector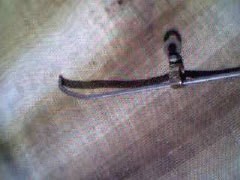 This is a picture of the tapper all together
I put two small bends as shown to be able to reach the bottle sides without hitting the neck. I rounded the end of the rod so it will contact the bottle with no sharp edges. I did this with a bench grinder, but you could also file it round. To attach the ground rod, I replaced the short bolt with a longer one and slit the top to be able to solder in a washer so you could tighten without a wrench. This makes the tapper adjustable for any size bottle.


These are close-up pictures of bottle tapper parts.
Instructions for Using Bottle Cutting Jig:
Materials:
one bottle cutting jig
one glass cutter from hardware store, the kind used to cut flat glass
Lay bottle in jig, making sure that bottom of bottle is firmly against bottle stop. Score with bottle cutter, resting hand on the hand rest. Score and then rotate the bottle. Do not repeatedly score bottle as this is a waste of time and makes the bottle harder to cut. Repeat this until you are all the way around the bottle. Insert tapper and gently tap around the score line until you hear a small cracking sound. Continue until bottle is apart.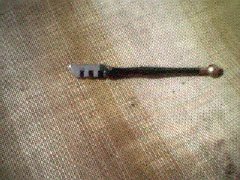 Note To Users: Be ready to tap the cut soon after scoring. Any lapsed time and, believe it or not, the glass will heal and be almost impossible to break.
By Debra and Leo Frick (Colorado)
Read More

Comments
6 Questions
Ask a QuestionHere are the questions asked by community members. Read on to see the answers provided by the ThriftyFun community or ask a new question.
I want to know any way to cut a spirit bottle down to make a glass.
By Syd

Answers

January 28, 2014
2

found this helpful
First get yourself a bottle cutter don't try the String and fingernail polish remover or any of the other suggestions. I bought mine at Michael's you need to score the bottle with a glass cutter it only needs to be a light scratching sound you need a real fine line cut into the bottle and I have recently found the best way to separate them.
For years I was tapping as it was suggested and the edges were never straight if I didn't break the bottle after doing your scoring, over a sink with an old towel on the bottom pour a very fine stream of boiling water over the scored line rotating bottle to heat the glass evenly and keep the stream as fine as possible then immediately run it under the cold tap water you will hear a little ping or popping sound at this point the glass may separate if not repeat the boiling water and must be boiling (I keep 2 tea kettles going) over the scored line again you'll actually see where it has separated rotating the bottle I have found This gives the smoothest this separation.
Then use sandpaper for glass to smooth out the very edges I just put the sandpaper emery cloth on an old thin towel on a flat surface and rub the bottle on it in a circular motion with very little pressure I keep checking to make sure that it is being sanded evenly once the hole Cut edge looks frosty It should have smoothed out all the rough edges so no one will cut their mouth.
And for all the ones that don't make it if you know anyone with a rock tumbler, break up or cut the pieces put them in the tumbler with a couple of rocks and some sand let them tumble for a couple days You now have see glass.
Answer

this Question
Does anyone know how to make the wine bottle edge? After cutting the bottle how do you make the edge smooth and melted looking, not sanded? I have a kiln, and already slump bottles. Any clues, anyone?
By Ruth
Answers

March 13, 2012
0

found this helpful
You have everything you need, if your kiln is big enough! Just stand it cut end up in the kiln and heat slowly to about 1400~1700 F and keep a close eye on it. With the cut end towards the top it should get hotter quicker than the bottom. When it looks rounded to your liking, flash cool it to a temperature. When the glass is stable, then cool to room temperature like any other project.
You can also do this with any torch that has a blue flame. You will still need to bring the whole bottle up to temp. before tying to round over the top edge, or it will shatter. Just remember, glass does not like to change temperature up or down quickly, and you will be OK.
PS. Figure on a few failures, and take notes!
Answer

this Question
How can I cut bottles?
By Pam from Johannesburg

Answer

this Question

How did you (Mr. Tim) join the bottoms of the bottles together? Did you use came or glue, I can't tell from the photo.
By Kelly Belly from Bernalillo, NM

Answer

this Question
This is a page about use wine bottles in stained glass. A bottle cutter can help you reuse glass containers to create beautiful projects.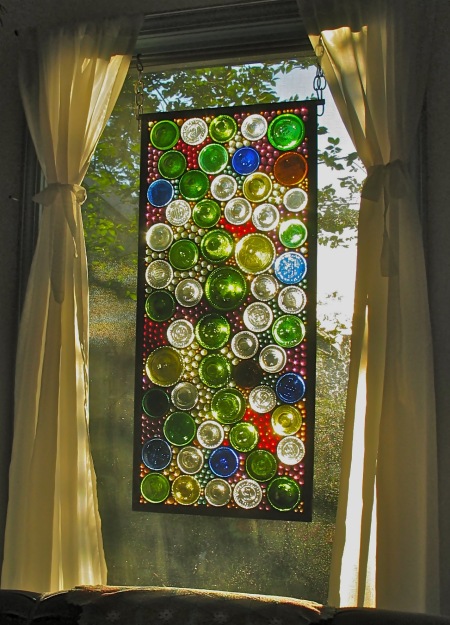 Published by ThriftyFun.
© 1997-2022 by Cumuli, Inc. All Rights Reserved.
https://www.thriftyfun.com/Cutting-Glass-Bottles-2.html