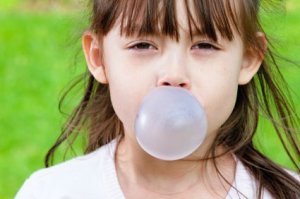 Gum stains on clothing are particularly stubborn. You can scrape of some, but it's tough to get it all. This is a guide about removing gum stains from clothing.
Ad
---
Solutions: Removing Gum from Clothing
Read and rate the best solutions below by giving them a "thumbs up".
Heat some white vinegar in the microwave. pour some on the gum. Go get a toothbrush and brush it out. Save yourself the time of reading any further. It took me 30 seconds to get a big wad of nicorrette out of my jeans. There are a lot of posts that suggest freezing it or rubbing peanut butter into it or both. With all sincerity, trust me, the vinegar and toothbrush works perfectly.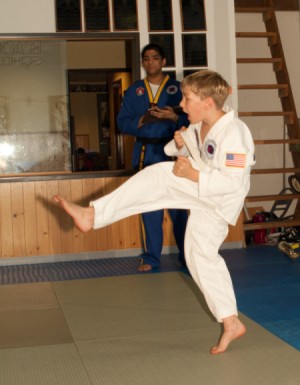 Shortly after starting Taekwondo, my son got a bubble gum spread all over the front of his uniform and belt. We tried freezing it and picking it off. That didn't work so we also tried isopropyl alcohol.
Finally, we tried Goof Off and it work great! We were able to get every last bit off his uniform (there was a lot!). He was ready for his first belt test with a sparkling clean uniform.
By Jess from Hillsboro, OR
This has worked for me. If small item of clothing, put into a zipper freezer bag and pop into freezer to harden up. Pull off gum. If there is a stain residue, and the garment is washable, rub dish liquid into the stain to pre-treat it before laundering. If this is leather, suede or silk, better to take it to a dry cleaner and point out the problem to them.
To get gum out of clothes, put ice cube on it until the gum freezes and it will crumble off when scratching it.

Source: my grandmother taught me this.

By Laurie from Elm Creek, Nebraska
I have found Lestoil works to remove chewing gum. I would assume that it would work on clothing as well as my daughter dropped her chewing gum on her bed sheet.

By Norma L. from Pataskala, Ohio
To remove chewing gum or candle wax from a tablecloth, a couch, or carpeting, gently rub the gum or wax with Ziplock bag filled with ice cubes until the substance hardens. Shatter gum with a blunt object, then vacuum up the chips. Carefully peel off frozen wax with a plastic spatula.

By Esther from Baltimore, MD
To remove bubble gum, put ice on to freeze it, comes right off.

By fats82439
Give a "thumbs up" to the solution that worked the best! Do you have a better solution? Click here to share it!
Questions
Here are questions related to Removing Gum from Clothing.
I washed and dried a cotton blend uniform dress with gum on it. How can I remove it?
By Ann
Ad
---
---
Best Answers

By FranFran [2]03/29/2012
Here is a simple but effective remedy for removing gum. Simply take an ice cube and "freeze" the gum. Remove the frozen gum with a butter knife. Repeat the process until completely gone, then launder as usual.
---
Best Answers

By irene03/29/2012
Take as much of the gum off using a dull knife or some other scraper like item, then use Goo Gone on the remainder of gum, then wash your item. In my opinion a bottle of Goo Gone should be in every home. Goo Gone is useful for thousand of sticky things. Just remember a little goes a long way.
I was riding the bus and my friend told me that there was gum on my jacket. When I got home I told my mom to wash my jacket and she did, but the gum didn't come out. What should I do about it? Thanks.
By Nikki C.
Ad
---
---
Best Answer

By Debra [23]02/27/2012
Put peanut butter on it and then wash. I have tried this and it worked very well. Don't put the item in the dryer until you see if there is an oil mark, and if so just treat as usual.
How do you get gum off of a shirt?
By Jackie
---
Best Answer

By Cica [3]09/25/2011
Hre's something I have done. It may sound messy, but try using plain peanut butter or veggie oil. The oil softens the gum so you can pull as much off as you can. Let it soak for about 10 minutes, rinse, then spot wash that area of the garment. Continue until all gum is removed.
I left 2 sticks of Extra Fruit Sensations Long Lasting Watermelon gum in my brand new camel colored twill jacket. It is 94% cotton, 6% spandex.
It was raining and I was in the store and when I looked down hot pink was soaking through the pocket. The gum didn't stick, so when I got home I put Spray n Wash on it and washed as instructed on the tag, wash in cold water, gentle cycle.
I went to pulled it out and the pink was still there. Not as bad, but you can still see it. I don't want to ruin my brand new, only worn once jacket. Please help ASAP. It's still wet in the washer.
By Rene' from Scotia, CA
---
Most Recent Answer

By mrs joe [1]02/11/2010
Try Biz laundry detergent, in the wash. You can soak it overnight, then was as usual.
I accidently washed and dried a pack of gum with my clothes and now there are streaks and spots of gum all over them. Help!
By Amber S.
---
Most Recent Answer

By Jan2756 [1]11/02/2014
This absolutely works. It is a product called Un-du. You can get it at craft stores and I have even seen it in Lowes. This will even remove hot glue residue and will not harm fabric at all. It also unsticks photos that are stuck together or ones that need to be removed from those older photo albums. Will not harm photos either. It also removes sticker residue and those impossible to remove stickers from plastic. I have used un-du on all the above. It has never failed. Oh one more thing, I have used it to remove a postage stamp from an envelope. After it evaporates the stamp is sticky again so it can be placed on correctly. Hope this helps.
I washed my shirt and didn't realize there was gum in the pocket, so I dried it too. Well, I tried to freeze it, but that didn't work and also I took it to the dry cleaners. They said they can't get it out, but I don't think they even tried to be honest. It's silk and the gum is all over the sleeve. Do you have any suggestions? I'm so upset. I only got to wear it one time.
By Daun
---
Most Recent Answer

By cathy [2]02/17/2014
What you need is an old clean toothbrush and a half cup of heated not boiling white vinegar.

First scrape whatever hardened gum you can off with dull side of a butter knife.
Then use toothbrush to apply vinegar on area of gum. Working gently make small circles on the residue. This make take time. Work slowly and gently and eventually all the gum shoul' d ball up and come off. Then wash item as usual.

Cathy from MA
How do I get gum out of my good wool coat?

Nat from Copiague, New York
---
Most Recent Answer

By carla [25]11/05/2009
I am not sure, but try placing an ice cube to freeze the gum and patiently removed with tweezers. You may have to do this a number of times. Carla