As we all cringe every time we go to the gas station for our next fill-up, I wondered just how the prices of gas have been over time. The Department of Energy had data for 1996-2008 so I made a graph. The most recent spikes are not included. Gas today here was about $3.59 a gallon for regular.
Gas Prices 1996-2008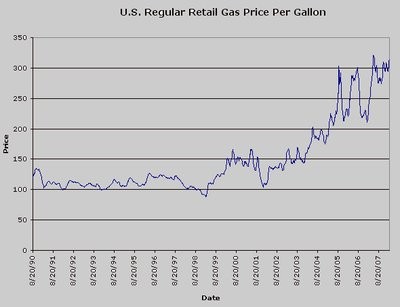 Click Here for Larger View of the Graph
Gas Prices 2005-2008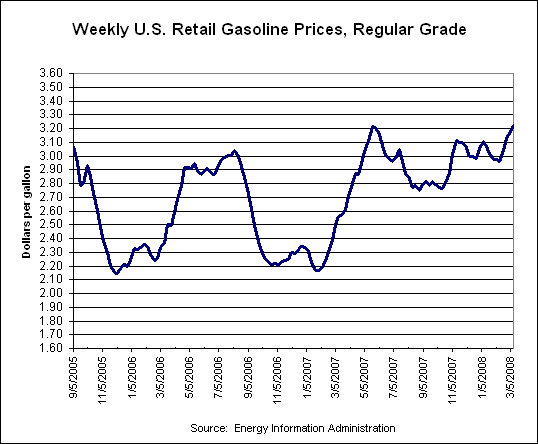 What are you doing to cut costs when the cost of gas just keeps going up?
By Susan Sanders-Kinzel
Ad
---
Feedback Forum
Feedback about this article is posted here. Want to contribute? Click above to post feedback.

By Helen (Guest Post)07/31/2008
In Norway it's usual to pay about 12 NOK per liter or more, which is about $2.33 (1.5 or £1.18). And this is among the lowest prices on the mainland these days - it's at almost 15 NOK ($2.92) where I live.

For 1 US gallon (at 12 NOK) that would be about $8.8 (5.7 or £4.5). This means that the price is usally somewhere between $8.8 and $11.

In my opinion, Americans have no reason to complain. (Though Norwegians in general have higher salaries, everything is more expensive as well. The cost of living in Norway is 30% higher than in the US, and 25% higher than in the UK.)

For a more reliable source than me, take a look here.
http://www.chicagotribune.com/busin ... on-gas-global-jul14,0,3475862.story/

By Hiro (Guest Post)06/10/2008
Too high in USA? See this global prices: http://money.cnn.com/pf/features/lists/global_gasprices/index.html#table

By Niecey (Guest Post)05/22/2008
CAN U GUYS GIVE US THE INFORMATION WITHOUT THE CHARTS?

Editor's Note: Here is where we got the information:

http://www.eia.doe.gov/oil_gas/petr ... publications/wrgp/mogas_history.html

By sbia04/22/2008
If you are buying gas for $3.50 per gal. you are very lucky!
We are paying $1.27.9 per litre! ( That would be four litres to an American gal.)

LdC

By badwater [264]03/29/2008
Hubby has dropped his traveling speed to and from work down to 55 m.p.h. I've been trying to stay at home more & utilizing as many stops on the day I am out, to cut down on unnecessary trips about town. We don't shop online and I've cut out shopping from catalogs in the past year & a half. Not purchasing anything we don't have to have. I've also started shopping at a local dented can store (making careful choices) & shopping a local "dollar" store (I say it that way as not everything there is $1. Their prices start out at $1 and go up. The store chain calls themselves "Family Dollar". It's our only dollar store, sure wish there were more of the other true dollar stores in our area. Anyway, that's what we're doing to save money to spend at the gas pumps, amongst other bills.

By Su Wilson [6]03/19/2008
Just be thankful you don't live in the UK, petrol prices here are now over £5 a gallon. I'm so glad I don't drive.

By linda [57]03/18/2008
A man told me he is going to solely save his tax infusion check that is coming to help the economy and set it aside in a special account to use only for gas.

By Wendy Barniak03/17/2008
The main thing I do now is I try to drive the speed limit, I was never much of a speeder before, would usually do what most people do, around 5 or so over. It really amazed me though how much gas I save driving just a little slower! I'm still making about the same time to work. I actually heard recently that you would have to drive 120mph to save yourself 5 minutes, maybe it's true...

By Diana (Guest Post)03/17/2008
Check out this video of a water powered car and ask our Presidential candidates WHY this technology is not being made available to the public

http://video.stumbleupon.com/#p=n4izc2oaiq

By Tami Fletcher [4]03/17/2008
On my limited income increased gas and food prices are getting are harder to handle. I don't leave the house just to "window shop" like I used too. I schedule things around other appts, ie, hair, Dr visits and do my shopping on the way home. Most weeks now my car doesn't leave the house.

By Cheryl Waldrop03/15/2008
I got this in an email today and thought it would be helpful to pass it along to others. I hope everyone will be able to follow the tips in here, and most importantly, buy gas only from those who do not import oil from foreign sources.
Cheri in S.C.

TIPS ON PUMPING GAS

I don't know what you guys are paying for gasoline.... but here in California we are also paying higher, up to $3.50 per gallon. But my line of work is in petroleum for about 31 years now, so here are some tricks to get more of your money's worth for every gallon..

Here at the Kinder Morgan Pipeline where I work in San Jose, CA we deliver about 4 million gallons in a 24-hour period thru the pipeline. One day is diesel the next day is jet fuel, and gasoline, regular and premium grades. We have 34-storage tanks here with a total capacity of 16,800,000 gallons.

Only buy or fill up your car or truck in the early morning when the ground temperature is still cold. Remember that all service stations have their storage tanks buried below ground. The colder the ground the more dense the gasoline, when it gets warmer gasoline expands, so buying in the afternoon or in the evening....your gallon is not exactly a gallon. In the petroleum business, the specific gravity and the temperature of the gasoline, diesel and jet fuel, ethanol and other petroleum products plays an important role.

A one-degree rise in temperature is a big deal for this business. But the service stations do not have temperature compensation at the pumps.

When you're filling up do not squeeze the trigger of the nozzle to a fast mode. If you look you will see that the trigger has three (3)stages: low, middle, and high. In slow mode you should be pumping on low speed, thereby minimizing the vapors that are created while you are pumping. All hoses at the pump have a vapor return. If you are pumping on the fast rate, some other liquid that goes to your tank becomes vapor. Those vapors are being sucked up and back into the underground storage tank so you're getting less worth for your money.

One of the most important tips is to fill up when your gas tank is HALF FULL or HALF EMPTY. The reason for this is, the more gas you have in your tank the less air occupying its empty space. Gasoline evaporates faster than you can imagine. Gasoline storage tanks have an internal floating roof. This roof serves as zero clearance between the gas and the atmosphere, so it minimizes the evaporation. Unlike service stations, here where I work, every truck that we load is temperature compensated so that every gallon is actually the exact amount.

Another reminder, if there is a gasoline truck pumping into the storage tanks when you stop to buy gas, DO NOT fill up--most likely the gasoline is being stirred up as the gas is being delivered, and you might pick up some of the dirt that normally settles on the bottom. Hope this will help you get the most value for your money.

DO SHARE THESE TIPS WITH OTHERS!

WHERE TO BUY USA GAS, THIS IS VERY IMPORTANT TO KNOW. READ ON

Gas rationing in the 80's worked even though we grumbled about it. It might even be good for us! The Saudis are boycotting American goods. We should return the favor.

An interesting thought is to boycott THEIR gas.

Every time you fill up the car, you can avoid putting more money into the coffers of Saudi Arabia. Just buy from gas companies that don't import their oil from the Saudis.

Nothing is more frustrating than the feeling that every time I fill-up the tank, I am sending my money to people who are trying to kill me, my family, and my friends.

I thought it might be interesting for you to know which oil companies are the best to buy gas from and which major companies import Middle Eastern oil.

These companies import Middle Eastern oil:

Shell........................... 205,742,000 barrels

Chevron/Texaco...... ... 144,332,000 barrels

Exxon/Mobil............... 130,082,000 barrels

Marathon/Speedway... 117,740,000 barrels

Amoco............................62,231,000 barrels

Citgo gas is from South America, from a dictator who hates Americans. If you do the math at $30/barrel, these imports amount to over $18 BILLION! (oil is now $90 - $100 a barrel (105.00 today 3/06/08 - AMS)

Here are some large companies that do not import Middle Eastern oil:

Sunoco..................0 barrels

Conoco................. .0 barrels

Sinclair ..................0 barrels

BP/Phillips.............0 barrels

Hess......................0 barrels

ARC0.....................0 barrels

If you go to Sunoco.com <http://sunoco.com/> , you will get a list of the station locations near you.

All of this information is available from the Department of Energy and each is required to state where they get their oil and how much they are importing.

But to have an impact, we need to reach literally millions of gas buyers. It's really simple to do.

Now, don't wimp out at this point.... keep reading and I'll explain how simple it is to reach millions of people!!

I'm sending this note to about thirty people. If each of you send it to at least ten more (30 x 10 = 300)...and those 300 send it to at least ten more (300 x 10 = 3,000) and so on, by the time the message reaches the sixth generation of people, we will have reached over THREE MILLION consumers !!!!!!! If those three million get excited and pass this on to ten friends each, then 30 million people will have been contacted!

If it goes one level further, you guessed it ..... THREE HUNDRED MILLION PEOPLE!!!

Again, all you have to do is send this to 10 people. How long would all that take?

This information is worth passing along. Please take the time to do so.

By sally m (Guest Post)03/15/2008
Isn't it a shame when we can only go so far. We watch everything that we do and only go places when we have to. Isn't there anything that we as the consumers can do? I pray everyday tht something can and will be done about this situation.

By bambi2003 (Guest Post)03/15/2008
My husband has an 80 mile commute to work. He switched his schedule at work to work 4, 10 hour days instead of the usual 5, 8 hour days. He also rides his scooter to work in the good weather. His scooter goes 65mph and get 85mpg.

By Coreen Hart [78]03/15/2008
There is an interesting article in the current (april 2008) Reader's Digest abut a man named Wayne Gerdes. He is one of a group of people competing for the title of World's Most Fuel-Efficient Driver. Here are some of the things he does to reduce fuel consumption:
1: Get rid of any extra weight in the car that you can. No pillows, blankets, etc.
2: He would like to lose 60 pounds off his own 6'2" frame.
3: He doesn't brake unless it's absolutely necessary. He doesn't speed, either. He says 50 mph is the most economical speed.
4: He actually leaves his parking place at home by rolling the car downhill. I assume it is enough to start the engine.
4: Drive a stick shift.
5: Close windows and skip the air conditioning.
6: Start up very slowly.
7: Make sure your tires are inflated correctly. Check often.
There are tons more suggestions in the article. I strongly suggest you read the article which starts on page 104. Wayne averages over 100 mpg in his Honda Civic.

By Deanj (Guest Post)03/15/2008
Interesting graph but does take into consideration change in value of 1996 dollar versus todays dollar?

By (Guest Post)03/14/2008
Make the most of your relatively cheap fuel. We are paying the equivalent of almost USD$7 per gallon of fuel in Australia & they are expecting it to increase considerably in the next week or two because the cost of a barrel of oil has just risen in the last couple of days!
The more the US tumbles into depressions, the dearer oil becomes. We are also impacted upon by your recession, & because we have such a strong economy & little govt. debt, we are now dealing with inflation. We have the highest rate of full employment that we've had for about 20 years so private borrowings & spending has increased dramatically, so interest rates are now climbing rapidly to be the second highest in the world to stem the tide of the inflation. We have just had our third interest rate increase in 2 months!

I'd be interested to hear comments on the cost of going to war in Iraq on the US economy.

Does this make your fuel prices look more appealing ...?

Cheers
Wendy

By laramay (Guest Post)03/14/2008
To conserve gas, I have a small 4-cylinder car that gets about 35 mpg. I'm a stay at home mom, so I don't have to commute (phew!). I do my big grocery shopping once a month, and smaller trips once a week, and only to town. Prices may be a little higher here, but I save more in gas by not going to the bigger towns for the bargains. When it warms up, I'm going to start walking to town instead of driving. Good exercise!

By Joni [1]03/14/2008
I'm a stay at home mom and plan one day a week to do all my errands and my car sits the rest of the week. We also got a credit card for the local convenience chain that gives rebates on gas purchases. We use it ONLY for gas and pay it off every month to avoid finance charges.

By Jess [121]03/14/2008
The first thing that I did, back a couple of years ago when gas started approaching $2 is to use regular gas instead of the middle grade. We also have stopped driving our minivan unless we cannot all fit in the smaller car. I got a job from home so I don't have to commute (Thanks, ThriftyFun!) and my husband can bike to work if the weather is nice. Oh, and I get all my gas at Costco, which should pay for the membership on the gas savings alone. Today, it was over 20 cents cheaper at Costco. That is over $3.00 savings every time I fill up my tank.
Post Feedback
Add your voice to the conversation. Click here to share feedback.