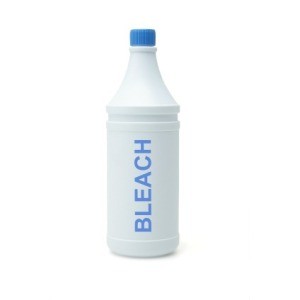 There are a surprising number of crafts made using bleach bottles. This is a guide about crafts using bleach bottles.
Ad
---
Solutions: Crafts Using Bleach Bottles
Read and rate the best solutions below by giving them a "thumbs up".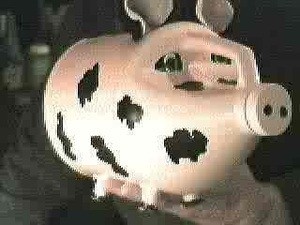 Use a regular bleach bottle, rinse it out with water and baking soda (takes the bleach smell away). Let dry. Paint with acrylic pink paint and let dry. Paint your spots on with either black or brown acrylic paint and let dry for about and hour.
Use black or brown felt and pink felt and cut out ears, hot glue them on. You will need either 4 small thread spools or 4 medium size thread spools for the legs, I get mine at 99 cent store. Cut your holes in bottom of bottle so that the spools make the piggy bank stand right. Cut the circles and insert spool, hot glue around each one so they don't come out. Paint on your eyes and your nose, a slot for the money, then spray with a sealer and you are done.
By Sheri from Stockton, CA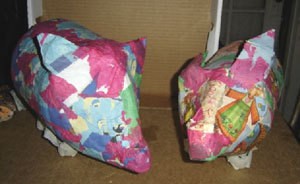 This is my second year of homeschooling and I wanted to show the girls how to decoupage. After several hours of thinking of what they could do that would be fun as well as useful, I went into my laundry room. And there atop of my washer sat an empty bleach bottle. The bottle was laying on its side and from the front it looked to me like a piggy. And hence, this is where I got the idea.
Materials:
clean, empty gallon size bleach or vinegar bottles
newspaper
flour
hot water
paper, such as scrapbooking or tissue
egg cartons, cut into sections
spray clear coat
Directions:
First wash the bleach bottle out good. You can also use those gallon vinegar bottles.
Then get some newspaper and rip them into strips.
Meanwhile make your decoupage glue. I used the basic recipe of 1 cup of flour to 2 cups of hot water.
Cook over low heat until no clumps and thick. You may need to add more water. If it's too watery add a bit more flour. Just be sure to let it cool before using.
Dip your newspapers in the glue mixture and begin layering on your bottle. We did the top part and let it dry, then did the bottom.
After several layers and being completely dry (we do a part each week for art class) then you can decorate. We used scrapbooking paper and tissue paper. We kept with a theme, but you can use anything you would like: newspaper funnies, music pages, etc.
Let dry!
For the legs we used the holder from an egg carton and the ears we formed out of the paper.
After the entire thing is dry you can cut a hole in the top to put your coins in and then varnish. I use a clear coat in a spray paint can.
That is it! Now you have a cute little piggy bank that isn't just cute, it is also very useful.
In the photos, we haven't added the tail or the eyes. The eyes will be buttons and the tail will be a curled pipe cleaner.
By Melissa from Pine City, NY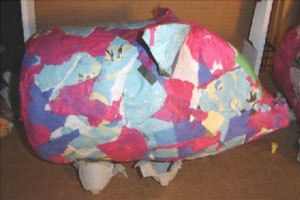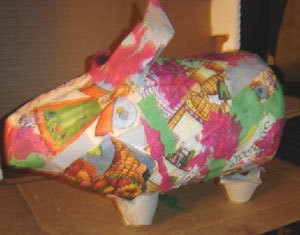 Here's a fun project to make using a bleach bottle and yarn for a nice Easter display or gift. Can also be made into a small purse.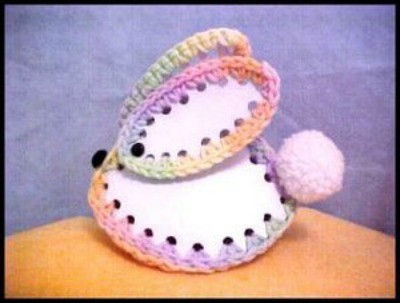 Instructions:
Using full size patterns Download PDF File
Use a Magic Marker, draw and cut 3 body pieces and 2 earpieces from the bleach bottle.
Punch holes around the edge of each one as indicated.
Make 2 sc in each hole around the sides with 4 sc in each end hole. Repeat for each piece.
The body piece is 5 inches from point to point and the ear piece is 4 3/4 inches from end to end. The size can vary some if you need it larger or smaller.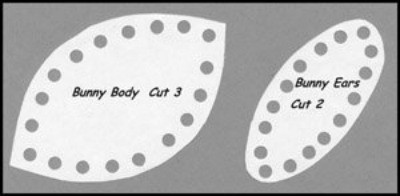 To assemble:
Lay two body pieces together and stitch together along one curved edge from one point to the other.
Lay the third piece against one of the first two pieces and, again, sew along curved side from one end to the other.
Now take the two sides that are still free, and sew up about an inch and a half from each end, leaving an opening in the middle. You should have a pouch that, when you place your thumb on one end and your fingers on the other and squeeze slightly, the pouch opens.
With the Magic Marker, blacken the top of the paper fasteners. These will be the eyes as well as holding the ears in place.
Using the photo as a guide, fasten the ears in place and glue on the pompom nose and tail with your hot glue gun. Now you have a cute little Bunny to insert treasures inside to the delight of your favorite child.
Add a ribbon to make a purse!
By Harlean from Arkansas
Give a "thumbs up" to the solution that worked the best! Do you have a better solution? Click here to share it!
Questions
Here are questions related to Crafts Using Bleach Bottles.
Does anyone remember a while back, those pocketbooks made out of the bottom half of a plastic Clorox bottle? I believe they were crocheted. Does anyone know where I can find a pattern? I've looked on line and have had no luck. Any help would be greatly appreciated. Thanks.
By Pam from WV
AnswerWas this interesting? Yes No
Ad
---
---
Most Recent Answer
Thank you all for the information on the bleach bottle purse.
Thrifty Fun is a great site in finding things you can't find yourself.
Thanks again.
Pam
---
Does anyone have the instructions for the snowman face wall hanging, leprechaun face, bunny face, and the turkey all made from Clorox bottles and yarn like the Santa face?
By Bonnie
AnswerWas this interesting? Yes No
Ad
---
---
Most Recent Answer
Looking for pattern to make Whirley Gig from bleach bottles.

Faye from Nova Scotia, Canada
AnswerWas this interesting? Yes No
---
Most Recent Answer
My mom had a hat that was crocheted panels and crown from bleach bottles. It folded and she carried it everywhere. Does anyone have the pattern? Thanks.
By Gma Bette
Does anyone now how to make pirates out of bleach bottles, or Santa faces that can be adapted to become pirates? If you have photos that would be a big help. Thanks.
By Ardonis