Crafts Using Bleach Bottles
There are a surprising number of crafts made using bleach bottles. This is a guide about crafts using bleach bottles.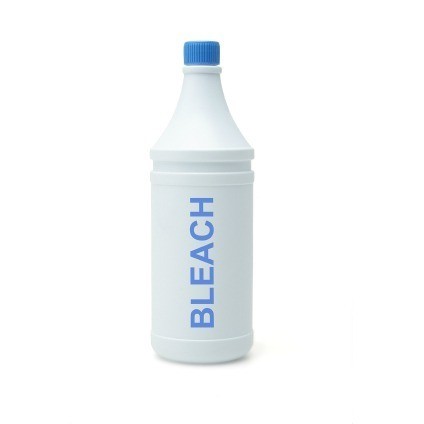 Filter

: All Articles
Sort

: Relevance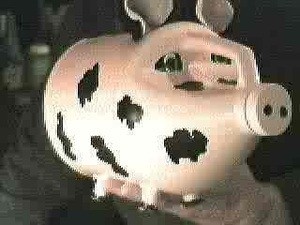 Use a regular bleach bottle, rinse it out with water and baking soda (takes the bleach smell away). Let dry. Paint with acrylic pink paint and let dry. Paint your spots on with either black or brown acrylic paint and let dry for about and hour.
Use black or brown felt and pink felt and cut out ears, hot glue them on. You will need either 4 small thread spools or 4 medium size thread spools for the legs, I get mine at 99 cent store. Cut your holes in bottom of bottle so that the spools make the piggy bank stand right. Cut the circles and insert spool, hot glue around each one so they don't come out. Paint on your eyes and your nose, a slot for the money, then spray with a sealer and you are done.
By Sheri from Stockton, CA
This is a guide about making a bleach bottle Santa. Clean plastic bleach and detergent bottles are great to use in craft projects. Make this cute Santa for the holidays.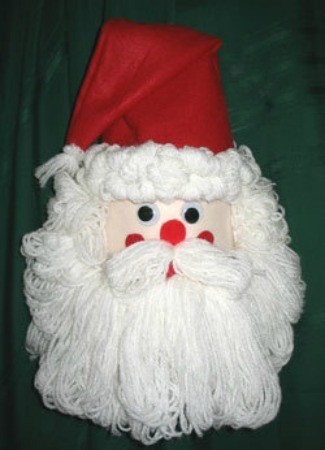 Read More...
Does anyone remember a while back, those pocketbooks made out of the bottom half of a plastic Clorox bottle? I believe they were crocheted. Does anyone know where I can find a pattern? I've looked on line and have had no luck. Any help would be greatly appreciated. Thanks.
By Pam from WV
May 31, 2010
0

found this helpful
I don't crochet but I am thinking I will make some denim purses with the clorox bottle for the bottom. It will help to keep some plastic out of the landfill. Thanks for a thoughtful question.
June 5, 2010
0

found this helpful
Thank you all for the information on the bleach bottle purse.
Thrifty Fun is a great site in finding things you can't find yourself.
Thanks again.
Pam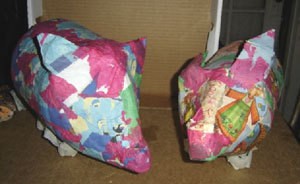 This is my second year of homeschooling and I wanted to show the girls how to decoupage. After several hours of thinking of what they could do that would be fun as well as useful, I went into my laundry room. And there atop of my washer sat an empty bleach bottle. The bottle was laying on its side and from the front it looked to me like a piggy. And hence, this is where I got the idea.
Materials:
clean, empty gallon size bleach or vinegar bottles
newspaper
flour
hot water
paper, such as scrapbooking or tissue
egg cartons, cut into sections
spray clear coat
Directions:
First wash the bleach bottle out good. You can also use those gallon vinegar bottles.
Then get some newspaper and rip them into strips.
Meanwhile make your decoupage glue. I used the basic recipe of 1 cup of flour to 2 cups of hot water.
Cook over low heat until no clumps and thick. You may need to add more water. If it's too watery add a bit more flour. Just be sure to let it cool before using.
Dip your newspapers in the glue mixture and begin layering on your bottle. We did the top part and let it dry, then did the bottom.
After several layers and being completely dry (we do a part each week for art class) then you can decorate. We used scrapbooking paper and tissue paper. We kept with a theme, but you can use anything you would like: newspaper funnies, music pages, etc.
Let dry!
For the legs we used the holder from an egg carton and the ears we formed out of the paper.
After the entire thing is dry you can cut a hole in the top to put your coins in and then varnish. I use a clear coat in a spray paint can.
That is it! Now you have a cute little piggy bank that isn't just cute, it is also very useful.
In the photos, we haven't added the tail or the eyes. The eyes will be buttons and the tail will be a curled pipe cleaner.
By Melissa from Pine City, NY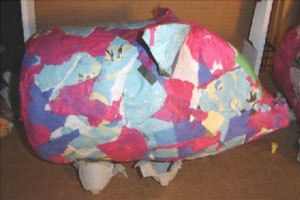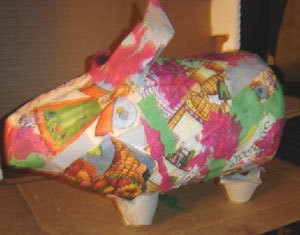 How do I make Easter baskets from Clorox bottles?
By Dianna from Middleburg, FL
March 30, 2011
0

found this helpful
After having learned what I have about bleach and non food plastics I find it's not a good idea to use bleach bottles for Easter baskets that will be holding food items and stuffed animals for children. Perhaps you could use gallon vinegar containers or water bottles instead? MCW's link is a really good start for 'how to' instructions.
March 31, 2011
0

found this helpful
I would use gallon milk containers instead of bleach bottles for safety reasons. As a daycare teacher that is what we have used in the past and they work out just as good.
This is a guide about making a bleach bottle snowman. Plastic bleach bottles are a popular item for use in craft projects.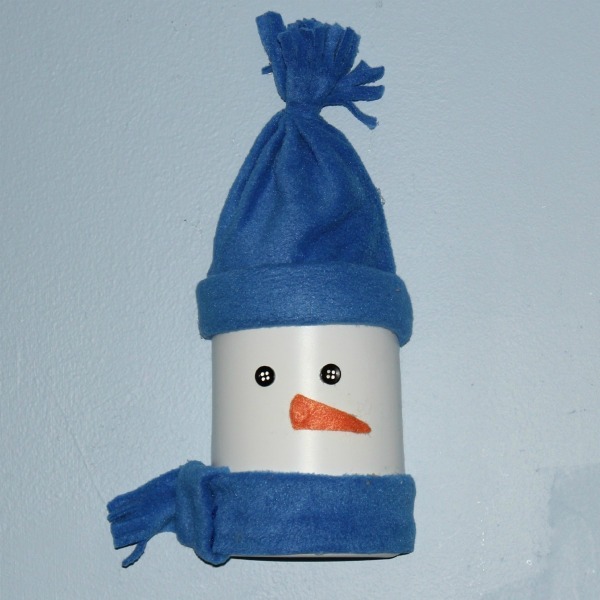 Read More...
Does anyone have the instructions for the snowman face wall hanging, leprechaun face, bunny face, and the turkey all made from Clorox bottles and yarn like the Santa face?
By Bonnie
November 28, 2012
0

found this helpful
Here is one:
Looking for pattern to make Whirley Gig from bleach bottles.

Faye from Nova Scotia, Canada
October 18, 2007
0

found this helpful
here's info on how to make them from soda bottles
I am looking for a pattern using a Clorox bottle cut in half, pink and red felt, white yarn and of course eyes.

By pgossage from Florence, SC
I am looking for crafts made out of Clorox bottles. I was told you could make a bird house the shape of a bear out of a Clorox bottle. I was wondering if anyone had the instructions on how to do this or any other crafts made out of Clorox bottles.

Kathleen from Sprakers, NY
Answers:
Clorox Bottle Crafts
Take the bottle, cut the bottom off. Cut a "fringe" around the remaining sides of the bottle. Cut all the way up the sides. Curl the fringes, if you'd like. Now, look at it from the top view. The handle is the bridge of the nose, the opening is the mouth and the fringe is the mane. You've just created an African inspired tribal mask. You could decoupage the entire bottle with animal prints tissue paper prior to cutting. Or just leave it plain, then paint it. Quick and easy craft for kids. (02/21/2009)

By sukimarie
Clorox Bottle Crafts
There are instructions on this site for a bleach bottle Santa door decoration. Search for "bleach bottle Santa". I made one for last Christmas and it turned out really cute. Nobody could believe the base was a bleach bottle.
Tracey in Jacksonville Fl (02/24/2009)

Editor's Note: Here is the Santa link on TF: thriftyfun.com
By TraceyI
Clorox Bottle Crafts
I don't want to make you feel bad, but it's really not a great idea to use bleach bottles for bird houses. No matter how well you rinse the bottles, they are pretty toxic. Chlorine is kind of nasty for most critters' early development, including humans, and birds. Use them for decorations, but not for housing baby animals, OK? (02/27/2009)

Clorox Bottle Crafts
I use bleach bottles for a couple of things.
Easter baskets---cut off top part (make great funnels for sand box). Cut off a one inch strip all the way around for handle. Punch holes on opposite sides of the remaining base and at each end of handle strip. Use two brass fasteners and attach handle. Decorate with stickers.
Cut the upright sides into strips, write names of plants on them and stick into ground or pot.
The remaining bottoms after using the sides for plant stakes can be used as saucers under your plants. (03/01/2009)
By Hill8628
Related
© 1997-2016 by Cumuli, Inc. All Rights Reserved. Published by
ThriftyFun
.
Page
generated on September 23, 2016 at 12:22:49 AM on 10.0.2.68 in 4 seconds. Use of this web site constitutes acceptance of ThriftyFun's
Disclaimer
and
Privacy Policy
. If you have any problems or suggestions feel free to
Contact Us
.