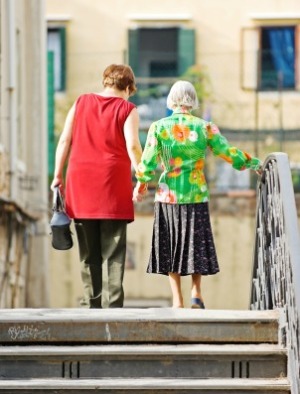 Finding activities appropriate and enjoyable for the elderly and disabled can be frustrating. This is a guide about activities for the elderly and disabled.
Ad
---
Solutions: Activities for the Elderly and Disabled
Read and rate the best solutions below by giving them a "thumbs up".
There are so many small craft projects, with assistance that the elderly, handicapped and disabled can do! My most important suggestion is not to involve them in a lengthy project, but one they can accomplish in a short time frame.
Here are a few ideas, but use your imagination as there are a lot of brilliant members on Thrifty Fun!
Take a photo of this person, assist them to draw around their face on the photo by using a cup centered and an ink pen. Assist or cut out with scissors or pinking sheers. Use a hole punch to make 2 holes an inch apart. using Tacky glue, add a trim piece of lace around the edge of the photo, make a small bow and glue that on the top or bottom but, not to overpower or interfere with their photo. Use a large safety pin between the two holes, allow to dry. Voila! They can wear a pin with their own photo that they helped to create!
Another easy project is to allow them to look at pictures in magazines to see what draws their interest. Ask them to point, smile, or discuss if they see something they like or has a fond memory for them. Mark these items and also things that you feel the person would like. Cut these out, glue all of these items onto a poster board as a collage! Use a Glitter Pen to put their name at the top! This is a sure hit! Allow them to assist as much as they can! A lace trim glued to the outer edge makes it a tad more fancy!
Refrigerator magnets are also a hit made from photos, left over craft items, etc. They stick to metal wheel chairs and walkers, you know! Most of all, use your imagination for them for projects!
I have not come across one person who would not like to help make a homemade card! Left over craft items, paper stock, colored markers and glue! It can be for any occasion of just because!
Cookie decorating is fun for all!
I guarantee these projects will be a hit and very rewarding, both ways! Their motor skills and abilities may be impaired but, with your help, the possibilities are limitless! Please add your own creative ideas to this! Thank you!
By Missy MM from OH
I am a disabled senior trying to live as frugally as I can, considering Social Security isn't anything to brag about.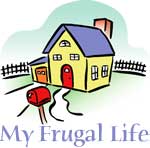 I get around in a motorized wheel chair. Our state has a law that seniors and disabled do not need to pay bus fair on our city buses. I can ride any bus, they all are wheel chair accessible, free.
When I shop, I almost always buy generic. In my building, residents who get groceries from food pantries, may take items they don't like downstairs and put them on our 'give away table'. I do the same.
I have a home aide three days a week, two hours each day. This is government program covered and never costs me more than one or two dollars a month, usually nothing. On our 'cooking' day, we make up 3-4 of the same meals and freeze them. Saves time and mess for me during the week. I go out usually two days a week.
Tuesday it is to a grocery store that has a senior bingo every week. Everyone is guaranteed one prize, but can win more. One week I won 8 items. Prizes are grocery items that are in a cart provided by the store. Items are $1 or less. There is also a gift certificate for $10 for the store.
On Saturday I go 'bumming'. My one splurge for the week is I eat either breakfast or lunch out, I may do shopping, or go to a movie. There is a theater group here that has the policy that says if you are in a wheel chair, you don't take up a seat, you get in free. Haven't paid for a movie in four years.
The only problem to my plans is the weather. In summer, etc., rain can keep me from going out if it is bad enough. In winter, snow creates problems, because there can be slippery conditions or just can't get over/around it, if it is not cleared. So sometimes I have to alter my plans as necessary.
I do what I can, when I can, watch for sales, save when I can, every little bit helps.
By knitter926 from Bloomington, IL
Do you have a frugal story to share with the ThriftyFun community? Submit your essay here: http://www.thriftyfun.com/post_myfrugallife.ldml
Give a "thumbs up" to the solution that worked the best! Do you have a better solution? Click here to share it!
Questions
Here are questions related to Activities for the Elderly and Disabled.
My mother is legally blind and handicapped with a left arm she is unable to use and a right arm and hand that will work but on a limited basis. She has been active all of her life and now sits in a nursing home where she is bored and wants something to do so that she feels like she is accomplishing something. I have gotten her books on tape which have helped but I would appreciate any ideas you can suggest. Thank you.

Christine
Ad
---
---
Most Recent Answer

By mike02/01/2010
Another thing she likes is DVS movies it is only sound but Described as you go along with the original soundtrack. they are free to download at http://www.blindmicemart.com/assets/product_images/movies2.html I put up to six movies on one CD.
I am a CNA at a nursing home in Des Moines, Iowa. I take care of a 96 year old lady who is 90% blind and deaf. She is very restless, always calling out for help, and continually wants to return to the bathroom, but usually doesn't void. I think it's because she has nothing to do.
I've looked for activities to keep her busy, but it has proven difficult to find something for the deaf and blind. Not to mention she is 96 years old and frail. She's definitely bored, as before she came to us she was still living at home alone and busied herself with whatever she did there. She does still walk, but not far and she is a fall risk as she has proven herself to be very unstable. Any suggestions of how to keep her busy and not have toileting and meals be the only stimulation of her last days?
By Tabitha
Ad
---
---
Most Recent Answer

By Lizzyanny [9]04/04/2012
Would it be possible to get some massage for her? Even if it is just gentle rubbing of her arms and legs. It is tough to lose your senses one by one. Many good posts here...bless you for caring.
My husband is 52 and recently went to live in a care facility. I visit him everyday and he is depressed because he is lacking stimulation. I need any ideas on activities he can do at the home. Any suggestions? He is capable of using all limbs and has good sight and dexterity.
By Jessie S from NC
---
Most Recent Answer

By Bridgit N.04/02/2014
Hello!
I am a dance/movement therapist and have been doing my final internship at a nursing home, so I thought I would share some things that I have learned.

MUSIC. Music is a great way to lift spirits without lifting much else. If he is willing and able to move/dance, great! Expressive movement is great for strengthening weak areas, increasing circulation, and feels good for both body and emotions!

It sounds like he is there for rehab, since most people in nursing homes are at the end stages of life. Nursing homes are not very soothing environments, so he might feel VERY uncomfortable surrounded by people who are much older, and much sicker than he is right now.

Most of the interventions that I have learned that work best are geared for elders and problems specific to aging such as lack of internal motivation, so none of them feel right for a young/middle aged man....

I would focus on gratitude, any spiritual connection/belief he has, and as many visitors as possible! Isolation of nursing homes is the worst!

Thanks for reaching out for ideas! Blessings!
I am a activity director for a rehabilitation facility, so they pretty much come here to get better and then go home. I have a hard time getting residents into activities. The only thing some residents enjoy doing is just bingo and exercise.
We have have tried so many activities like a garden, arts and crafts, bowling, cooking class, we have a party once a week, and we even have a Wii, and they just don't feel like attending. I need a way to get their attention. I need new ideas! Anything would help. Thank you very much.
By Dee from Lodi, CA
---
Most Recent Answer

By Lelia Jo Cordell [49]09/02/2010
Oh, yes, I remember one other thing. A longtime resident turned 100 while I was there. She was permitted to choose the kind of cake and the music. It was her day, so she also got to do what she wanted during the party. Wish I could remember more. My head was still a little fuzzy then.
I am the coordinator of social activities for an elderly care home. Any ideas for an easy, simple recipes, or food decorations for the residents to do?
By Malky from London
---
Most Recent Answer

By nash mcmillan05/02/2012
There was this game I played at school and I was thinking it would be fun for residents to do. You get a beach ball and you cover the entire ball with questions, about an inch apart from each other.

For the game, you toss the ball to a resident when they catch it whatever question their pointer finger on their right hand lands on that's the question that they have to answer. I think this games help promotes memory, because the questions are things they would have to think about, things from their pasts like what there favorite candy was growing up, or what they like to do on the weekends when they were younger. It also helps with physical because they have to catch the ball so they are up and being active.

Another thing is it helps residents get to know each other and socialize. I am going to be introducing this game to the assisted living facility that I currently work at.
My mother has macqular degeneration, problems with incontinence, dementia, and cannot walk well. Any suggestions to stimulate her mentally and physically would be greatly appreciated. She is 93 years old.
By cpw2002
---
Most Recent Answer

By Gloria Z [7]07/30/2014
You can rent books on CD's from the library-if she likes listening to them get her a simple CD player. Also, remember pets - see if the home she's in allow visits from dogs & cats. Elderly people love petting them. You can pay to have a Caregiver stop by and take her for a walk or ride in her wheel chair, polish her nails, brush her hair etc. You can find them on the web and from hospitals & elderly departments in the town you live in.
I work with an elderly lady who is legally blind and she wants to work with her hands to keep busy. Any suggestions?
By Mary from HI
---
Most Recent Answer

By shorner106/04/2013
I suggest finding craft projects that involve other sensors. For example, if you can find scented play dough, it deals with touch and smell. I don't know if I would suggest teaching her how to knit. I think it is really frustrating to learn even with sight. Another project I would recommend is making silly putty which can be an enjoyable experience due to the squishy textures. You make it with little mess by measuring equal parts Elmer's glue and liquid starch into a plastic baggie and squishing it around to incorporate the ingredients. Then you can take it out knead it together and squish it around. Good luck, and have fun!
My sister has severe tremors. What kind of activities exist for her that don't require the use of her hands because they shake too much. She just sits on the couch all day and I want to get her active instead of just waiting to die.
By Paul
---
Most Recent Answer

By Abigail A. [9]06/25/2015
Is there a very nice neighborhood or park with trees near you? You could just drive her there, park, then take her for a walk a couple of times a week.
Is there someone from a local charity who will volunteer to read out loud to her? She could sit on the porch or patio.
Does your library have a multimedia room with audiobooks and headsets? Another destination place.
Yard saling in summer can be fun. Do only as many as she can handle. Dig through boxes for her so she can see the stuff. You don't have to take much home.
A picnic once a week would be nice during good weather. Pick a shady spot. You can pack food or stop by the deli. There needs to be a place nearby where understanding people will let her use their handicapped restroom.
I have MS. I can stand, but not walk. I have the use of one hand. My husband would like to take day trips. Sometimes we take the bus to a casino. What is there to do? Beaches, swimming, hiking are out.
By Deanna
---
Most Recent Answer

By Darla [23]08/27/2014
Maybe you could drive to a scenic spot and have a picnic & just enjoy nature. Sometimes there are outdoor concerts too. Not sure where you live or what your weather is like.
I am an administrator for a company called Flourish Homes; we support the disabled and elderly within our sheltered housing schemes. I have been given the task to find local activities or entertainment for them.
As it's near Christmas I thought maybe Christmas activities would be something fun for them. We are based in Frome Somerset and I was wondering if you knew of any local companies who were doing Christmas activities in my area. If you could email me any useful information it would be most appreciated. Many thanks.
Miss Clare Louise
---
Most Recent Answer

By Veronica [10]12/10/2010
If you have access ti iTunes you might think about downloading and playing some old-time radio Christmas shows from the 40s and 50s. Just type "old time radio comedy" into the search box and you'll find Jack Benny, Fibber McGee and Molly, and lots of others and they're free.
We picked and assisted living home to sing Christmas carols to, but we would also like a have a gift for each of them. So I need gift ideas for men and women, something they can use and that will make their Christmas a little bit happier. My granddaughter and her friends are going to participate in caroling and help wrap gifts. Nothing too expensive, we do live on a budget.
By Kathy
---
Most Recent Answer

By Cheryl [13]11/08/2014
Fleece throws, toiletrie items like deoderant, lotion, and socks are inexpensive items that are appreciated.